0
7th November 2023 8:00 am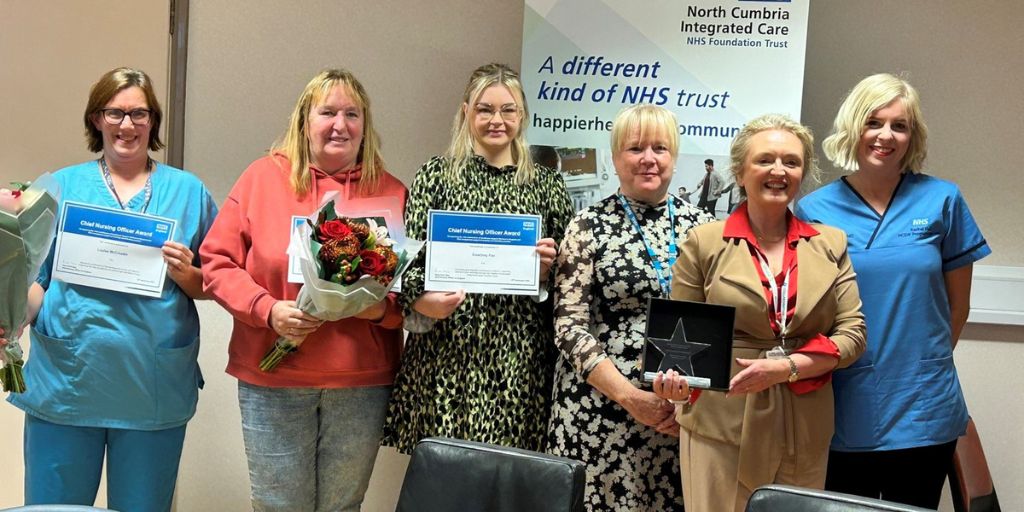 Six healthcare support workers from North Cumbria Integrated Care NHS Foundation Trust (NCIC) have been presented with a national chief nursing or midwifery officer of England or chief midwifery officer award
Staff were presented with their awards by the Trust's Chief Nurse Jill Foster. Margaret Kitching, NHS England's Regional Chief Nurse was also virtually present to congratulate the winners, which has been extended to healthcare support workers for the first time.
The award aims to reward the enduring compassion and vital contribution made by Healthcare Support Workers (HCSWs) and Maternity Support Workers (MSWs) in England and their exceptional support of nursing and midwifery practice.
Jill said: "I am proud as punch that six of our support workers have been given this award by, not me, or even the regional chief nurse but the chief nurse of England. Well done to you all, very well deserved."
Margaret said: "Healthcare support workers make a significant difference to lives every day. It makes me really happy that this award has been extended to include HCSW as you are extremely valuable. These individuals today provide excellent care and show dedication. Thank you from me and well done."
Staff were selected from nominations that had been submitted by their colleagues and managers.
The Chief Midwifery Officer Award went to:
Kanya Moore, maternity support worker at West Cumberland Hospital.
The nomination said: "As a senior maternity support worker, Kanya is proficient in many advanced skills, such as venepuncture, cannulation and newborn observations. She is a very approachable member of the team, which is so important when teaching is an essential part of her job role; she is often requested to be shadowed by new members of staff as her reputation proceeds her."
The Chief Nursing Officer Award went to:
Kelly Aitchison, apprentice nurse on Elm C ward at the Cumberland infirmary.
The nomination said: "Our patients on the ward who are living with dementia can be scared and anxious and struggle with communication which can then result in behaviours which challenge. Kelly is able to treat each patient with respect, dignity and empathy; she attempts to understand how the patient feels and support them to feel less anxious."
Louise McCreadie is an assistant practitioner in the Intensive Care Unit at West Cumberland hospital.
The nomination said: "Louise has been pivotal to the development of the service which considers a patient's physical and psychological rehabilitation during multiple stages which include their ITU inpatient stay, post discharge on the ward and when they are discharged from hospital."
Rosemarie Franklin, healthcare assistant in the Intensive Care Unit at West Cumberland Hospital.
The nomination said: "Intensive care is a fast paced and often unfamiliar environment for new members of the team who may initially feel nervous or apprehensive. Rose is trusted and respected by new and existing members of our team.
"Rose's support goes beyond supporting her colleagues. When patients are admitted to ITU it can be an anxious time for families and Rose will recognise this and spend time talking to them in between nursing and medical updates. Rose is a truly dedicated and compassionate healthcare professional. An asset to our team, NCIC and the NHS. She champions working together for patients."
Courtney Fox, was a healthcare assistant on ward 4 at  West Cumberland Hospital and has now been supported to become an apprentice nurse.
The nomination said: "Courtney has made a significant impact on the team. She introduced a small but very valuable learning resource/tool onto the ward that assists with identification of pressure ulcers. A marked improvement has been noted in the documentation on skin damage and has given all of the team particularly junior team members the confidence to report and escalate skin damage. She has been supported in her application to become an apprentice student nurse and will qualify in March 2024. Courtney is an asset to ward and is definitely the face of nursing in the future with her 'can do' attitude." 
Emma Willis is a health care assistant who works in the Same Day Emergency Care department at the Cumberland Infirmary.
The nomination said: "Emma has the ability to see beyond the initial presenting complaint that patients attend the department for. She treats all patients individually, identifying any problems that they may be experiencing.  She takes the time to ask appropriate questions, she listens and raises concerns. Emma is an excellent member of the team reliable and organised keeps herself up to date with her learning needs. She is always looking for opportunities to increase her knowledge which will benefit the patients in her care."
Well done to all!