0
21st April 2021 8:00 am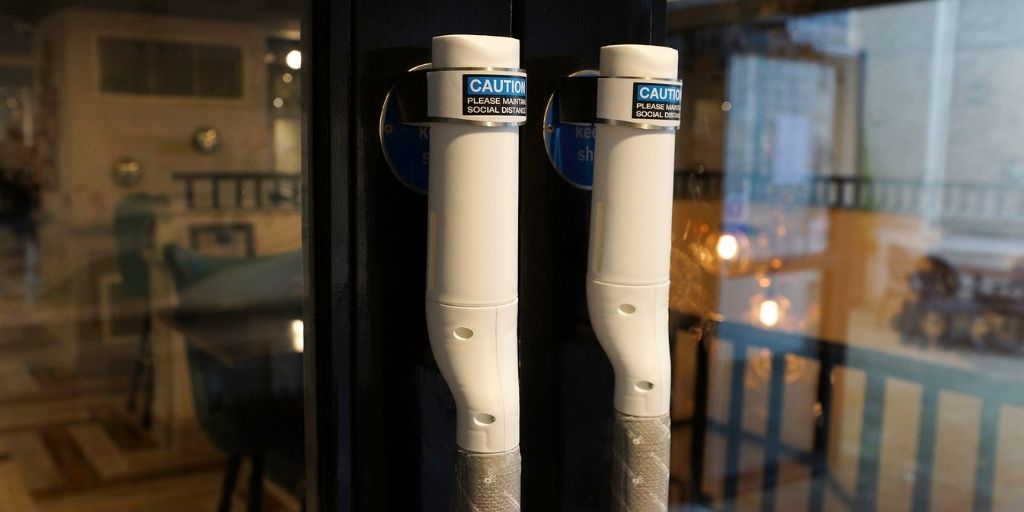 Initial Washroom Hygiene has today launched its new range of self-cleaning, hygienic door handles and push pads to help break the chain of infection and reduce the spread of Coronavirus and other illnesses indoors.
Doors and door handles are very often high use, shared touchpoints that represent a potential vector for transmission of microbes. They require 'frequent cleaning' under the latest government Coronavirus guidance for employers.
The products in the Hygienic Door Handle range can easily be fitted to any push or pull door in any building environment – offices, care homes, healthcare providers, community centres, retail, factories, hospitality and more. The push pads work by releasing a small amount of ethanol gel under the fingers and hands when pressed, which rapidly disinfects the area touched, ready for the next user. The door handles work in a similar fashion, releasing a small amount of alcohol gel from an internal bottle to self-clean the handle for the next user.
The products can help to reduce the spread of Coronavirus by killing germs in seconds making one of the most common building touchpoints safer and more hygienic for staff, customers, and visitors.
They are quick to install and easy to maintain with replaceable refill bottles for pull handles, and refill pads for push doors, providing a low-maintenance way to create more hygienic buildings. Installing the pads on entry doors will mean every user touches a recently sanitised surface before entering the building, significantly reducing the likelihood of germs spreading.
Initial testing of the products revealed an approximate doubling in healthcare worker use of alcohol hand gel dispensers following the installation of doorplate gel pads in two operating theatre suites.
With one-third of people not washing their hands after using the washroom and two-thirds not using soap to wash their hands[2], hygienic door handles and push pads can provide an effective solution to ensure building occupants maintain hand hygiene.
Jamie Woodhall UK Technical & Innovation Manager, Initial Washroom Hygiene comments: "With high frequency touchpoints being a key vector for the transmission of viruses and illnesses including Coronavirus, it's essential that business owners and facility managers take every measure to protect building occupants, by helping to break the chain of infection.
"With guidance and best practice surrounding Coronavirus constantly evolving, it can be challenging for businesses to know how to create the safest environment on their premises. Initial Washroom Hygiene works closely with our customers to ensure their buildings have every measure in place to help protect the individuals using them as effectively as possible. Frequent touchpoints such as doors can spread the microbes quickly. Installing hygienic door handles and push pads ensures that door handles don't become an infection hot spot."