0
28th March 2022 8:00 am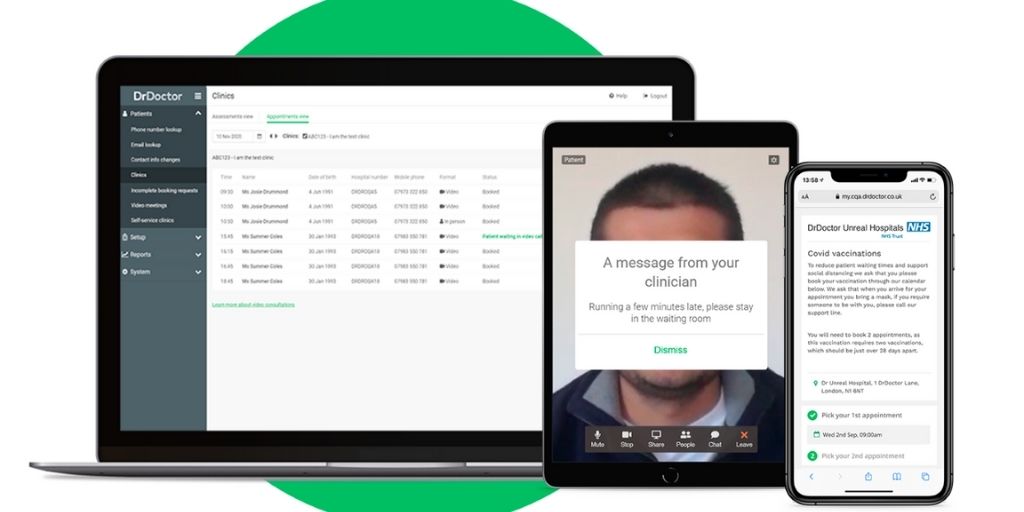 Liverpool University Hospitals NHS Foundation Trust (LUHFT) is delivering digital patient initiated follow-ups (PIFU) at scale as part of its ambitious digital outpatient transformation. The trust plans to exceed PIFU targets set by NHS England, which requires organisations across England to have 2% of patients on a PIFU pathway, with an innovative PIFU solution currently being implemented across many of its clinical specialities.
LUHFT's success to date is underpinned by the implementation of digital PIFU solutions provided by DrDoctor, which are live across six pathways. The DrDoctor team are currently engaged on three significant pathways, and more are planned.
The services include Irritable Bowel Syndrome (IBS) and Inflammatory Bowel Disease (IBD) in the gastroenterology department, specialities that have historically struggled with long wait times. Recently, gastroenterology patients have increased by more than half in some parts of the country.
Integral to the trust's elective recovery is its digital-first approach. Doing so enables LUHFT staff to manage patients safely and effectively, improving the patient experience.
While some NHS organisations are rolling out PIFU piecemeal, the trust is achieving it at scale by implementing digital PIFU. Digital PIFU avoids unnecessary telephone and face-to-face appointments and empowers patients to make choices about their care. By integrating with their patient administration system (PAS) and electronic patient record (EPR), the trust will generate efficiencies and ensure a positive user experience, reducing administrative burden and freeing up clinical time.
Dr Jason Bincalar, Chief Information Officer at Liverpool University Hospitals NHS Foundation Trust, said: "Our approach to PIFU breaks new ground. We identify opportunities to provide our patients with greater control over their care, and we use digital solutions to improve patient engagement and staff efficiency.
"I am proud that we have found an innovative way of achieving these goals, and we already have PIFU operational for several of our clinical services. Underpinning our clinical services with modern digital solutions is the best way to rapidly reach more patients. Working with DrDoctor has been great, as we have co-designed a blueprint to onboard more clinical services, allowing us to provide greater opportunities for our patients."
By incorporating digital PIFU across multiple pathways, clinicians are provided with another option for the patient when discharge is inappropriate and routine follow-up appointments are unnecessary.
For example, on the IBD pathway, patients and clinicians conduct remote monitoring instead of attending all follow-up appointments. Incorporating a faecal calprotectin application, allows patients to receive a reliable stool reading without the need to visit the hospital. The patient receives real-time information about their condition and, depending on the result, can request an appointment, or the information will trigger a Clinician Initiated Follow-Up (CIFU). The ability to receive up to date information to remotely manage and monitor conditions improves patient experience and frees up clinical time.
There is potential for 80-90% of patients to be placed on a PIFU pathway once the clinician and the patient agree that it is the correct action to take. The most vulnerable patients will remain on a CIFU pathway.
Dr Jason Bincalar said: "Using these digital tools, the patient can exercise far greater control of their care, reaching out to us only when they believe we are needed. As we are using purpose-built digital solutions, we will also have full visibility of the patient's health record, making clinical intervention possible.
"Suppose an existing patient is admitted to one of our hospitals with a new condition. In that case, we will continue to grow the patient's clinical history, providing our clinical teams with all the relevant information. I am leading a patient-centric digital transformation that focuses on front-line care. The digital transformation paves the way for Care Record Liverpool (CaRL), a comprehensive and secure longitudinal electronic patient record for citizens of Liverpool, Merseyside and beyond that we will share with our patients and our Integrated Care System partners."
When a PIFU pathway does not exist it is not uncommon for patients with scheduled three, six, nine, and twelve month follow-ups to attend A&E as their symptoms worsen. This places pressure on an already stretched service, and usually, there is little clinicians can do for them once they are there.
With digital PIFU and aligned digital solutions such as the calprotectin tool in IBD, patients can self-monitor and request a follow-up appointment in a way that is far more convenient and sustainable long-term.
With plans to introduce PIFU across many more pathways, there is great potential for LUHFT to tackle their elective backlog as the digital solutions are scalable. The digital solutions were initially piloted at Aintree University Hospital and have since been rolled out at the Royal Liverpool Hospital and Broadgreen Hospital.
In addition to widespread digital PIFU, as part of the broader digital transformation at the trust, patients also have access to their correspondence in electronic form and receive text message reminders. LUHFT is a digital innovator with a strong focus on patient safety and engagement.
Tom Whicher, Chief Executive, DrDoctor, said: "While we have the tools, we very much hand over to the trust to do the plumbing. Every organisation, hospital, and department is different, so we provide them with the flexibility to configure the solution in ways that suit them. The scalability of what LUHFT is working on has the potential to fundamentally change the way that patients interact with their care and play a key role in tackling the elective backlog."