0
29th March 2022 8:00 am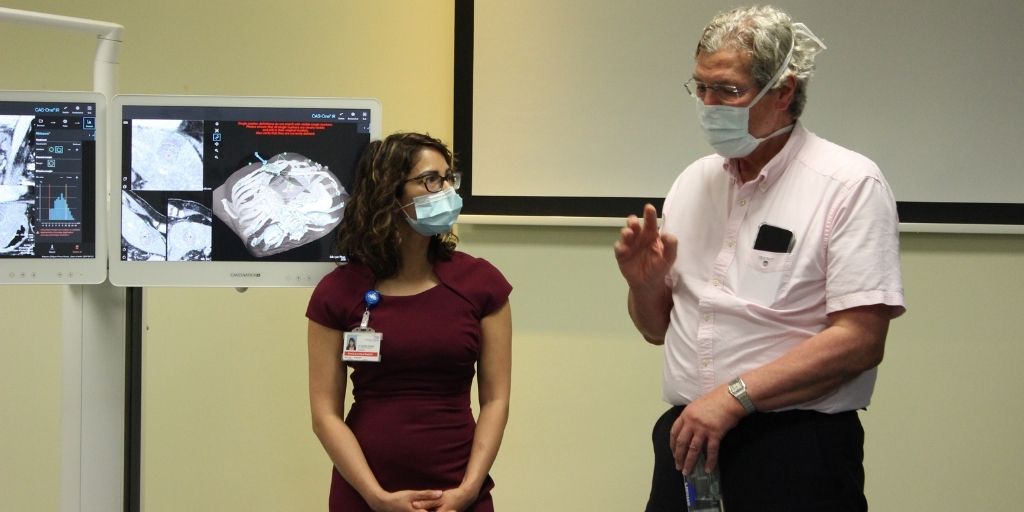 TRAILBLAZING technology that will improve tumour treatment for Hampshire Hospitals patients is the focus of a £200,000 fundraising campaign by local charity Hampshire Medical Fund.
Hampshire Hospitals NHS Foundation Trust (HHFT) is only the third trust in the country to acquire the CAS-One® IR Image-Guided System – and the investment is good news for patients who will benefit from equipment that enables the Interventional Radiology Department and liver cancer surgeons to improve tumour ablation through image-guided planning, navigation, and confirmation.
Tumour ablation involves using extreme temperature to destroy tumours. Raising funds to pay for the CAS-One IR system, created by CASCINATION, is one of the key aims of the Hampshire Medical Fund charity in 2022. The charity supports HHFT, which runs hospitals in Basingstoke, Winchester, and Andover, by raising funds for specific pieces of medical equipment which cannot otherwise be acquired on the NHS.
Using CAS-One IR will bring the following benefits to patients and HHFT:
More patients can be treated with ablation
It is less invasive and results in shorter hospital stays
Complication and local recurrence rates can be reduced
Treatment time can be reduced and standardised.
The good news is the equipment is already on loan and in use at HHFT and Dr Shaheen Noorani, consultant interventional radiologist, told a gathering to celebrate the arrival of the system and the launch of the fundraising campaign that it is already making a difference.
"This technology is very intuitive," she said. "It is amazing software that will enhance the quality of our ablations to improve the outcomes for our patients."
Pioneering HHFT liver cancer surgeon Merv Rees said: "I have been involved in a lot of advances in medicine. Once in a while something really good comes along, and this is one of those game changers, and I cannot tell you how excited I am."
Francesca Chatburn, charity director of Hampshire Medical Fund, told the audience, who included HHFT staff, representatives from CASCINATION, and Basingstoke and Deane Borough Council leader Councillor Simon Bound, that proceeds from the organisation's 2022 summer festival, Good Festival (formerly Hampshire Country and Garden Festival) will go directly to the CAS-One IR system fundraising campaign.
Professor Stefan Weber, chief executive officer of CASCINATION, was delighted to present Dr Noorani with one of the company's prestigious Case of the Year awards after the system was used to help successfully treat an elderly HHFT patient who had a very challenging liver tumour.
Dr Lara Alloway, chief medical officer at HHFT and a trustee of Hampshire Medical Fund, said: "The Hampshire Medical Fund is delighted to support this project.
"We are really proud of the service that the interventional radiologists and liver surgeons at HHFT provide, caring for people with liver cancers.  We look forward to using this new system to allow more patients to receive and benefit from this innovative care."
For more information about the work of the Hampshire Medical Fund, please go to https://www.hampshiremedicalfund.org/. Tickets to Good Festival are on sale now at www.goodfestival.co.uk' – and donors can also support the purchase of this equipment by texting HMFGF to 70450 to donate £5.
For more information on the CAS-One IR system, visit https://www.cascination.com/en/quality-ablation
Picture captions:
Dr Shaheen Noorani (left) and liver cancer surgeon Merv Rees explain the benefits that the new system can bring to patients. 
Words by Mark Jones
Photographs by Laurencia Aning