0
18th January 2022 10:00 am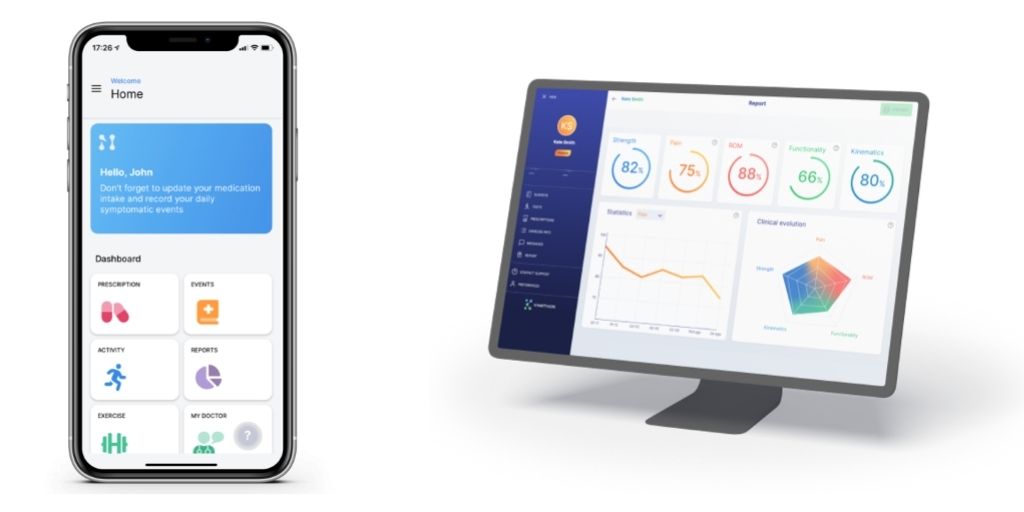 Kinetikos Health is revolutionising the standard of care for Movement Disorders, namely Parkinson's disease. They have created a CE-mark mobile app for Parkinson's disease treatment monitoring that enables healthcare providers to monitor patients remotely and prescribe treatment. The app has achieved a remarkable score of 82% by ORCHA and it's now available on NHS app libraries in the UK working as formularies for doctors to prescribe apps to their patients. They were exhibiting at the HETT Show in London as one of ORCHA's top-scoring digital health solutions.
Overview of Parkinson's disease in the UK
There are over 147,000 people with Parkinson's (PwP) in the UK with global prevalence to double by 2040 due partly to an ageing population. Parkinson's disease is diagnosed where bradykinesia, rigidity and tremor occurs. There's no cure and disease progression is variable, with patient medication becoming more complex and emergency admissions due to falls frequently occurring. 2:5 were emergency admissions (46,318 PwP) with an average cost of £3,889 per patient. There's also reduced staff capacity and many admissions like falls and infections could be prevented and earlier problems predicted through remote continuous monitoring. The NHS Long Term Plan underpins the importance of digital technologies for monitoring patients. According to many sources, digital health technology will be the driving force for personalising care in 2022. PIFU (Patient Initiated follow up) will help providers and systems manage backlogs.
mKinetikos solution and problem addressed The mKinetikos app continuously monitors the patient through their mobile phone to provide a cloud-based report based on the patient's movement as well as their response to individual tests (e.g. timed walk, finger tapping, etc). It also provides a medication adherence monitor and medication reminder, events diary to record falls, freezing, etc., chat function and news alert. Thus, the clinician has a picture of the patient without needing to see them and the patient is able to self-monitor and self-report issues. Data collected is analysed using proprietary algorithms to generate a report which is cloud-based. The report shows scores on bradykinesia, dyskinesia, tremors and immobility. It also reports on medication adherence, motor fluctuations and automatically alerts the clinician if a patient moves out of set parameters.
The ability to monitor PwP on a daily basis through mKinetikos can help to act as an early warning system, prevent hospital admissions and improve patient's quality of life. Kinetikos technology is currently available within the UK. The app is downloadable for Android and iPhone.
Evidence-based solution Scientific studies have validated this solution. The company is backed up by the Chief Scientific Advisor, Dr. Rui Costa (CEO of Allen Institute) and Chief Medical Officer Dr Joaquim Ferreira (CNS).
"Kinetikos is bringing to the market a clinical decision-making support platform for movement-related disorders that relies on state-of-the-art scientific musculoskeletal models and machine learning algorithms – I was amazed by how Kinetikos put it all together!" Dr. Rui Costa Scientific Advisor
"Kinetikos combines a technology with a clinical team, which places them in a privileged position for development and validation of new devices. At CNS, we use Kinetiko's system to evaluate all new patients on admission and to monitor the response to therapeutic interventions." Dr. Joaquim Ferreira CNS
The role of ORCHA and its importance The healthcare app review company ORCHA certifies apps for safe digital adoption by healthcare services. Their unique review engine assesses apps in key domains across Clinical/Professional Assurance, Data & Privacy, Usability & Accessibility. A BBC News article, which discussed the proportion of healthcare apps that are not up to relevant standards, states that only 15% of 5,000 reviewed apps, meet minimum standards. Failings include poor information, lack of security updates and insufficient awareness of regulatory requirements, said Orcha chief executive Liz Ashall-Payne.
The mKinetikos app is available on dozens of NHS app libraries enabled by ORCHA. These apps become available on public-facing libraries working as formularies to doctors to prescribe apps to their patients. mKinetikos is the highest-scored in the Parkinson's category.