0
5th February 2021 8:00 am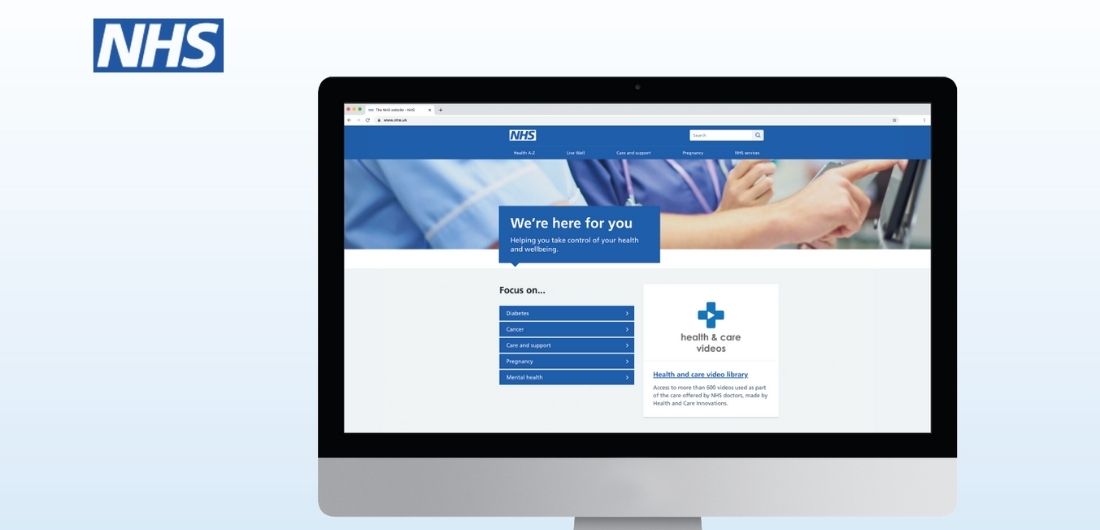 HCI's patient information video library, supported by NHSX, is now available via the NHS.uk homepage.
With 60 million visits every month, nhs.uk is the UK's most trusted place to go for health advice. So for HCI, having their library of over 600 health information videos linked to from the NHS website homepage is a significant achievement.
HCI are a partnership with Torbay and South Devon NHS Foundation Trust and together have produced hundreds of videos to support patient care pathways. The videos are written by clinical script writers and signed off by NHS clinicians. In 2020 at the start of the COVID-19 pandemic, NHSX funded a national Health and Care Video Library, home to over 600 patient information videos covering topics such as diabetes, pregnancy and asthma, as well as 'how to' and 'what to expect' videos. designed to support clinicians in the remote delivery of patient care and education.
NHSX agreed the licence to the national Health and Care Video Library so that it could be made freely available and supported the remote delivery of patient care and education.
Since it's launch 2 out of 3 patients surveyed saying that the videos they watched saved them the need for further contact with a healthcare professional.
74% of survey respondents also said that the videos they watched helped to support them in caring for themselves, or others.
Tara Donnelly, Chief Digital Officer for NHSX said of the video library
"These videos are a fantastic resource to support people who need help or advice at home, as well as busy clinical staff. We've had such positive feedback about how useful people have found them during the pandemic. Their addition to the nhs.uk homepage now means people can access them even more easily and allows clinicians to refer people directly to trusted advice on a familiar website which now gets 60 million visits a month."
Torbay and South Devon NHS Foundation Trust have been using the videos in care pathways since 2015 and have seen impressive results.
Dr Matt Halkes, Clinical Director of HCI, and Director of Innovation and Digital Transformation at Torbay and South Devon NHS Foundation Trust, says
"We know first hand how these videos can help to relieve pressures and improve patient experience as well as save time for both patients and clinical teams. At Torbay we have been using video to transform pathways of care to great effect, creating an 80% reduction in podiatry follow-up appointments, saving 120 appointments a year in physiotherapy, and saving 85% of staff time a week in cardiology. Subsequently, our annual cost saving amounts to over £350,000 a year. The fact that these videos are now easily accessible to patients where they would expect, and want to find health information, is a real step forward in improving the way we share clinically assured information remotely.
Richard Wyatt-Haines, HCI Founder and Director
"Video works. It's been our mission to get knowledge into the hands of patients and having them on the UK's most trusted platform is a great step in achieving that. Better informed patients mean shorter appointment times, people ask the right questions and information can be shared remotely that can be returned to again and again. It's clear, it's written by NHS professionals and it makes health information easier to understand.
The benefits of using video in care pathways is huge. With 2 in 3 patients being able to find the information they need without contacting their GP surgery or specialty helpline, it frees up staff time across the health system at a time it's needed more than ever with mounting pressures on vaccinations and the backlog in elective care".
Patients have also shared positive feedback on the visual benefits of video with comments including
"It's a fantastically informative way of showing patients what to expect and it put my mind at ease'.
"You can't always retain information but if you've got in on a screen that you can get at quickly, it's so helpful"