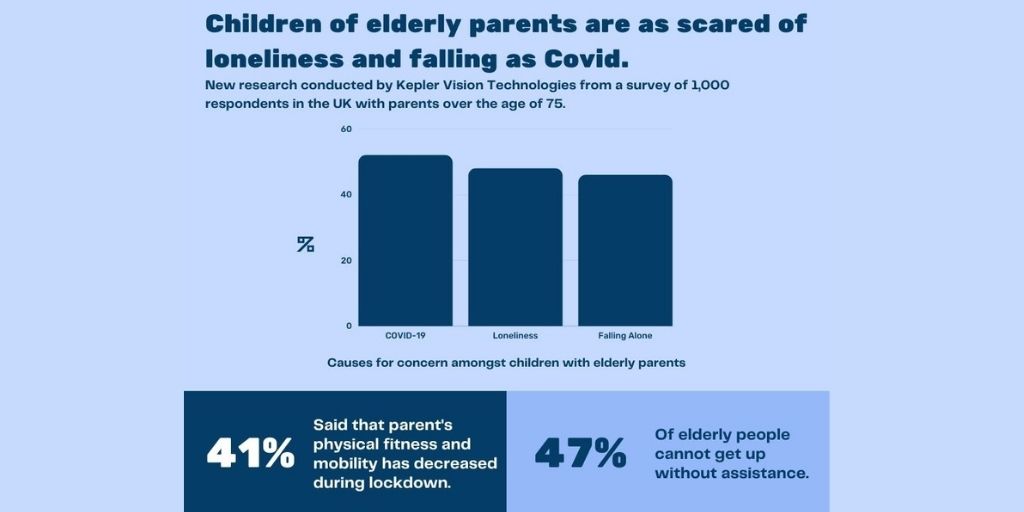 New research out today from, Kepler Vision Technologies, a global leader in computer vision monitoring technology, reveals that while people are still concerned about the possibility of elderly relatives catching Covid, day-to-day concerns such as loneliness, mental health and falling over are of an almost equal concern.
Parental Loneliness and Falls a Huge Worry for Brits
In a survey of UK adults with parents over the age of 75, while over half (52%) of respondents remain worried about their parents catching Covid, 48 percent are concerned about parental loneliness, and 46 percent about their parents falling alone and not being able to get up or get help. This figure remained high even among those whose parents are in care homes, with 37% of respondents still most concerned about parents falling over.
Physical Mobility in Elderly People Massively Impacted During Lockdown
There is also concern that the long-term effects on the mental and physical health of the elderly are still being felt. Four in ten respondents (41 percent) revealed that their parent's physical fitness and mobility has decreased during lockdown, as a result of being confined to homes for months at a time with little opportunity to exercise or physically engage with others.
Dr Harro Stokman, CEO of Kepler Vision Technologies said: "With fears about Covid beginning to recede, those with older relatives are rightly concerned with the more common problems faced by the elderly both in care and while living alone. Issues such as loneliness and falling over are both exacerbated by the ongoing staffing crisis in the care industry and, with no new influx of care staff on the horizon, the children of elderly parents should be looking for solutions that provide them with the best possible care and dignity in their old age."
Getting up from the floor after a fall is a challenge for the elderly. According to a study on the effects of falling among elderly people[1], even when not injured, 47% cannot get up without assistance. Remaining on the floor after a fall for a prolonged period increases the morbidity and mortality, with an early study [2] finding that half of those who remained on the floor after a fall for an hour or longer passed away within 6 months. Another study [3] showed that 60% of those who were on the floor after a fall for more than an hour were admitted to hospital in the follow-up year.
Kepler Vision's Night Nurse solution is designed to alert relevant staff or carers immediately to elderly people that have experienced a fall, ensuring that they get assistance within minutes not hours, reducing the chances of further injury and health complications.