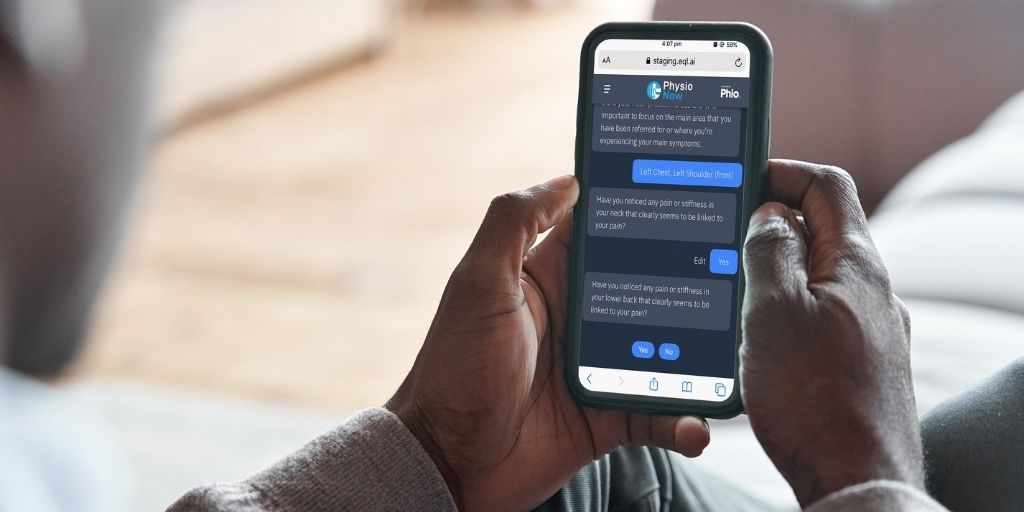 A pioneering digital healthcare pilot which supported over 1000 musculoskeletal patients in Wales to get the best medical care and advice, has resulted in 69% of users feeling they received faster access to physiotherapy and has the potential to create over £1m of annual savings to be made, if rolled out across the country.
The four-month care project commissioned Connect Health, the UK's largest, independent provider of community musculoskeletal (MSK) and pain services, to introduce its PhysioNow® digital tool across Cwm Taf Morgannwg and Hywel Dda Health Boards.
Coordinated by Digital Health Ecosystem Wales, a collaboration between Life Sciences Hub Wales and the NHS Wales Informatics Service (NWIS), the project was financed by the Covid-19 Digital Solutions Fund which explores innovative ways technology can be used in response to coronavirus and beyond.
PhysioNow® is a clinically led chat-bot providing an agile and remote triage and support solution for musculoskeletal conditions. Thanks to its tried and tested and highly sophisticated algorithms, users are guided to the appropriate pathway for their needs; enabling the right care, at the right time, from the right person.
In August 2020, it was rapidly introduced within NHS environments in the health board target areas, by Connect Health and its partners, EQL and PhysioSpace Cardiff.
Results of the PhysioNow® pilot, which concluded in December, included:
One third of patients (34%) used it outside of 'core' office hours.
24% of which had an 'urgent' outcome which they received timely support for – potentially deterring them from seeking other forms of emergency help e.g., visiting overstretched accident and emergency departments.
81% gave a positive 'would recommend to friends and family' score.
Age was not a barrier – in fact, more people aged 65+ used it compared to those aged 18-30.
75% of patients felt it was easy to describe their symptoms.
85% overall satisfaction rates for ease of use.
69% felt they received faster access to physiotherapy services.
For more information about the pilot and the benefits it achieved please see our case study here: https://www.connecthealth.co.uk/case-studies/physionow-wales/
Work is ongoing to explore options regarding further use of PhysioNow, to help the 887,000 people in Wales – 29.3%[1] of the population, who suffer with MSK conditions, such as arthritis and back pain.
Professor Andrew Walton, Group Executive Director, Connect Health, explains: "We strive to be at the forefront of innovation and have been very active in the use of digital health to support people during these challenging times. Our tool puts patients in the driving seat, empowering them to take ownership of their health."
Zoe Brewster, Assistant Head of Physiotherapy, Cwm Taf Morgannwg Health Board, adds: "PhysioNow® is bringing benefits to our team of physiotherapists, providing important information about a patient's condition before they even set foot in the clinic and helping us to streamline our services and treat those patients most in need."
During the pilot, PhysioNow® was accessible in Welsh and users were able to remotely access an initial assessment 24/7 from anywhere. This was a positive step for many patients who were apprehensive about accessing face-to-face services or had experienced appointment delays, because of COVID-19.
Abi Phillips, Head of Innovation – Economy Skills & Natural Resources Group, Welsh Government, added ""PhysioNow is a great example of how we can enable patients to access services from a device when and where they wish to. Covid-19 has pushed us all to think differently, and this project has demonstrated the level of impact that can be achieved in a short timeframe."
Link to summary evaluation report – https://www.connecthealth.co.uk/case-studies/physionow-wales/
Further information about the fund
https://lshubwales.com/news/ps150000-awarded-digital-solutions-response-covid-19