0
25th March 2021 8:00 am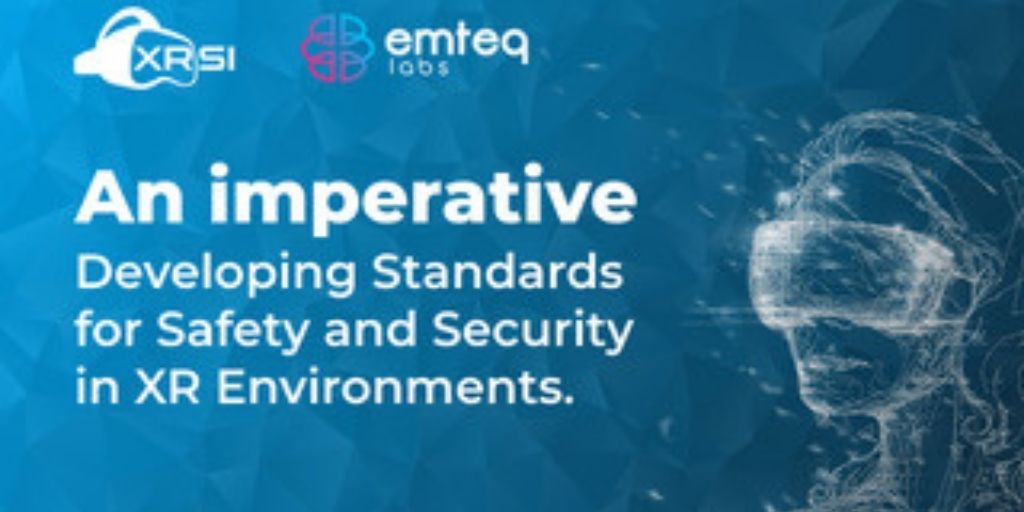 an Francisco, US / Brighton, UK: emteq labs and the XR Safety Initiative (XRSI) today released a seminal white paper calling on creators, developers, professionals, and regulators in the VR/AR domain to collaborate on vital industry standards required for safeguarding and security in XR.  
Entitled "An Imperative: Developing Standards for Safety and Security in XR Environments" and based on an expert roundtable with members of the XRSI MedicalXR Council, in partnership with emteq labs, the report explores the potential risks and rewards that await the XR ecosystem. It makes clear recommendations for new industry standards to ensure that safety and security are positioned front and centre, in order to maximise the potential for good, whilst mitigating opportunities for harm. 
Whilst virtual reality technologies have been available for decades, we are now in a period of rapid growth in virtual, augmented and mixed reality technologies, collectively known as XR. The acceleration in XR availability and adoption can be attributed to many factors, principally, a reduction in hardware cost, increased availability of high-speed high-quality connectivity, and most recently, shifts in society brought on by the global pandemic.
As with all emerging technologies, the confluence of new economic and societal norms with new techniques and capabilities gives rise to new opportunities, challenges, and entirely new paradigms. 
Beyond entertainment, the broader benefits of XR to individuals, enterprises, researchers and institutions is flourishing. The benefits are huge, but with this growth comes the risk that misuse, and abuse could derail progress and undermine the positive benefits. The benefits of XR can only be capitalised on if:
●      It is safe
●      It is trusted
●      It is proven effective 
A special focus is dedicated to the clinical and therapeutic application of XR. In the midst of a global pandemic this has never been more pressing, with hospitals,healthcare professionals and health systems pushed beyond their limits, highlighting the need to find new, safe, secure, and effective ways to treat patients away from hospitals, clinics and surgeries.Explaining the challenges that come along with opportunity, Professor Walter Greenleaf, PhD, Neuroscientist, Virtual Reality, and Digital Health Expert said: "Now that we have such powerful tools such as machine learning, we have to consider that personal health information is sometimes escaping the clinical context, that we might be playing in a multi-user online video game where our voice is being recorded, our movements and our choices are being used, and eventually a profile can be built up and even if we're part of that game anonymously." 
Commenting on the current absence of XR regulation, Rachel Michelson, Medical XR Advisory Council Lead at XRSI said:
"The regulations are not where they should be. Novel types of hazards and novel types of data being collected, for example the attributes of immersive technology, and the regulators are not used to dealing with that, so new regulations are needed. But an even a bigger problem, in my mind, is the one that we have companies entering the medical field and trying to become medical device manufacturers that are not familiar with the current level of regulations."