0
25th January 2021 10:00 am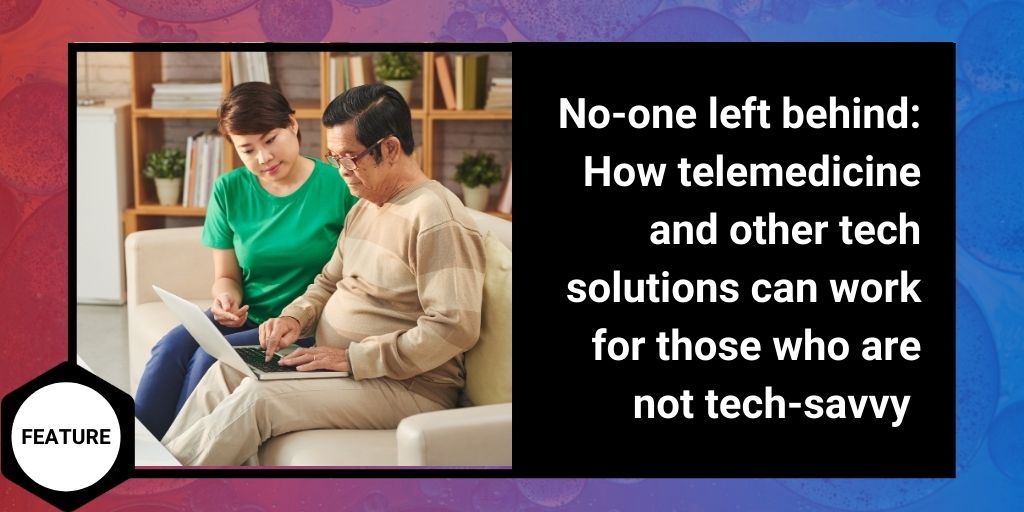 As the Covid-19 pandemic grips the world, those who are particularly vulnerable to the illness have been ordered to shelter at home. Unfortunately, this would mean that any medical care and family support would now have to take place remotely.
For many who struggle to grasp the fast-changing technological solutions or don't have access to reliable internet, remote options and tech solutions could isolate them from medical care and contact with family and friends.
Luckily, with telemedicine placed at the forefront by Covid-19, many innovators have realised that these solutions will only work if they could be used by everyone – including the most vulnerable, who might not always be as tech-savvy as their younger peers.
Creating the right services for the right people 
One company believes that remote tech solutions would gain little success if their target users are not considered.
Visionable provides a video-based collaboration platform that is used in the NHS for multi-disciplinary team meetings, virtual clinics and virtual visits.
Designed by founders who have worked within the NHS and who continue to partner closely with NHS clinicians, the platform has been built specifically to address the need for a better 'connected' health system.
Visionable makes it easy for everyone – from clinicians to whole organisations – to work together, ensuring patients' access to the timeliest, best care possible.
Lord Victor Adebowale, chair of Visionable, states that, "Healthcare services should be designed around the needs of individuals and communities before we think about procuring them. This is core to the definition of commissioning in healthcare, and if we get that wrong, then we end up procuring the wrong services for the wrong people.
"Many of the high-profile digital healthcare services out there have not necessarily been designed for them. They haven't been designed for, or with, the most disadvantaged parts of society, or for those people with the most challenging health problems. And that's what we need to address through technology if we are to avoid a two-tier healthcare system, especially at this time of crisis, amid a global pandemic when people's ordinary access to services is not available,"
Abedowale stated that now is the opportunity for digital solutions to be redesigned so that no-one is left behind.
"People at the sharp end of the inverse care law, in other words, those who need health and social care the most but get access to it the least, are the people that can benefit from this approach the most."
Pandemic removing tech barriers 
In the effort to make healthcare more available remotely, there are companies who are addressing these issues as to not exclude their target market.
Doctor Care Anywhere, a doctor-founded and patient-focused digital healthcare company, realised that and brought together primary and secondary care into the cloud using a proprietary platform, to simplify the patient's journey through remote consultation.
Dr Bayju Thakar is a former NHS doctor and founder and CEO of Doctor Care Anywhere. His system aims to give people greater control over their healthcare and easier access to clinicians. Now, in the light of Covid-19, he states that technological solutions to bring medical care into the homes of the vulnerable is even more important.
"The coronavirus pandemic is a seminal moment for the way in which we deliver healthcare. As our NHS has risen to the challenge of tackling the outbreak under growing pressure, the digital healthcare sector has also stepped up to the plate to provide vital healthcare tools to patients worldwide. Through access to video and phone consultations, vulnerable groups of patients, particularly, benefit from access to excellent care from their GPs within the comfort of their own homes."
In practice, for those who need support with bridging the tech gap from seeing a GP face-to-face to talking with them remotely, there is a robust framework in place to smoothly make that transition. With Doctor Care Anywhere, patients who are unfamiliar with the technology behind video calls, can always opt to receive a phone call from their GP instead.
 And for those willing to take the leap to have video consultations with their GP, we have a customer services team dedicated to responding to our patients' queries, be they about the services we offer or the platform we use to do so.
"However, removing barriers to healthcare access has meant something much more to us than offering our patients remote consultations. It has meant rethinking the status quo of our healthcare system. More specifically, at the core of Doctor Care Anywhere's offering is the seamless integration of all steps of the patient journey, namely, primary care, diagnostics and secondary care, through a secure cloud-based digital patient record, that is owned by the patient," stated Dr Thakar.
Tech designed from the ground up 
Another company, INF Care, developed remote care built to make a difference in the lives of older adults, regardless of their income level or technology literacy. CEO of INF Care, Anthony Nunez, has brought years of advanced software development experience while his co-founder, Carla Rodriguez, has the understanding from the older adult's perspective from her prior experience in engagement with this target demographic.
Together, they have a software solution that is revolutionising home care. for older adults, making it a reality to age in place longer, easier and at a lower cost than before.
Their solution helps older adult clients of home care connect with home care, stay engaged while providing home care a unique perspective into the client's daily routines, allowing home care to set target goals, get real time updates and leverage our software to help drive outcomes.
It is specifically designed from the ground up, not only for lower income groups, but also for those with lower technology literacy.
"Older adults do not trust technology, nor do they understand it. They value their privacy but technology these days does not operate that way.  Our solution is different, we have the industry highest engagement rate of older adults and our technology solution." Anthony Nunez, founder of INF Care, said.
As Covid-19 progressed, they have seen a significant increase in demand for home care solutions and other companies are likely to have seen the same trend, with a stronger emphasis on remote tech solutions for the future.
User-friendly, intuitive solution 
Docobo Ltd has designed the CAREPORTAL®, a Class IIa Medical Device grade piece of equipment which conforms to MDD (European Medical Device Directive), and was specifically designed to meet the needs of users with a range of physical and mental abilities.
This system enables clinicians to remotely monitor patients' vital signs and symptoms, whether related to their long-term condition or if they are poorly or exhibit symptoms of COVID-19. Patients who may not be tech-savvy can use the intuitive devices to check their vital signs and send to clinicians.
According to Adrian Flowerday, managing director and co-founder of Docobo Ltd, devices and portals should be designed in a way that not only the technology is easy to grasp, but also to be suitable for all cognitive disabilities to handle. For this reason, a simple, robust design with a large colour touchscreen display and user interface is vital.
An intelligent cradle docking station also eliminates the need to plug the device into different ports, which makes it easier to handle for those with cognitive difficulties and disabilities.
They too have seen a tremendous increase in demand as the elderly high-risk population were told to shield while still needing care for other healthcare issues.

Health to be democratised through technology  
As tech solutions are put at the forefront during Covid-19, innovators will keep on working to ensure that everyone will receive high-quality healthcare. According to Richard Hayhurst, director of Richard Hayhurst Associates, a company specialising in science communication, it's vital to realise that each patient has a unique need and life priorities and that healthcare should be democratised.
"Our experience shows that the elderly are very keen to embrace new technology – indeed almost as keen as the young," he said.
"So you often get the situation where grandparents and grandchildren show and explain apps to each other. Of course. there are also unfortunately a growing number of elderly living alone, so here we are more reliant on health professionals explaining the apps – but we are also finding that once something is explained they then rapidly become frequent users."