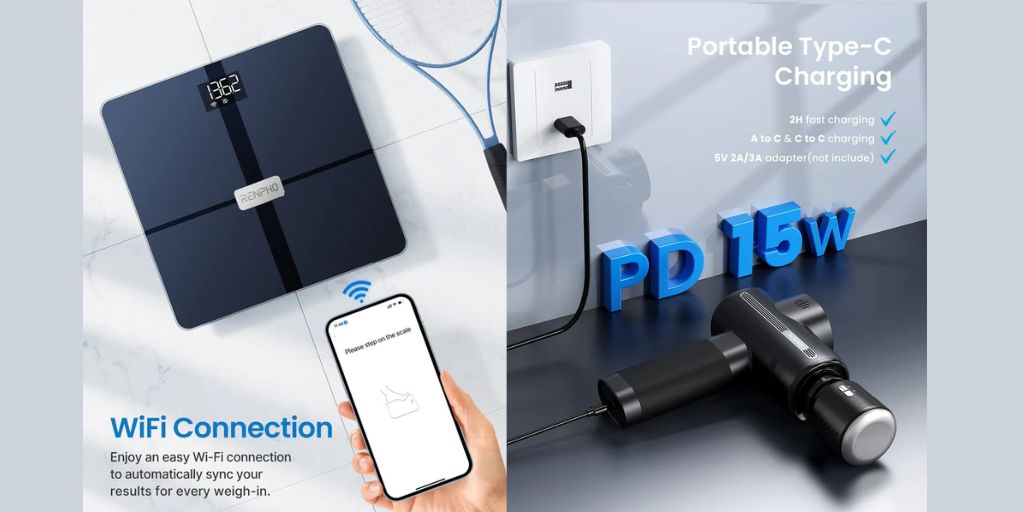 Elis Aspire Smart Body Scale

Track your weight and fitness goals with the Elis Aspire Smart Body Scale. Perfect for those looking to get fit or learn about your body type with 13 body metrics. Connect with Wi-Fi for greater convenience and automatically sync to the Renpho Health app. Step on the scale, track your data and see your trends overtime.
Delivers comprehensive insight to help you reach your health and fitness goals.
Provides real-time information to track progress
Track your milestones by using the Renpho Health app
Access your data on any device by syncing with Samsung Health, Fitbit, Google Fit, or Apple Health
Unlimited users for the entire family to share progress
Body Composition Analysis
Gain detailed information on 13 essential body measurements (Body Weight, BMI, Body Fat%, Body Water %, Skeletal Muscle, Fat-free Body Weight, Muscle Mass, Bone Mass, Protein, BMR, Subcutaneous Fat, Visceral Fat, and Metabolic Age).
Set Your Goals
Reach key milestones by managing your goals through the app.
Personalised User Experience
Get accurate progress data through graphs that update in real-time.
Seamless App Experience
Sync the device to the app via Bluetooth and gain access to your complete body data history.
Dual Connectivity
Record and upload data without opening the Renpho Health App via Wi-Fi or Bluetooth connection so you can view your account wherever you are.
Advanced Technology
With its ITO coating technology, enjoy a minimalist-styled device without compromising on the precision of its BIA sensors.
Synchronous Data Logging
Save your data via Wi-Fi or Bluetooth via the Renpho Health app.
https://renpho.uk/collections/body-scales/products/elis-aspire-smart-body-scale
Don't forget to use code HTD10 to receive 10% off your order!
Renpho Active Thermacool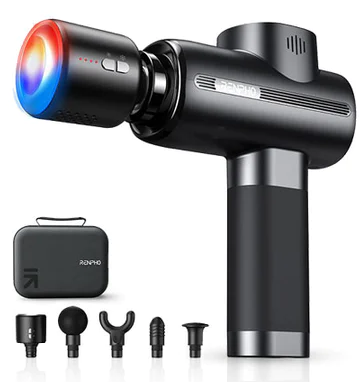 Powerful Massage Gun Deep Tissue — We are dedicated to offering a more exquisite and intense sports massage gun for back pain; With premium metal housing and a super powerful brushless motor, the RENPHO New muscle massage gun delivers depth high penetration reaches and massages muscle tissue 10mm depth, better relieve muscle fatigue and pain.
Provides relief for various muscle groups
More exquisite and intense sports massage gun for back pain
Target hard-to-reach spots on your body due to its design
Deeper muscle relaxation and stress relief
Interchangeable heads to target different body parts
FEATURES
Heating and Cooling Head x1 & Standard Massage Heads x4
Renpho Massage Gun comes with a heating and cooling massage head that can heat up to 131 °F (55 °C) or cool down to 61 8 °Cï¼ for deeper muscle relaxation and stress relief. Choose from 4 standard massage heads to relax your body by targeting different muscle groups.
15W PD Fast Charging & Type C Charging
Supports 15W PD Fast Charging, fully charging just needs 1.5-2 hours while the normal model needs at least 4 hours. Powered by 5X longer cycle rechargeable battery, the RENPHO upgrade deep tissue massage gun can be charged by A-C or C-C Cable. Fast charging anytime, anywhere for portable use.
Up to 3200rpm(5 speeds) & Super-quiet design
5 speeds from 1800 to 3200rpm are provided for different muscle groups, aiding in sore muscle massage, relaxing and shaping different muscle parts; 40dB to blend in with ambient sounds, the percussion massage gun offers you an enjoyable and quiet massage experience.
https://renpho.com/products/acitve-massage-gun-with-heat-and-cold-head
Don't forget to use code HTD10 to receive 10% off your order!