0
29th September 2021 10:00 am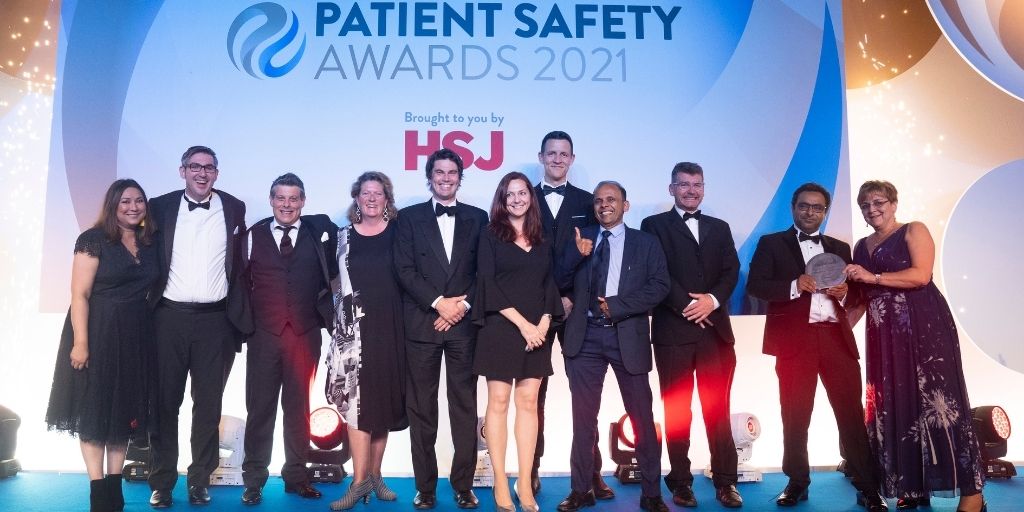 A ground-breaking regional anaesthesia device, invented by clinicians at The Queen Elizabeth Hospital King's Lynn NHS Foundation Trust (QEH) and developed in conjunction with medical device company Medovate, has been awarded 'Patient Safety Innovation of the Year' at this year's HSJ Patient Safety Awards.
The HSJ Patient Safety Awards celebrated the innovative work of frontline NHS teams in a year when the challenge and necessity of keeping the public safe had never been greater.
SAFIRA®: SAFer Injection for Regional Anaesthesia was recognised for its outstanding contribution to healthcare, fighting off competition from hundreds of applicants, with the judging panel highlighting its unique benefits for patient care:
"The judges felt that this was an outstanding example of healthcare innovation which has clearly improved safety for both patients and staff. This innovation clearly demonstrates a reduction in known risk, with opportunity to enhance the patient experience, as well as contributing to the Greener NHS agenda. Overall, a great innovation for healthcare, with good evidence of scalability and transferability to other sectors."
SAFIRA® is an intuitive, revolutionary technology which improves patient safety during regional anaesthesia (RA) by automatically limiting injection pressure thereby reducing the risk of nerve injury in patients. It also puts control of injection fully in the hands of the anaesthetist making it a single operator procedure.
SAFIRA® was taken through the entire development pathway, from regulatory approval to market launch, by Cambridge based Medovate and is now available globally.
The pioneering device was awarded the prestigious accolade based on its ambition, visionary spirit, and the demonstrable positive impact it has on patient and staff experiences within the healthcare sector.
Doctor Frankie Swords, Medical Director at QEH, said: "We are absolutely delighted that this exciting innovation, which has been developed by clinicians at QEH, was awarded Patient Safety Innovation of the Year. At QEH we are passionate about research and innovation which is critical to improving patient care, so I am delighted that we are leading the way on this. It is an incredible achievement, and we are extremely proud of everyone involved."
The Patient Safety Awards celebrate the teams at the frontline pushing the boundaries of patient safety and driving cultural change to minimise risk, enhance quality of care and ultimately save lives.
Stuart Thomson, Managing Director at Medovate, added: "This is a great honour for everyone involved. There are approximately 20 million nerve blocks performed across Europe and the US per year and any nerve damage associated with these procedures can be potentially life changing for a patient.
"SAFIRA® provides an intuitive, cost effective technology to help reduce the risk of nerve damage from injection at high pressure, improving care for patients whilst also saving both time and cost. It's a truly ground-breaking innovation which was designed in conjunction with the NHS and is already improving patient safety across the globe."
The awards took place during the two-day Patient Safety Congress in Manchester and were deliberated upon by 125 judges over a two-stage process. In total there were 23 categories to judge, with 8 innovative projects shortlisted in each category.
The Patient Safety Innovation of the Year category was sponsored by the NHS Supply Chain and the results delivered by Director of Clinical and Product Assurance, NHS Supply Chain, Jo Gander, who was also on the judging panel.
Other judges included a diverse range of highly influential and respected figures within the healthcare community including Sue Smith OBE (Executive Chief Nurse and Deputy Chief Executive Officer, University Hospitals Morecambe Bay FT), Rachel Power (Chief Executive, The Patients Association), Dr Hester Wain (Head of Patient Safety Policy, NHS England and NHS Improvement).
The full list of finalists for the 2021 HSJ Patient Safety Awards can be found here: https://www.hsj.co.uk/patient-safety-awards/winners-of-hsj-patient-safety-awards-2021-revealed/7030921.article