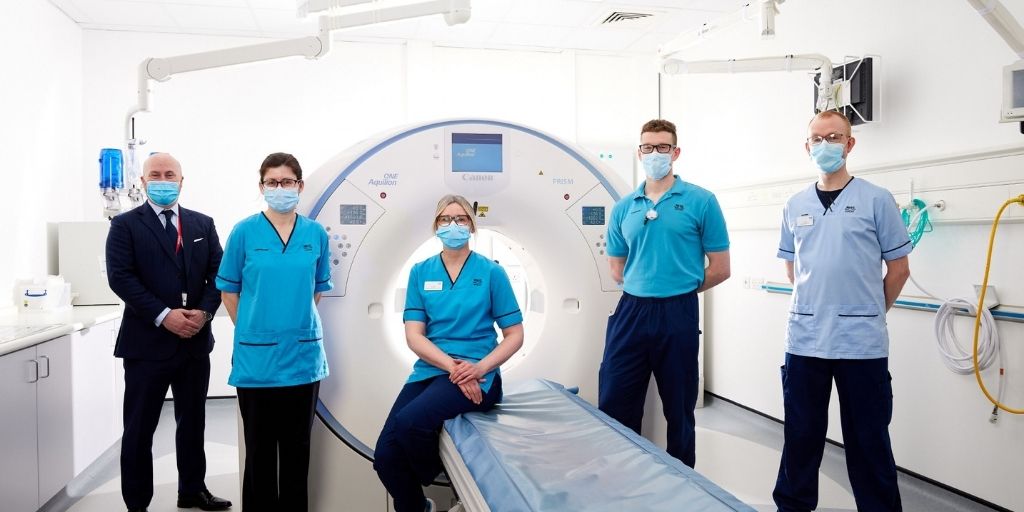 Deep intelligent CT scanners with AI inside transform breadth of clinical procedures
The Royal Infirmary of Edinburgh, a major acute teaching hospital in Scotland and part of NHS Lothian, has recently installed two new AI-assisted CT scanners from Canon Medical. Designed using Deep Learning Reconstruction, the systems are powered by an Advanced intelligent Clear-IQ Engine (AiCE) to deliver high quality medical imaging at speed to overcome the time vs patient demand challenge that most hospitals face today. A range of software applications also expands the procedures and possibilities for patient clinical practice and research.
In CT Pulmonary Angiography, iodine mapping is used as standard which provides the radiologists with extra information to aid diagnosis. A greater level of information delivered more quickly is better for clinical decision-making and is now achieved at lower dose. Similarly, Interventional Radiologists have found the subtraction package for CT Peripheral Angiograms extremely valuable. This provides excellent visualisation of the vessels, replacing the need to see vascular calcification via an MRI scan, which is not suitable for many patients, but still with reassurance of the dose being low. All of the processing is done automatically by the CT. Furthermore, using the CT fluoroscopy package, the time taken to undertake biopsies has halved, therefore reducing appointment times for patients experiencing uncomfortable procedures.
"As radiographers we can become blasé about the imaging equipment we use on a daily basis, but the arrival of the new Aquilion ONE PRISM Edition CT and Aquilion Prime SP CT have reminded us of the amazing innovation going into medical imaging today. Our cardiologists have been blown away with how quick a cardiac CT is acquired using the wide detector, as well as the image quality achieved at such low doses." states Lynne Thomson, CT/MRI Superintendent at the Royal Infirmary of Edinburgh.
She continues, "It's not just the speed, low dose and image quality that have impressed us, but also the versatility of the new CT scanners. The 'Area Finder' functionality is useful for 4D joints and extremity imaging, which means we can seat patients at the end of the scanner. We have plans to adapt the way we book appointments for inpatients and outpatients since the arrival of the new CTs, which will lead to better workflow across a number of departments at the hospital."
Mark Thomas, CT Modality Manager at Canon Medical Systems UK states, "There is no trade off in welcoming AI into the imaging department today through modality CT. No apprehension or anxiety should be part of the decision about embracing the future of AI in medical imaging. Our scanners are built to be used in the same way that radiographers are used to but have intelligent technology inside powering the processing and steering the quality of image output. This illuminates enthusiasm and initiates a brighter future of CT scanning."
"We have had trust in Canon Medical Systems for nearly two decades with a long-standing positive relationship in its medical imaging innovation, and for its after-sales and customer service. When our current 10-year-old CT scanners reached end of life, Canon Medical was again the natural choice. The new generation of Aquilion CT scanners is outstanding compared to what we were used to. Our radiologists have been amazed by the improved image quality and speed of procedures, and as radiographers, we are very pleased at the significantly reduced dose to patients," Lynne Thomson concludes.