0
9th October 2023 8:00 am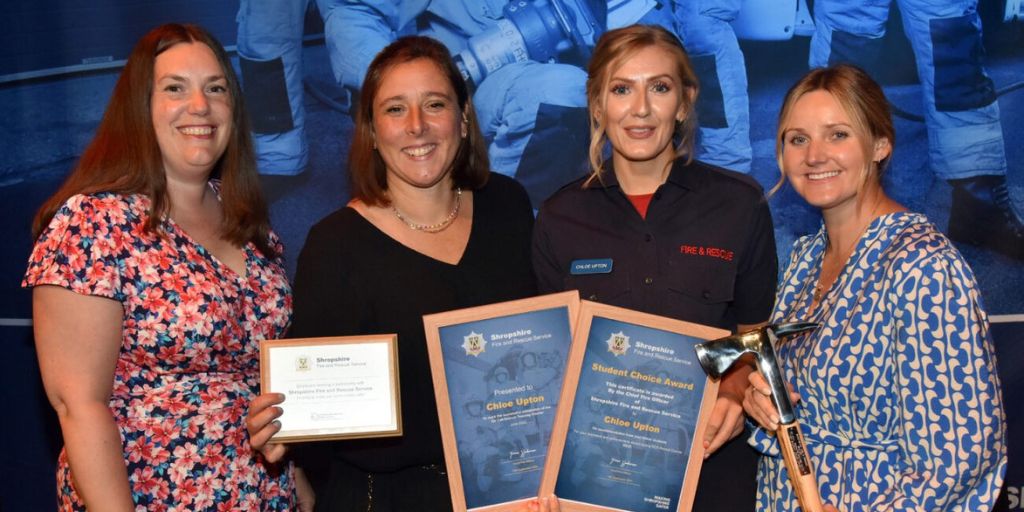 The award was presented to representatives who attended a glittering awards ceremony on behalf of The Robert Jones and Agnes Hunt Orthopaedic Hospital (RJAH). It was in recognition of the support given to Chloe Upton, a Project Support Officer at RJAH who also works as a retained firefighter with SFRS.
Chloe was also presented with two awards at the SFRS Celebration of Success 2023, held at Theatre Severn in Shrewsbury.
Sally Davies, Project Management Office Lead, said: "The PMO team are so proud of Chloe, the training is no small feat but some of the callouts are so involved, both physically and mentally, and then to return to her PMO role in between where she is also brilliant. She is a real asset to both organisations and the local community.
"Three of us from the Project Management Office were invited to Chloe's graduation, along with Chloe's family members, and we had an extra surprise as I was presented with the plaque, representing how we have supported Chloe by working flexibly so that she could attend training and answer on-call bleeps during the working day when on rota."
Chloe was presented with the Top Student and Student's Student Awards at the ceremony.
Chloe said: "I felt extremely supported by both Sally and my colleagues throughout my training and I really appreciated their patience whilst I took leave to attend the training weeks. I am lucky to have a role at RJAH which allows me to take on another role that I love.
"I was extremely chuffed when I won the Student Choice Award. My group formed a strong bond experiencing the intense training together, so it was nice for them to vote for me. Then winning Top Student as well was a massive surprise to me, the representative from the Training Team told me it was very well deserved, and I felt super proud."
Stacey Keegan, Chief Executive, said: "I am extremely proud of Chloe for what she has achieved whilst remaining dedicated to her project work here at RJAH. We are humbled to receive the plaque as recognition for Employers Working in Partnership with SFRS and we will always strive to support our staff.
"Chloe is a fine example of how to go above and beyond to support the local community," she added. "I am not surprised she was awarded Top Student, and the Student Choice Award, both very well earned. What an incredible achievement."
Photo caption: Siobahn Price, Sally Davies and Hayley Lewis from the Project Management Team at RJAH with Chloe Upton (centre right) at the Shropshire Fire and Rescue Service Awards.