0
6th October 2023 1:30 pm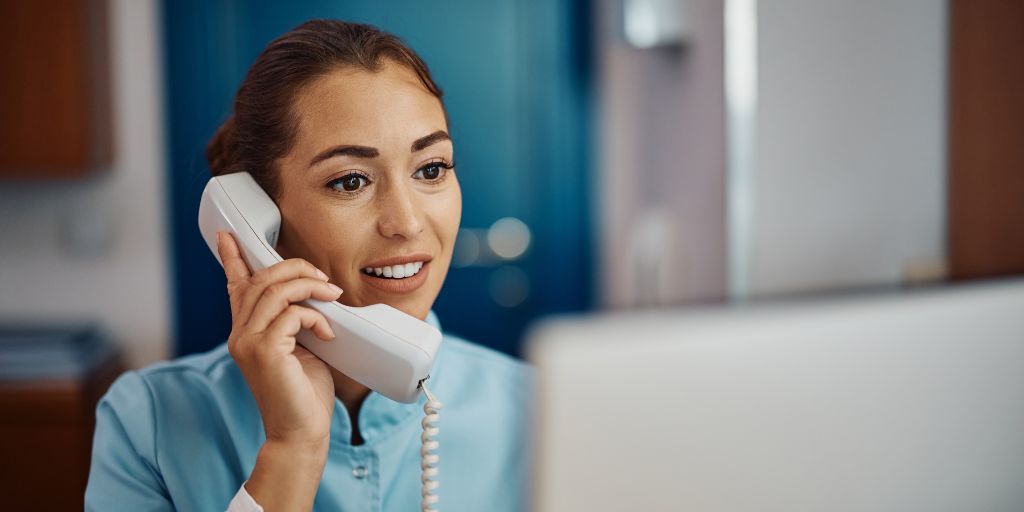 Autumn. For most of us, the season is marked by yellow leaves, shorter days, and chillier mornings. For those who work in GP practices, it's associated with something rather different: seasonal flu, and the swell of patients who shuffle in, sniffling and sneezing, coughing and aching. Vaccination clinics open. Waiting rooms fill up (if they're not already full). Staff work late. All this is overseen by the practice phone. By December, it's ringing off the hook.
For many years now, GP practices in the UK have been attempting to cope with an ever-increasing volume of inbound calls. NHS data released this summer revealed that they're booking millions more appointments each month compared to a few years ago. With legacy analogue phone lines, which most GP practices still use.
What's wrong with GP practices' legacy phone systems?
Legacy Integrated Services Digital Network (ISDN) and Public Switched Telephone Network (PSTN) phone lines are simple and rigid. When patients call these lines, they simply must wait on hold. They receive little information about when they might get through to an operator. For the operator, there's little insight about the people waiting on the line. Even if they only want to find out about opening times, both the caller and receptionist must wait like everyone else.
The result is that GP practices devote a considerable amount of time to addressing phone requests. However, this can impact the patient experience as they may become frustrated and choose to abandon their calls.
To improve this situation, the government announced in March of this year that all GP practices in the UK will be required to transition to Cloud telephony platforms, such as X-on Health's Surgery Connect. This transition is anticipated to be completed by the end of 2025 for all practices.
Why does Cloud telephony present an excellent solution?
Cloud telephony allows GP practices to transition from legacy phone systems to a flexible internet-based communication system. This transforms the phone line into a multi-media, multi-channel communications tool, creating a better experience for all. The benefits for practices and patients include:
Unlimited call volume

: the capacity of legacy ISDN lines is often restricted to a couple of dozen at one time. Anybody else who calls will be put on hold. This prevents larger GP practices from responding to every caller. With Cloud telephony, a practice can respond to an (essentially) unlimited number of callers, directly increasing its capacity to communicate with patients.
Location-free:

Cloud telephony platforms allow practices to associate specific numbers and call lines with specific people, as opposed to locations. This enables members of the practice team to continue working, unhindered, from wherever they are – at home, on a train, or at their desk. Calls can be answered on mobiles, laptops, or desktop computers.
Enhanced functionality:

as well as call making and receiving, Cloud telephony platforms enable a range of other functions. With Surgery Connect, operators can send individual or group SMS messages. They can request and receive photos from patients. They can offer callers the option to receive a 'call back', instead of waiting in the call queue. They can video-call. They can access clinical information about the caller, while they're calling. They can record calls, which can prove helpful in dispute resolution and training.
X-on Health has designed Surgery Connect in close collaboration with the GP practices it aims to serve. Its platform integrates openly with other practice software, including EMIS (a Gold-standard partner). Its unique 'drag and drop' X-flow interface allows practice teams to manage and edit their 'call flows' (the variety of channels used to channel callers) easily online. Practices can develop these to be as simple or as complex as required.
With X-flow, practice staff can reduce the time it takes to resolve patients' issues, while improving their overall experience. They can automate trivial, standardised identification questions about name, date-of-birth, and call motivation. Individual practices can also divert calls to different lines (emergency, vaccination clinic, appointments etc.), depending on responses given. For certain queries, lines can be opened and closed at specific times to alleviate the call traffic around the '8am rush'. Patients can even ask to receive a call back, instead of waiting in the queue. These custom adjustments – and many more – can all be performed live, with updated call flows active immediately.
During flu season, the functions available with Surgery Connect, X-on's Cloud telephony platform, have proven especially useful to existing clients. Because every GP practice operates its flu clinics differently, the customisability enabled by X-flow means that each practice can develop its own system, according to its own requirements. Those operating walk-in clinics can use the platform to send SMS messages to specific patients, or play pre-recorded messages when certain people call the practice. Those using pre-booked appointments can open a special call line – only open after a certain time of day to prevent clogging the line during peak hours, bringing an end to the 8am rush.
X-on Health is a trusted technology supplier as part of NHS England's 'Better Purchasing Framework'. It is the most-deployed Cloud telephony platform in the UK, used by over 2,500 GP surgeries. Its simple, all-inclusive pricing structure and easy-to-use interface makes it a brilliant option for practices switching to a cloud telephony platform from a legacy ISDN line, or another cloud platform. 
Come to see X-on Health at Best Practice in Birmingham, where we'll be demonstrating X-flow  and other Surgery Connect functionality on stand B75. Book am mini demo here: https://eu1.hubs.ly/H05BvDc0