0
26th September 2023 8:00 am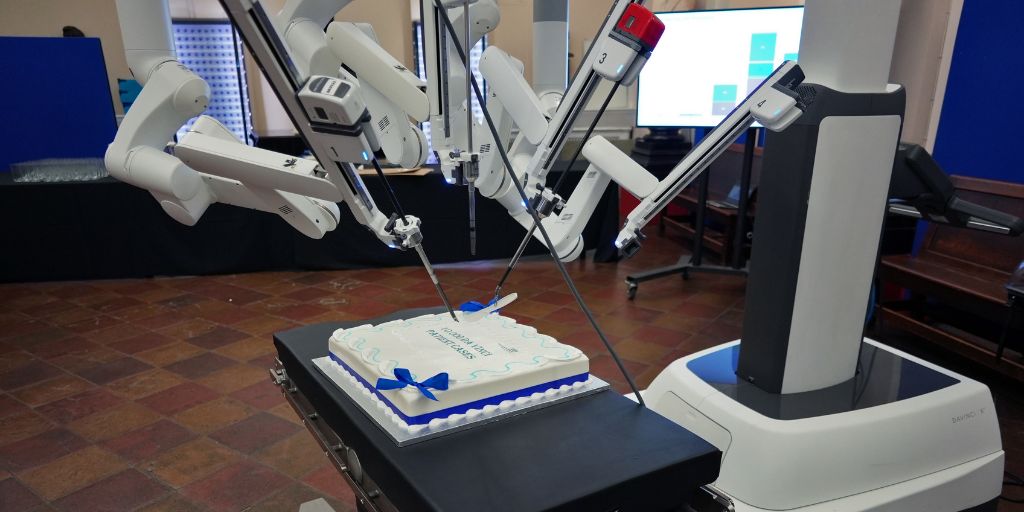 An NHS Trust that has pioneered the use of robotic-assisted surgery in the UK has become the first to complete 10,000 cases using the da Vinci Surgical System.
Guy's and St Thomas' installed its first da Vinci system in 2004 and is now home to the largest robotic surgery programme in the country.
Over the past 20 years, the robotics programme has evolved in size and technological advancement. The Trust initially started using one of the early da Vinci systems to perform urological surgery, led by Professor Prokar Dasgupta.
Since then, the programme has grown to include multiple new generations of Intuitive's da Vinci systems, across a wide range of specialities: urology, thoracic, head and neck, gynaecology, transplant and gastrointestinal surgery.
Mr Ben Challacombe, clinical lead for robotic surgery at Guy's and St Thomas', said: "Almost all prostate, kidney and lung cancer surgery is now completed robotically at our Trust. Several complex operations have been pioneered at Guy's and St Thomas', having never been performed with standard key-hole surgery techniques.
"We have an excellent professional team around the machines themselves including anaesthetists, dedicated robotic assistants and nurses, and highly experienced surgeons."
Prokar Dasgupta, honorary consultant urological surgeon at Guy's and St Thomas' and professor of surgery at King's Health Partners, said: "When we started robotic surgery 20 years ago we didn't really know how big the service was going to grow. From one early robotic system to the largest programme in the UK, we have come such a long way and helped so many of our patients."
After getting its first da Vinci robot, thanks to a grant from Guy's & St Thomas' Charity, the Trust currently has five da Vinci's, and seven robots in total. Notable milestones have included:
Second da Vinci system installed in 2010
Becoming the UK's largest thoracic robotic surgery programme after the first thoracic procedure was performed in 2016
First paediatric robotic surgical procedure for testicular cancer in the UK in 2021
David Marante, UK Regional Director of Intuitive, the maker of the da Vinci robotic-assisted surgical system, said: "We'd like to congratulate the team at Guy's and St Thomas' who now join a small and accomplished group of hospitals globally that have pioneered the use of our da Vinci technology to advance robotic-assisted surgery and reach this incredible milestone of 10,000 da Vinci cases.
"It has been a privilege for us to work with the team as their da Vinci programme has expanded to ensure more patients have access to minimally invasive surgery."