0
30th August 2022 10:00 am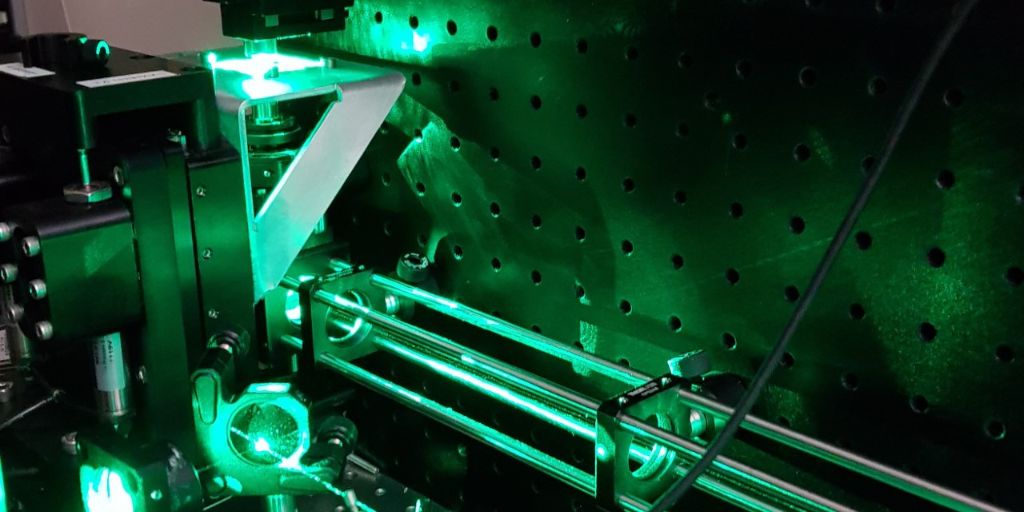 The time it takes to manufacture fibre-optic medical devices used in healthcare has been dramatically slashed, Heriot-Watt University has announced.
A previously developed suite of highly innovative thin and flexible optical devices has been demonstrated for the future diagnosis and treatment of a range of conditions.  The devices, however, require complex systems of micro-optic lenses, mirrors, and prisms, like a microscope, at their end (distal-end microsystems). These systems have the potential to transform the delivery of procedures like key-hole surgeries and biopsies.
However, manufacturing the complex end of each device has, up to now, taken hours per device, increasing costs, and limiting up-take.
A new technique developed by Heriot-Watt University has dramatically reduced manufacturing time for the optical systems from hours to just a few minutes using laser beam shaping techniques.  The findings were published in peer-reviewed journal Optics Express.
The team also developed new micro-optic systems for applications in minimally invasive precision microsurgery using ultrafast laser pulses delivered by specialist hollow core fibres developed by the University of Bath.
The results were unveiled as part of a wider report into the University's five-year £1.3M 4MD Platform grant, funded by the Engineering and Physical Sciences Research Council (EPSRC), part of UK Research & innovation.
Professor Robert Thomson from Heriot-Watt University led the project team that has developed the new manufacturing technique. He explained: "Medical device technologies are vital for the detection and treatment of a huge number of diseases and healthcare challenges. Increasingly, micro-devices are being developed for minimally invasive measurement and therapy, for example in cancer detection and precision laser surgery. However, up to now, they have been very expensive to produce. Coming up with a medical device innovation is exciting but if it can't be made commercially, it won't be used in hospitals and clinics. To encourage take-up of state-of-the-art devices, it is vital to provide low-cost and highly repeatable manufacturing solutions.
"We've achieved a major manufacturing advance using laser beam shaping techniques. This gives us control of the shape of the focal volume, and therefore more efficient use of the available laser pulse energy during manufacture. We've overcome a major drawback of using ultrafast laser inscription techniques for manufacturing distal-end-microsystems for fibre-optic medical instruments."
Professor Duncan Hand from Heriot-Watt University was principal investigator across the 4MD Platform grant which delivered this and 18 other individual projects, supported by a range of medical and industrial partners. Projects included a new technique to sterilise ambulances using ultraviolet light, an ultrasound needle to better position epidurals during labour and a proof-of-concept study using lasers to overcome existing limitations of conventional neurosurgery for cleaning brain cancer margins.
Professor Hand said: "Our overarching objective was to use the flexibility of the Platform grant to develop and exploit manufacturing technologies to provide medical device manufacture that is both practical and commercially viable, leading to new and improved healthcare solutions. The 4MD Platform grant has led to £11.3M of follow-on funding for translational research and the development of medical devices, including the creation of the Medical Device Manufacturing Centre.
"We applied our 4MD Platform grant strategically across a range of different projects, which allowed feasibility studies and proof-of-concepts to be delivered which has led to considerable follow-on funding and research. Funding of this type is essential to allow new ideas to be tested and ensure that concepts previously thought to be impossible can be explored. The Platform grant has also developed the careers of 27 Research Associates over five years, helping to support and advance the medical device innovators of the future."
Dr Calum Ross, researcher associate, was the Research Co-Investigator for the 4MD Platform grant. He said: "This funding has enabled me and many others to accelerate our research careers, allowing for a breadth of innovation that isn't possible with traditional funding schemes. The flexible funding enabled early-career researchers to explore new ideas, establishing a foundation for the next generation of medical devices."
4MD was funded via an EPSRC Platform grant scheme that is no longer available. Heriot-Watt University is now calling for a similar scheme that provides the same flexibility to be considered by funders. They highlight the value for money and breadth of innovation that a strategic grant can facilitate in developing new research activity.
Over the period of the 4MD Platform grant, the area of medical device manufacture, along with related research in biomedical and healthcare engineering, has grown to become a strategic strand for Heriot-Watt University, forming the focus of its third strategic theme (along with Robotics and Energy).