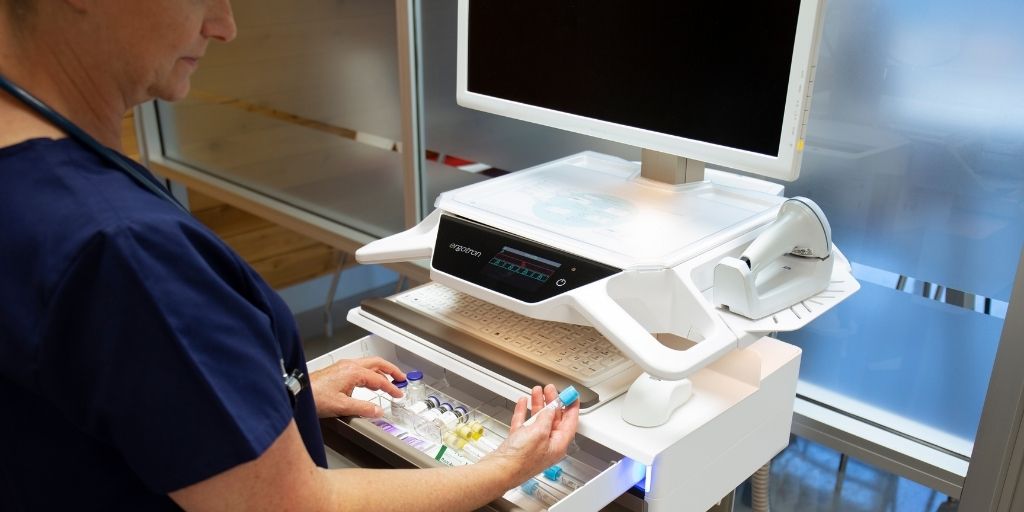 With 92% of Trusts telling NHS providers their concerns about staff wellbeing, stress and burnout, it's never been more critical to improve daily workflows for providers. The importance of providing access to accurate information at the point of care can mean the difference between excellent care, a staff resignation or making a critical error which leads to a patient's rapid decline in health – or worse.
Despite signs of NHS digital transformation, the digital maturity of institutions across the UK is inconsistent. While some Trusts have almost eradicated paper and provide clinicians with immediate access to detailed patient information at the point of care, others grapple with data on disparate systems and disjointed paper records. The electronic patient records system (EPR) is sprawling with data, and healthcare practitioners struggle to view appropriate information immediately on a single tablet screen to keep patients safe. As we now live alongside the pressures of Covid-19, rapid access to easily interpreted and trusted information couldn't be more essential.
Clinician mission-critical data access challenges 
Highly sophisticated EPRs combine in-depth patient information, including imaging and test results, with workflow and evidence to support patient care decisions. But it's no secret that investment in a state-of-the-art EPR isn't worthwhile if healthcare practitioners are limited to a fraction of the information on a small tablet. Many lack confidence in their ability to review images on a small, low-resolution screen. 
With clinicians spending a high percentage of shifts walking between patients' bedsides and suitable (and available) workstations to find a device with battery life, these delays can slow down patient treatment and result in longer recovery times. Inefficient working can increase the risk of errors, from ordering incorrect tests to recording inaccurate information. Laptops and tablets are unsuitable for multiple practitioners to work collaboratively with a patient. Display screen size makes all the difference to successful work and patient outcomes and, when inadequate, piles stress onto already overworked workers and runs the risk of clinicians overlooking or missing critical information. 
Healthcare leaders are starting to realise that enabling rapid, reliable access to systems and information at the point of care will help improve care workflows, support an organisation's decision-making processes, and improve patient outcomes. 
Considerations for optimising information access 
If viewed and used effectively, advanced EPRs combine in-depth patient information, including imaging and test results, with workflow and evidence to support patient care decisions to empower clinicians. Intuitive and available information, ideally on one screen, can make all the difference. Screen resolution quality and adequate sizing for information such as medical images also matter – data presentation is everything.
It's clear that clinicians' daily needs sit well above what is currently provided by healthcare management. The ever-increasing amount of patient data generated has the potential to transform patient care – from EPR and patient administration systems (PAS) to imaging and body maps. But with each NHS Trust's specific information needs – from ward rounds and patient assessments to the complex care needs within emergency departments (ED), intensive care units (ICU) and theatres – it's vital that stakeholders have on-demand, highly intuitive access to the required information, as well as supportive workflow, effective planning, and time management tools. 
Larger and dual screens – effective resources that improve patient workflow
Larger, higher resolution screens at a fixed or mobile workstation or built into a powered mobile cart are revolutionising the way clinicians work. Viewing or reviewing images at the bedside can dramatically accelerate effective decision making. Large screens support improved clinician collaboration during ward rounds, especially in acute surgical and medical wards with a diverse clinical team or in teaching hospitals to support a bedside education process. A larger screen offers easier viewing of visible warning flags that stay active until resolved, helping clinicians follow key actions within a workflow. 
Dual screen configurations offer breadth of information on a par with larger screens. Healthcare staff can see the patient's EPR and PACS imaging simultaneously, more closely tracking where a patient is within their care journey. The multiple screen approach is already established within imaging, providing users with high resolution imaging, EPR and radiology information system screens. With the amount of system information spiralling, the shift toward dual screens is likely to continue. 
Larger and dual screens also improve the patient experience as thy are more engaged in their own care plan. This approach supports the Triangle of Care, ensuring the right distance between the provider, patient, and technology to maximise comfort and benefit the patient-clinician relationship.
Powered medical carts
Powered medical carts are an efficient option to allow continuity of care from the ED to the ICU, imaging to theatre, wards to outpatients. Accommodating a larger height-adjustable screen they are essential for ward rounds with perhaps five people all reading patient records.
Empowered with the right information, all those within the ecosystem of a patient's care have confidence in their ability to make the right decisions. Especially within intensive care departments, where space around the bedside is at a premium. Phlebotomy and vaccination teams use specially designed powered carts for fast access to information and mobile label printing, with lockable drawers to store all needles and syringes securely. Visiting clinicians, including dieticians, physiotherapists, and mental health teams have immediate access from this mobile hub for patient information.
Providing critical resources for a long-term strategy
The rapid evolution of EPR systems and more detailed patient information is most effectively displayed on larger or dual screens that match the resolution requirements of the specific EPR. Clinicians need easy access to critical care data, a chance to minimise delays, speed up their workload, enhance collaboration, minimise staff stress levels and improve patient outcomes. The opportunities to enhance the clinical experience at the point of care are real and healthcare leaders cannot afford to overlook them.
Before making an investment in equipment, Trusts must consider how clinicians will access new data resources. Whether on a desktop computer at a fixed workstation, on a mobile workstation or at the point of care on a powered medical cart, it's important to consider the user needs in each care area when designing workspace solutions. This will maximise investment value to retain and hire the best staff and optimise patient outcomes.
Find out more here: https://www.ergotron.com/en-gb/markets/healthcare
Richard Guy, Country Sales Manager UK & Ireland at Ergotron