0
13th April 2020 4:00 pm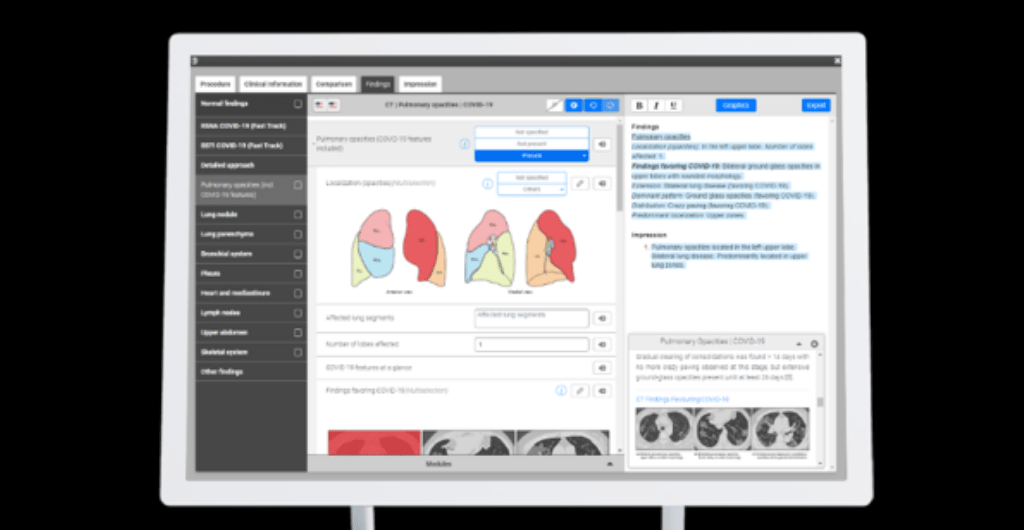 Radiology plays an important role in diagnosing patients with a suspected COVID-19 infection. In a joint effort together with leading radiologists in Europe, Smart Reporting created a template that guides radiologists in reporting suspected COVID-19 patients.
Smart Reporting, a German company and platform for enhanced medical documentation, is offering a free reporting template for radiologists. "The number of people who have fallen ill or died from the Coronavirus has exponentially increased in recent weeks. The radiologists will play a major role in diagnosing and assessing the severity of the pneumonia. This template provides guidance for the diagnosis of COVID-19 in computed tomography of the chest," says Prof. Dr. med. Wieland Sommer, M.D.
Approaches to diagnosing Smart Reporting infections will evolve
Throat and nasal swab tests (RT-PCR) are a widely used tool to diagnose a COVID-19 infection. These tests can detect the nucleic acid of COVID-19 confirming the disease. In addition, Computer Tomography (CT) is being used as a diagnostic test because a Coronavirus infection can cause lung abnormalities that become visible in a chest CT. Prof. Dr. med. Julien Dinkel, M.D. confirms "as patients with pneumonia due to COVID-19 were shown to have lung abnormalities on their chest CT even on initially negative Real-Time PCR (RT-PCR), chest CT might contribute as an early diagnostic and a monitoring tool for COVID-19."
Smart Reporting collaborates with an international group of experts to create a reporting template specifically designed for suspected COVID-19 cases
The Smart Reporting software provides digitized decision trees that support clinicians in evaluating a specific clinical indication. These decision trees are enhanced by providing access to clinical literature and reference images. The company's COVID-19 template reflects the consensus of leading Radiology societies and the experience of leading European radiologists.