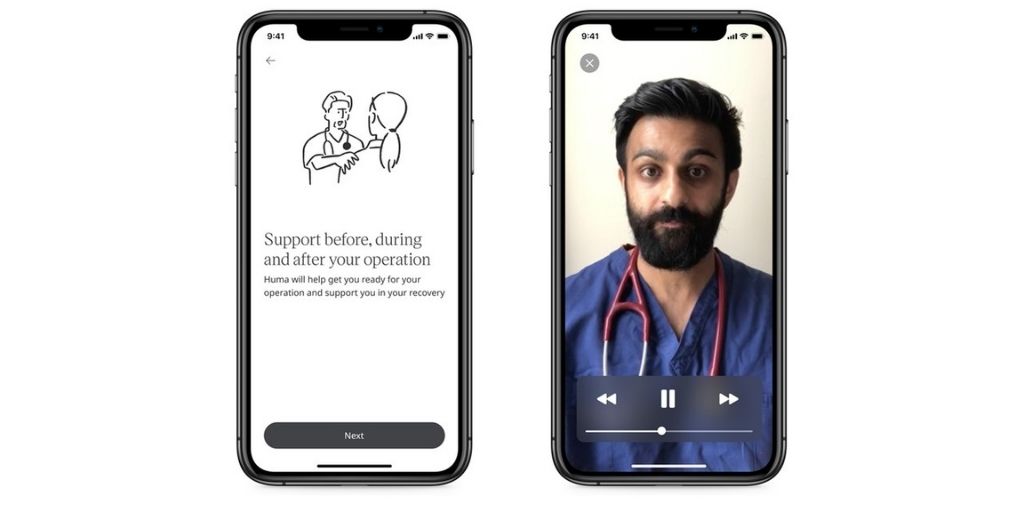 Smith+Nephew (LSE: SN, NYSE: SNN), the global medical technology business, and Huma, the global digital health company, today announce the launch of their remote patient monitoring service for orthopaedic surgery.
There are an estimated 250,000i patients on waiting lists for orthopaedic operations due to COVID-19, with UK surgery running at 50%ii of usual capacity. To restart safe surgery, Smith+Nephew and Huma have developed a way for surgeons to better prepare their patients ahead of operations, help improve their outcomes afterwards and reduce the need for in-person appointments through remote patient monitoring.
Smith+Nephew have provided the orthopaedic expertise, and Huma the digital technology to create an app that allows patients to move safely through their total joint replacement surgery. Patients receive pre-surgery guidance, access virtual rehabilitation resources and can have video calls with their surgical team, whilst clinicians can monitor how patients are recovering and use health data to check patients will be well enough for surgery.
Importantly, a COVID-19 symptom tracker checks for signs of infection before being admitted to hospital and after discharge, giving reassurance to patients and staff.
Simon Tarry, Managing Director, UK, Ireland & Nordics at Smith+Nephew commented, "Our new service is a major development, and we believe it will make an immediate impact on the surgical landscape. Partnering with Huma, we have created a highly sophisticated app, allowing Smith+Nephew to offer an end-to-end service around the prosthesis itself. In the short-term, the app will support our mission to get patients back into surgery safely during the pandemic, but the longer-term capabilities of the app could transform how surgeons and patients manage their surgical pathways in the future."
Dan Vahdat, founder and CEO of Huma, says, "Huma already uses its 'hospital at home' platform to change how we care for at-risk patients through national projects in the UK, Germany and UAE. With Smith+Nephew we're showing that our technology can transform how we look after patients going through surgery. Our adaptable remote patient monitoring platform is being used for people who are facing a wide variety of diseases. This is all part of our vision for a world where patients can live their life to the fullest, despite their surgery or illness."
The patient app is currently being piloted by patients at both the Ramsay West Midlands Hospital and Spire Bushey Hospital, with a further ten NHS and private hospitals due to pilot the Huma app in the coming weeks.