0
12th April 2021 8:00 am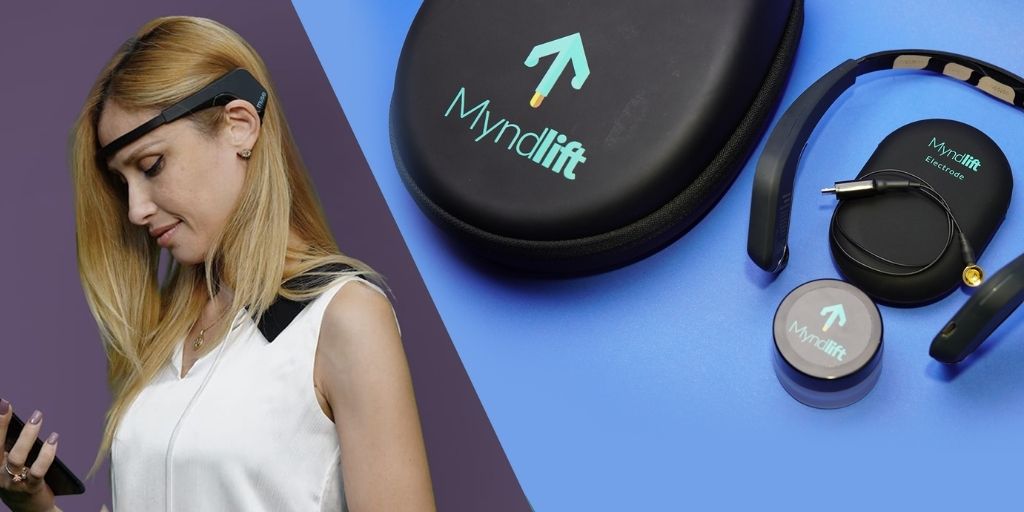 Neurofeedback, also known as Electroencephalographic (EEG), can be used to improve mental health and was previously only available in specialized clinics only. CEO Aziz Kaddan and cofounder Anas Abu Mukh of Myndlift used the current technology in the market to change this.
Wearable headset devices which measure and sense brain activity can now also be used at home as Myndlift brought neuro-feedback to this setting. This makes the technology accessible and more affordable for people to use. Neurofeedback involves training the brain to regulate itself and reach a healthier state using games or videos, which should result in better focus, optimizing mental state, and reduced anxiety, in an objective and data-driven way.
At the moment, there are many solutions not based on data, such as speaking to a therapist. Whilst this has benefits, Myndlift believes more data needs to be included in mental health, which is what they do. They're bringing brain data into the mental health equation to help people improve their mental wellbeing with tangible processes and information along the way.
"Myndlift makes EEG technology completely portable and allows you to practice neurofeedback from the comfort of your home.
All users need is the MUSE™ headset, an electrode that can be placed anywhere on the scalp, and access to the Myndlift app. While playing games through the application, the headset uses EEG to monitor and regulate the brain's activity. Additionally, continuous support and progress updates are provided by an allocated neurofeedback therapist, either remotely or in-person. They personalize your training program according to your needs, monitoring your data, and making adjustments accordingly," says CEO Aziz Kaddan.
In respect, Myndlift worked with a team of medical practitioners, software engineers, and designers to create wearable technology. This is in the hope of providing a drug-free solution to improve concentration, focus, and learning. Aziz Kaddan believes the app-based, wearable neurofeedback solution, coupled with tailor-made mobile games can increase attention levels with 10 minutes of playtime per day.
The aim of Myndlift is to use neurofeedback, the mobile app, and brain-sensing wearing technology complementary to medication such as Ritalin used for the treatment of ADD and ADHD, which suppresses appetite amongst other negative side effects.
Personalized neurofeedback to mobile makes it easier for people with hyperactivity, professionals in demanding careers, students, athletes, and anyone concerned with brain fitness to improve concentration without prescription drugs, having to visit clinics, and huge bills. This saves thousands of dollars and commuting hours.
Myndlift believes that medical technology will complement the existing treatment for ADD, and impact the wider healthcare market worldwide.
Myndlift users need the MUSE™ headset, an electrode that can be placed anywhere on the scalp, and access to the Myndlift app.The app appears to be a game, one of which involves a race between two characters. High concentration will help to beat the component. The other game displays fuzzy dots which become clearer depending on concentration levels. Those who enjoy music can listen to it, which will get louder only if focused on and the mind doesn't wander onto other things. Another training routine is by watching videos.
Myndlift began when Aziz Kaddan was unsuccessful at a job interview at Google and believed it was due to him not being focused enough. He called Anas and discussed them getting the resources for the start-up. Having heard about the MassChallenge accelerator in Boston, the biggest program in the world, they decided to attend it. Only 128 applicants out of 1,600 in 2014 were chosen which included them. Dr. Naomi Steiner, a developmental pediatrician helped with the development of the product as she believes in it.
The pair, originally from the village of Baqa al-Gharbiya, then reached the Y Combinator accelerator. In Silicon Valley, they explained in ten minutes why they deserved financing. Although they were surprised to be rejected, this didn't stop them from believing in their product.
Back in Israel Aziz and Anas are currently working on improvements and continued development, with the assistance of more staff, their father Dr. Walid Kaddan, and Dr. Steiner. One such development includes an IOS version of the app. Another one is the monitoring option, which may be especially beneficial for parents. This makes them able to receive notifications with feedback questions about behavioral changes and the child's accomplishments, which will prove that this system works.
Aziz and Anas believe this product will be able to help those with other disorders such as depression, PTSD, and Alzheimer's. Dr. Steiner states there's no reason for it not to work. Reputable studies show that by using neurofeedback, it is possible to practice and improve concentration.
Myndlift states the product is already bringing good to people and hope it gets more exposure for people to understand the mission, and help achieve the big dream to make mental health data-driven.