0
13th December 2022 8:00 am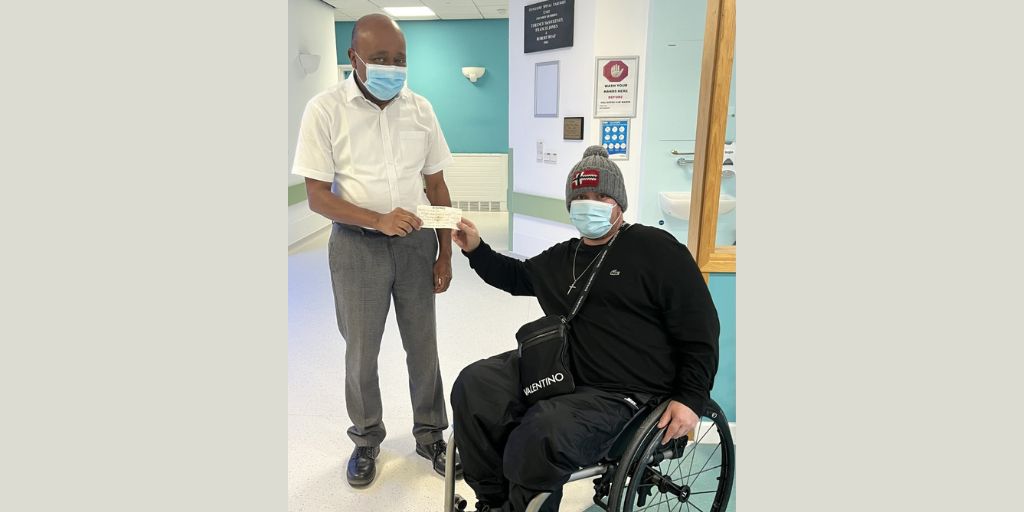 A spinal injury patient who received extensive care at The Robert Jones and Agnes Hunt Orthopaedic Hospital (RJAH) has continued to support the unit he was cared for on by raising £1,150 to benefit other spinal injury patients.
Gavin Pugh, who is from Bangor, North Wales, came to the Midland Centre for Spinal Injuries (MCSI) at the Oswestry based-hospital following a life-changing work accident back in June 2022. 
Gavin was an inpatient on Gladstone Ward from June to September 2022 where he developed relationships with the MCSI team.
Gavin, who is 28, said: "I wanted to give back to the hospital for all the support and care I have received. The funds can be added to the MCSI total funds which can be spent on anything that the service requires.
"I have a fantastic support unit, including family, friends, and the staff at the hospital, especially my Consultant Mr Osman."
To raise the funds, Gavin organised a fundraising charity event, with the support of the Northern Soul Anglesey crew at the Wellmans Club in Llangefni.
During a recent appointment on MCSI, Gavin donated the funds to Mr Osman, Consultant in Spinal Injuries and Rehabilitation Medicine.
Mr Osman said, "Gavin is a star patient. He listened to everything and as a result he has done so well. Despite his life changing work accident, he is completely independent. 
"The treatment process requires two-way help. We help the patients, and they help us – Gavin is a fine example of this. The funds he has raised and donated to MCSI are much appreciated and will be used to benefit the service."
Victoria Sugden, Charity Director, said: "We are so grateful to Gavin for organising an event and helping to fundraise for the benefit of RJAH Charity. 
"The funds raised will make an incredible difference to patients following a spinal injury.  Without wonderful people like Gavin, fundraising to benefit the hospital, we would not be able to provide the service that we do."
Pictured – Mr Osman, Spinal Consultant, and, Gavin Price, MCSI patient