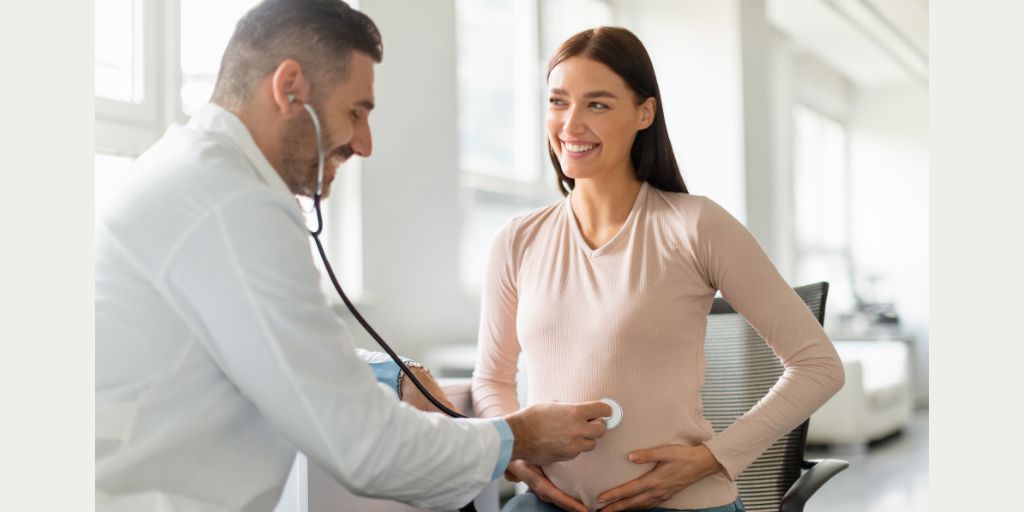 Maternity services across Suffolk and north east Essex have gone live with CardMedic, the award-winning healthcare communications app. The app has been deployed to improve experiences for those using maternity services and support the ambitions of the area to fulfil NHS England's Core20PLUS5 framework.
The CardMedic app went live across the region's maternity services in November 2022. It is being used widely by multidisciplinary teams, including midwives, obstetricians and other clinical staff, as well as administrative teams at all three hospital sites; West Suffolk Hospital, Ipswich Hospital and Colchester Hospital.
The solution is already helping to improve access to care across the entire maternity pathway, improving confidence in care services and putting people who experience communication barriers at ease. The app enables those with additional needs, such as language barriers or cognitive impairments to communicate freely with their clinicians, through the 800 pre-written clinical scripts in the app, as well as a chat function, when they otherwise wouldn't be able to do so.
Suffolk and north east Essex is home to a diverse population, including many people with English as a second language. This affects their ability to access health and care services, which can result in significant health inequalities.
Maternity services are one of the areas of clinical focus for the Core20PLUS5 framework, of which Suffolk and north east Essex is an early adopter. "Data tells us that health inequalities exist in maternity services throughout England," said Teri Gavin-Jones, Clinical Lead Midwife at Suffolk and North East Essex Integrated Care System. "In the UK, Black women are four times more likely to die in childbirth than white women, and brown women are two times more likely to die than white women.
"Reducing the equity gap and improving communication is our priority in Suffolk and north east Essex. By using CardMedic as a tool to help address communication barriers, we will be able to deliver more equitable services to a larger number of people in the region."
The app is being used across the entire maternity pathway, enabling expectant parents, who otherwise would not have been able to communicate effectively, engage in shared decision making throughout their care journey. Teri said: "Being in hospital is often an unsettling experience, and even more so for people who can't communicate effectively. The work we're doing with CardMedic is playing a major role in reducing this confidence gap, helping to make having a baby the exciting experience it should be."
The Suffolk and north east Essex area decided to roll out CardMedic to its maternity services first, as new and expecting parents will engage with the services at multiple points. "Interactions with maternity services are not an isolated event, it is very much a journey," explained Teri. "We'll see families in acute and urgent maternity settings, but they'll also go to their GP or receive a home visit by a health visitor and midwife once the baby is born. It's going to enable us to see the impact CardMedic can have system-wide, which is really exciting."
Feedback from early users has been overwhelmingly positive. One midwife said the app included all of the key words and phrases needed during pregnancy, labour and the postnatal period, and she was able to access them very quickly, meaning more timely decisions could be made. As a result, clinicians in other specialisms have expressed that they would like to start using the app, such as in A&E and cancer services.
Emma Connell-Smith, Project Delivery Lead at SNEE ICS, said: "The app is going to make patient journeys safer, and provide a better experience. It will give people the opportunity and confidence to ask questions, and give clinicians the ability to respond quickly, which is so important in urgent situations. We have 44 languages and formats sitting in our pockets now, which is going to streamline the services we provide."
The organisation is now working with CardMedic to develop new content for the app, so it is more personalised for the people it serves. Emma said: "While the priority is making sure people are happy and confident about the care they're receiving, we want to be able to have non-clinical conversations too. Being able to ask if they're comfortable or if they'd like a cup of tea can make such a big difference to someone's experience. We've worked collaboratively with CardMedic since we started the partnership and I'm excited for us to bring new functionality to the organisation together with the team."
SNEE is currently working on fulfilling its equity plan, and CardMedic is expected to play a prominent role.