0
4th October 2023 10:00 am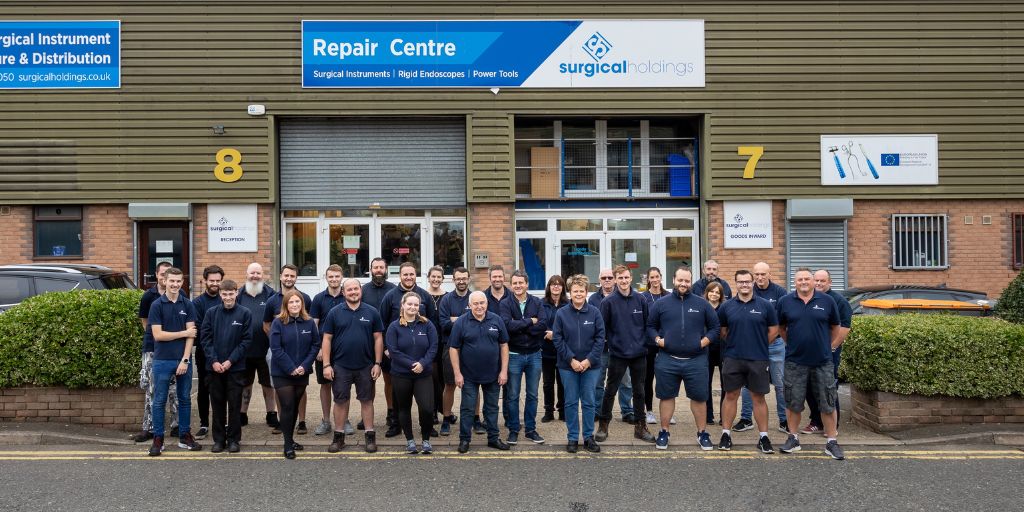 Surgical Holdings, a family run manufacturer and repairer of surgical instruments with a core focus on sustainability, has celebrated its 35th anniversary.
Employees from across the Southend-on-Sea company put down their tools to enjoy the sunshine and mark the impressive three and half decade milestone.
The company, who last year repaired over 11000 surgical instruments helping the NHS to be more sustainable, was originally founded in 1988.
Founder Philip Coole says he was inspired by his father Fred Coole who also had a passion for finely crafted surgical instruments and a commitment for excellence.
Philip explains: "My journey in the world of surgical instruments began as an apprentice, learning the tricks of the trade from my father. The roots of our family's involvement in this fascinating field can be traced back to the early 1940s when my dad started his own ophthalmic business, before joining Macarthy Medical in the 60s – so our knowledge actually stretches back across four generations!"
After learning the tricks of the trade, Philip eventually went on to set up a small workshop, where he dedicated seven years to repairing a wide range of both surgical and non-surgical instruments – a journey that led him to establish Surgical Holdings in 1988.
Philip explains: "As my family moved on and I was handed over the reins running the workshop, it was a chance to step into the field, visiting hospitals and seeing operations, which afforded some amazing firsthand insights into the intricate world of surgical instruments. I developed a real passion for working in the NHS and how surgical instruments should be made, how they should be used – and why quality is just so important."
In 1990 the business moved into its current premises on Parkside Centre – where Philip was joined by colleagues from McCarthy Medical, and between them, they had the expertise to cover all aspects of Surgical Instrument repair.
Today Surgical Holdings is a credible and well-established business, with a global reputation for the highest standard of craftsmanship and lasting value.
Philip Coole remains as Chairman, with his son Daniel as Managing Director – a role he took in 1995 after an apprenticeship. Today the company are working in partnership with South East Essex College to run an active apprenticeship scheme to ensure their skills and expertise are passed down to the next generation.
All repairs are carried out by a team of highly skilled technicians, who are trained in both manufacture and repair. The company is passionate about what they do and are keen to pass on that wealth of knowledge, believing it is important to educate and train others to help them get the most out of each surgical instrument, so they last for many years. 
Philip added: "It's been wonderful to see our company grow in the past 35 years, and as we celebrate over three decades of progress, I want to express my heartfelt gratitude to our incredible team at Surgical Holdings, to our loyal customers, and to all those who have supported us over the years. Your trust in our expertise and commitment to quality has been the driving force behind our 35-year journey. Here's to many more years of innovation, dedication and excellence!"
For more information, visit: https://www.surgicalholdings.co.uk/