0
21st October 2020 11:41 am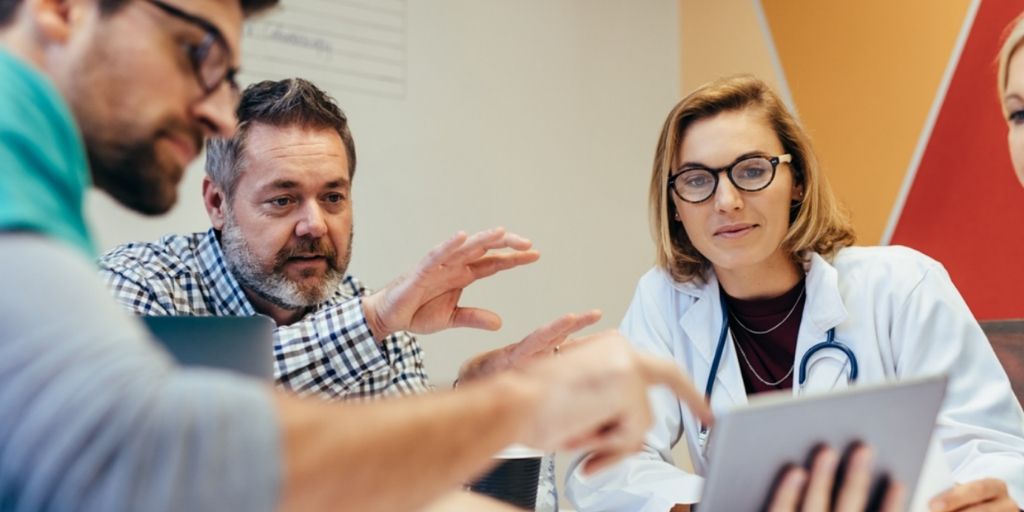 With healthcare costs continuing to increase alongside the new health and safety challenges surfacing due to the COVID-19 pandemic, it is imperative that the healthcare sector continues to explore how video communications can improve both provider efficiency and patient care, whilst reducing costs.
The Healthcare Industry has been transformed since the beginning of the pandemic, and since the start of lockdown, medical professionals and font line staff have had to completely change the way they consult with their patients. Understanding the benefits of video conferencing and the delivery of useable, safe and efficient healthcare during the pandemic is paramount.
Healthcare continuity
While digital health initiatives had already been at work prior to COVID-19 with the aim to lower costs and become more efficient for both healthcare staff and patients, urgent changes had to be put into place due to coronavirus that would transform the healthcare sector forever. Within a very short period of time, protocols were changed, and the use of digital technology progressed to ensure healthcare workers remained safe, patients were protected, and operations were maintained.
As part of the NHS Long Term Plan, the goal remains for patients and providers to have access to virtual services, as well as face-to-face services, using a smart phone or computer. Technological shifts and widespread adoption of smart devices are improving the willingness between patients and healthcare providers, and it is becoming easier to implement video communications for telehealth.
Staff support
Video conferencing has changed from mostly being used by administrators and support staff to become the foundation of the healthcare industry. Besides enabling patients to get help and treatment online, clinicians can also access compelling and consistent communication through virtual events, meetings and webinars.
Hospitals and Healthcare organisations have an opportunity to accelerate their telehealth and telemedicine practices in a variety of ways. Two of the most effective ways to increase video conferencing usage are through remote collaboration and virtual patient visits.
Additionally, video conferencing saves time and money for the provider by ensuring more patients can be helped and waiting times are reduced.  Healthcare organizations can supplement their training programs with video. For example, live surgeries can be broadcast to an audience, with the added benefit of real time Q/A between the surgical team and the audience.
Video conferencing can improve hospital administration by enhancing daily operations like communication, procurement, vendor management and recruiting. First responders can now be connected directly to their patients in transit or on the ground and medical experts can offer medical advice over two-way video. These early actions can save lives and prepare hospital staff for incoming patients.
Telehealth for Acute Care and Intensive Care Units (ICUs)
With video conferencing, patients in the ICU can be monitored and attended to at a moment's notice. For times when in-patient visitors are not allowed, friends and family can check in with patients over interactive video—something that has been shown to improve mental health and help speed up the recovery process.
Patient support
Video consultations are just as valuable as in-person consultations and are a quick substitute for various outpatient appointments. Healthcare providers and GPs can continue to use standard audio phone calls, but video provides a more personal interaction and the closest replication of an in-person meeting. Patients are more comfortable and can be helped more efficiently within the allotted time of the consultation.
Telehealth as a concept has been present for a long time, but technical complexity has made implementation on a wider scale challenging for providers and patients. IT managers who evaluate and implement video conferencing tools for virtual appointments need to keep the patient's experience in mind. Regardless of whether network conditions are periodically poor, modern video conferencing must be able to perform well and ensure a smooth experience.
Virtual waiting rooms and private meeting links can be used by providers to ensure privacy and reduce waiting times. Accessibility also needs to be considered, with features like color contrast, screen reader options and closed captioning coming into play. These will make the user experience more comfortable and help to ensure that video consultations are available to all those who need them.
NHS trusts must ensure that all healthcare leaders have access to secure video conferencing facilities across all networks, especially during COVID-19. High-quality patient treatment is vital, and video technology enables healthcare staff to collaborate and provide the best possible care for them. Knowledge can be shared in real-time and patient information is consistent because data is being shared digitally, providing the best care possible.
BlueJeans video conferencing platform
BlueJeans video conferencing platform allows MDTs to have team meetings to make crucial decisions, from various remote locations instead of traveling to meet their peers. Video conferencing, supplemented with tools like chat, screen sharing, and taking electronic notes, makes video conferencing the best way to meet patients' needs. Live-in carers are also able to access vital information. They can use video meetings to get the support they need while in isolation with their patients.
BlueJeans is a cloud-based, interoperable and scalable solution that can be extended across personal devices, desktops and room hardware systems so that practices and hospitals can take advantage of existing conferencing systems. Regardless of where they are in their telehealth adoption journey, healthcare providers can easily and rapidly utilize telehealth options during critical times with BlueJeans.
BlueJeans' video conferencing platform comes with monitoring and analytics tools to quickly troubleshoot any issues and help organisations understand usage to ensure that consultations are not disrupted.  Telehealth with BlueJeans saves valuable time and resources and eases the burden on the invaluable medical staff who are working tirelessly to fight the coronavirus pandemic.