0
21st October 2020 2:00 pm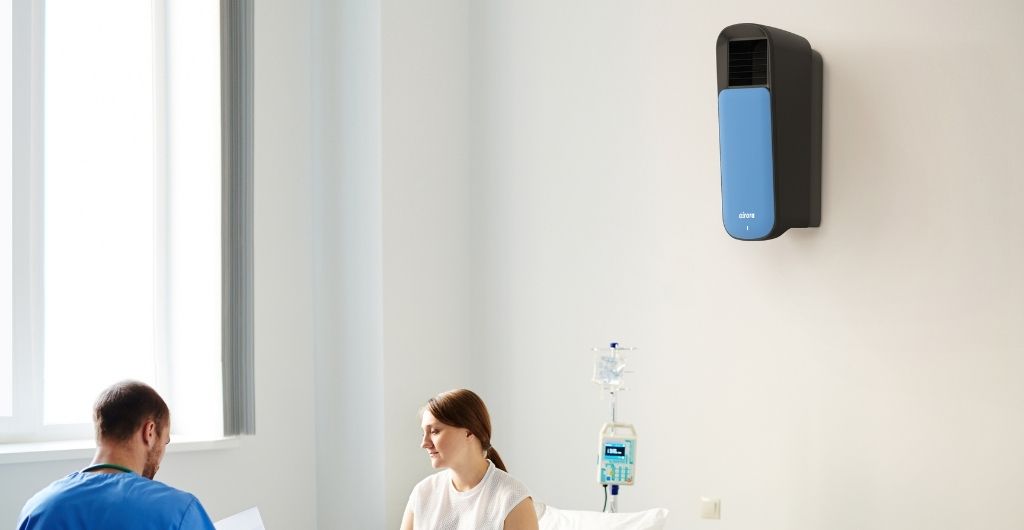 Airora Professional replicates the science of outdoor air in indoor spaces, using Hydroxyl radicals – "nature's detergent" – to kill all airborne pathogens including COVID-19, whilst people go about their daily lives
Trials are taking place in four UK NHS hospitals
The technology was conceived, designed and manufactured in the UK, and could play a central role in the global response to the pandemic.
The NHS has begun trials of a revolutionary new decontamination technology, Airora, developed by PA Consulting (PA), the global innovation and transformation consultancy, and Hydroxyl Technologies Ltd (HTL), which replicates the science of outdoor air in indoor spaces. Airora is effective on all airborne and surface pathogens including Coronavirus, Influenza, Norovirus, e-Coli and MRSA. PA has helped UK-based start-up HTL bring their technology from concept to reality in under seven months.
Airora uses a patented process that is unique in air decontamination. Unlike filter-based systems, which can only clean the air that passes through them, Airora creates a continuous cascade of hydroxyl radicals, which are delivered everywhere in the room, decontaminating the space 24/7, lowering the risk of new viral or bacterial loads building up. The hydroxyls inactivate up to 99.9999% of pathogenic airborne viruses and bacteria, and simultaneously reduce the bio-load on surfaces, while people safely move about in the space.
The device can be wall-mounted in any indoor environment, significantly suppressing the ability for the virus to spread indoors, affording people better protection as they go about their daily lives. The technology could play an important role in reducing COVID-19 transmission rates during the current pandemic, and help businesses in struggling industries get closer to resuming normal levels of operation.
NHS trials of the technology, being managed by Airora channel partner, Althea UK & Ireland, are commencing this week in two leading UK hospitals followed by another two beginning of November. The devices will be going into three to four selected wards in each of the hospitals, including inpatient surgery, outpatient surgery, spinal injury and waiting rooms. The outcomes of the hospital pilots are expected in mid-November.
The first non-NHS unit is being shipped to the UAE this week for a pilot in that region. Airora is in discussion with channel partners that could roll out the products in care homes, other medical care and veterinary facilities, business offices, schools & universities, restaurants & bars, public transport and private homes. Conversations about further deployment of the technology are already underway with major distributors in Germany, Netherlands, Belgium, Thailand, Bangladesh and India, as well as a major European hub airport. Four UK high street names are also planning pilot installations on the back of the NHS trials in the coming weeks and months.
Gideon Davenport, CEO of Hydroxyl Technologies, said: "These NHS trials build upon 15 years of technological development and are an exciting first step to bringing a UK invention to market to help protect us all from airborne pathogens like COVID-19. PA's expertise has readied our Airora Professional product in just seven short months, and together with our channel partner Althea UK, we are pleased to bring the protection of the Airora products to front line healthcare workers."
Wil Schoenmakers, Global Head of Consumer and Manufacturing at PA Consulting, said, "It is very exciting to see Airora Professional being piloted in NHS hospitals, which we expect to be a success and trigger the widespread adoption of the technology across industries. HTL's revolutionary technology has significant potential to reduce the danger from airborne and surface-adhering viruses and bacteria in numerous populated public spaces, helping to reduce the risk of infection during the current COVID-19 pandemic."
David Rolfe, the CEO of Althea UK & Ireland, added: "The Airora technology is a natural fit for Althea as one of the leading healthcare technology providers. Through a fast paced and agile collaboration with HTL and PA we are bringing Airora into the NHS to reduce infection risk to essential hospital staff and patients, and to keep our hospitals open and safe. We feel this truly unique technology will be a pivotal element in the NHS' readiness to combat COVID-19 and other pathogens in the future."