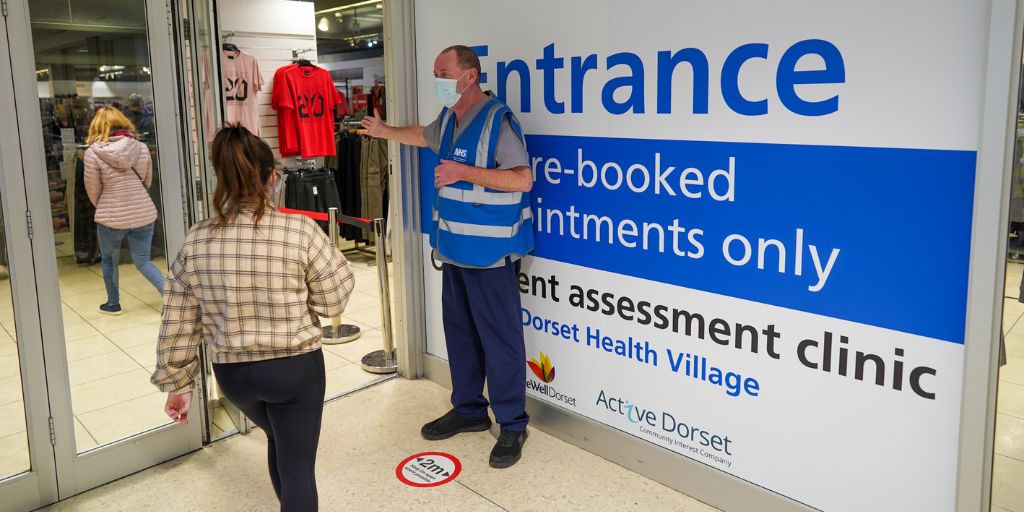 In early 2021, facing a backlog of more than 110,000 pandemic-delayed appointments across Dorset, University Hospitals Dorset NHS Foundation Trust (UHD) began a ground-breaking project with partners to create a remote outpatient assessment clinic on the top floor of Beales department store in Poole.
Now six months since opening and with more than 6,000 appointments completed – Peter Beaumont, Sales Director at Intouch with Health, a VitalHub Company, explains how the digital management of patient flow and the integration of multi-site data has helped take the project from concept to reality. 
Remote Assessment Clinics and Community Diagnostic Centres have rightly been hailed as a care delivery model that will help reduce nationwide waiting lists exacerbated by the Covid-19 pandemic. The Intouch with Health team was naturally delighted, and excited to receive the call from UHD in April 2021 requesting our attendance at the design and scope sessions for their project to launch an outpatient clinic in the community. This project was part of the Trust's wider "ThinkBIG" initiative to help them tackle their backlog of outpatient appointments.
With an innovative and ambitious vision to transform the top floor of the Beales department store in Poole into an outpatient clinic, clinically-led plans were drawn up to transform what was an empty and vast shop floor into 2,600 square metres of partitioned clinical space. Opening a remote assessment clinic (separate from the Trust's main hospital sites) would help increase patient throughput and start tackling the Trust's backlog of outpatient screening and appointments.
Taking lessons learnt from the creation of the Nightingale Hospitals at the height of the pandemic, the facility was designed to deliver high-volume, low complexity, face-to-face outpatient screening and appointments, and uses a model similar to the running of the nationwide mass vaccination clinics. Since opening in December 2021, the dedicated clinics operating at Dorset Health Village support a range of services, including, orthopaedics, breast cancer screening or eye tests to scan for glaucoma.
Showcasing the best of partnership working
Working through the design and scope sessions alongside other health tech companies that covered the whole spectrum of NHS digital transformation, the sense of collaboration and determination to get what is now known as the Dorset Health Village up and running showcased the very best of partnership working between private sector suppliers and NHS teams.
The floor plan of the proposed remote clinic was drawn at scale on the floor, as health tech providers delivered their expertise and opinion on the design and logistics of how to run the clinic, move patients around it, and ensure patient data remained accessible and centralised – all while conducting outpatient appointments in the heart of the community, away from UHD's Royal Bournemouth, Christchurch and Poole Hospitals.
It was quickly established that efficient patient flow management, and complete data integration, were two major priorities that would play a critical role in the effective daily operation of the Dorset Health Village.
Creating a controlled flow of patients through daily clinics would support operational efficiency, avoid bottlenecks, and allow staff to see the location and status of each patient during their appointment, while complete data integration between the remote outpatient clinic and both UHD's Patient Administration Systems (PAS) would ensure hospital systems were updated in real-time, avoiding data errors and potential data duplication.
UHD's project team turned to Intouch with Health to provide digital solutions that delivered on both these priorities.
Digital patient flow and PAS-integrated data
Flow Manager by Intouch with Health is now used to manage the flow of patients through the daily clinics at the Dorset Health Village. Flow Manager is currently used across 52% of NHS Acute Trusts, processing over 55 million outpatient appointments annually. The central digital dashboard is used by staff at both Dorset Health Village and across UHD's hospitals to manage every patient appointment journey in real-time, regardless of the staff's location.
When a patient arrives at the Dorset Health Village, they are checked in using iPads, which immediately notifies staff via the Flow Manager dashboard that the patient is on-site and ready to be seen. The dashboard also shows staff when the appointment started, when it finished, and staff can digitally record the appointment completion and if any follow-up actions or appointments are required.
Soon, patients will also be able to choose to check-in at the Dorset Health Village using their smartphone via an app powered by Intouch with Health's Mobile Appointment Manager technology, supporting social distancing efforts and infection control measures, and providing patients with extra choice and convenience.
Tackling data integration was next on the agenda. It was vital that Dorset Health Village could operate independently, but also be connected to the trust's main sites via full PAS integration to prevent a disconnect in patient data.
Following a recent merger that now sees UHD running two PAS systems across the trust, the Intouch with Health team was able to integrate Flow Manager with both systems, allowing staff to simultaneously manage data from patients attending their appointment at Dorset Health Village, alongside those attending their appointment at Royal Bournemouth, Christchurch or Poole Hospital – creating 'one source of truth' across the entire trust and preventing siloed patient flow data from being created.
A blueprint for community diagnostic centres nationwide
The design of Dorset Health Village, combined with Intouch with Health's digital patient flow technology is now paying dividends for staff and patients alike. UHD is increasing Dorset Health Village's utilisation levels in a phased approach, ensuring a growing number of patients can benefit from the facility, whilst the highest operational efficiency levels are maintained.
More than 6,000 have attended outpatient appointments and vaccinations at Dorset Health Village since doors opened in December 2021, with more than 2,000 Covid-19 vaccinations also delivered at the clinic in the week before Christmas 2021. The facility is currently within Phase One of the Trust's approach, operating at 56% utilisation, and when full clinic use is achieved, it is estimated that around 1,300 outpatients per week will pass through its doors.
Forming part of UHD's ongoing 'ThinkBIG' project, this ground-breaking initiative has already been used flexibly to deliver AAA and Breast Screening services, alongside Dermatology, Ophthalmology, Orthopaedics and General Surgery outpatient clinics.
Staff have also benefited from the opening of the Dorset Health Village. For example, Breast Screening has been able to utilise the space to provide training to new members of staff. UHD has utilised feedback to inform future service delivery models, and due to increased reliability of equipment when compared to the previous model (a screening van), UHD has significantly reduced the number of lost appointments due to cancellations.
Patient feedback has been extremely positive, with 98% of patients who have attended the facility rating the experience as 'good' or 'very good' – and many commenting on the time saved compared to attending their appointment at hospital.
The Dorset Health Village has also welcomed commendations and visits from key figures including Secretary of State for Health and Social Care, Sajid Javid, and Chief Executive of NHS England, Amanda Pritchard – and is being hailed as a model to get testing for illnesses back to pre-pandemic levels by 2025.
When interviewed by the BBC during her visit to the Dorset Health Village, Amanda Pritchard, Chief Executive of NHS England, commented "This is a remarkable facility. I can see from walking around here the energy of the staff who have been able to not only bring their services here, and run them in a way that is offering more access more conveniently but also to innovate, and provide something which is truly is world-class care."
The project will form the blueprint for many more nationwide, in an expansion of community testing centres that will significantly increase the capacity of the NHS to deliver critical diagnostic services and help tackle the backlog of appointments caused by the pandemic.