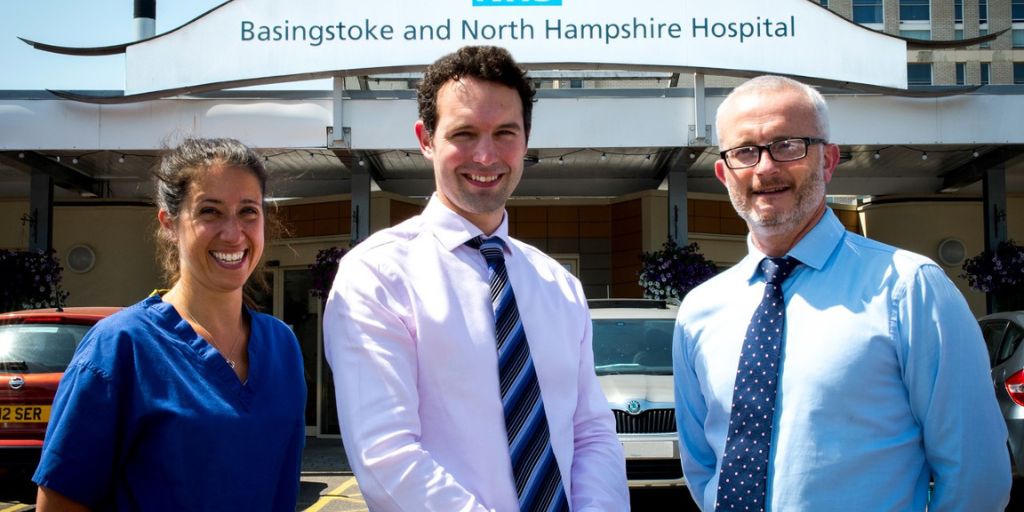 Three trauma and orthopaedic consultants from Hampshire Hospitals NHS Foundation (HHFT) have been recognised at the Wessex Gauvain Society Annual meeting, as the top three trainers in the region.
The meeting is attended by all the orthopaedic trainees and orthopaedic consultants across Wessex, where over fifty orthopaedic trainees vote for the trainer of the year.
This year's first place winner was Daniel Marsland, orthopaedic consultant based at the Royal Hampshire County Hospital in Winchester, who specialises in all aspects of foot and ankle surgery.
Reflecting on his award Daniel said: "It's a real privilege to have been recognised in this way, and it means a lot that it was voted for by the trainees. It is wonderful to have the top three trainers in the region all at HHFT.
"As part of the training I make sure they have plenty of opportunities in clinics and theatres, giving them the chance to lead. I also supervise their research projects, often helping them publish articles, and taking time out in the evenings to help them practice for their consultant exam."
"At HHFT we want to continue promoting a culture of learning and development – helping us to build motivated and highly skilled teams, which in turn results in excellent patient care."
Alongside Daniel, HHFT consultants Bob Elliot and Toni Ardolino, were awarded joint second place.
Bob Elliot, who has worked as an orthopaedic consultant at the trust for over 10 years, said: "I was really pleased to be recognised in this year's Gauvain meeting trainer of the year awards.
"For the trust to have been awarded the first place and joint equal second is really special and shows how seriously we take training here at HHFT in trauma and orthopaedics. The trainees from the region seem to like coming here which is great." 
Alex Whitfield, chief executive of Hampshire Hospitals NHS Foundation Trust, said: "We are so proud of our consultants for being the best trainers in the region!
"This is a reflection of the high standard of training here at Hampshire Hospitals.  It's really encouraging to see that our teams are there to support each other and equip our future orthopaedic consultants with the best possible skills, especially given the challenges of the last two years.  The next generation will be able to provide outstanding care to the patients of the future."