0
14th November 2022 9:00 am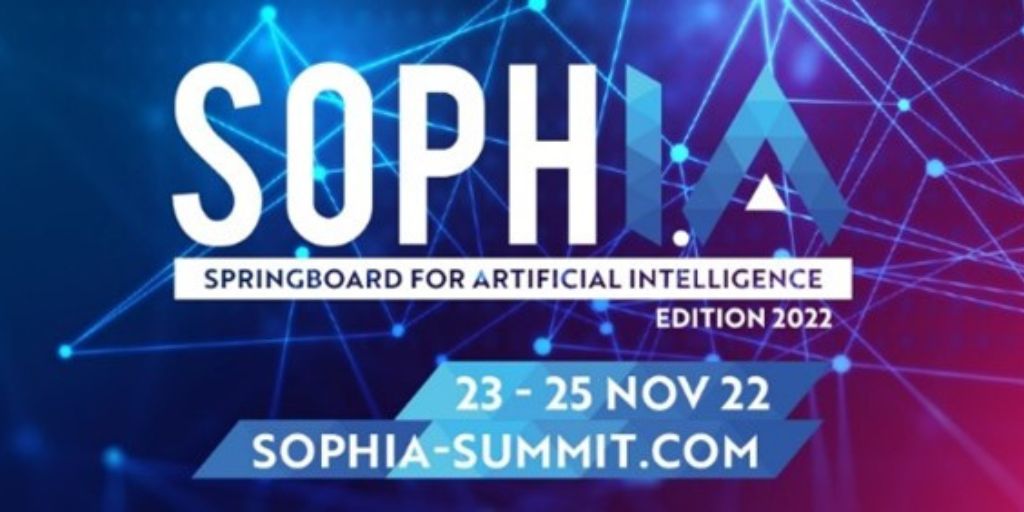 The full programme for the fifth Soph.I.A Summit, taking place from 23 – 25 November in Sophia Antipolis, France and online is now available.
Organised by Université Côte d'Azur, Communauté d'Agglomération de Sophia Antipolis and Sophia Club Entreprises, Soph.I.A. Summit will unveil the latest on artificial intelligence and its applications on an international level. It is open to researchers, academics, students and private sector professionals and will be held both on-site and remotely. 
The Summit  presents the latest advances on AI, focusing on six key themes: health, biology, smart technology, sustainability, management and the fundamentals of AI. Speakers and attendees are all experts and scientific researchers, from global organisations, universities and businesses.
The programme includes:
Opening session (23 November 2022) 
Introduction – Charles Bouveyron, director of 3IA (Interdisciplinary Institute for Artificial Intelligence) Côte d'Azur and Soph.I.A Summit chair
Machine Learning – Lorenzo Rosasco, professor at the University of Genoa, researcher at Massachusetts Institute of Technology (MIT) and collaborator at the Italian Institute of Technology (IIT)
A round table discussion on Ulysseus, the European research alliance – moderated by Camille Cordonnier, journalist for AEF Education and Research  and featuring representatives from the universities of Seville, Genoa and Côte d'Azur. 
AI and Health (23 November 2022)
Artificial intelligence in medical research: a series of discussions co-chaired by Marco Lorenzi, researcher at the Centre INRIA of  Université Côte d'Azur and Olivier Humbert, doctor and professor of nuclear and biophysical medicine at Université Côte d'Azur, and research chair at 3IA Côte d'Azur.
Presentations during the day include Daniel Rueckert of Imperial College London on the evolution of radiology using AI, and Maxime Sermesant of the Centre INRIA of Université Côte d'Azur on AI for developing error correction models.
AI and Biology (23 November 2022) 
Ellen Van Obberghen Schilling, director of Inserm Research, will chair four sessions on topics including GDPR, ethics and data security.
AI and Smart Territories, Security and Safety (24 November 2022)
Discussions around this theme will be led by Pierre Alliez, research director at Centre INRIA of Université Côte d'Azur, with presentations from Emmanuel Gobert, of The Ecole Polytechnique and Ioannis Brilakis of Cambridge University, on digital twins. 
Sustainable AI (24 November 2022) 
Olena Kushalovska, representative for the Industrial Council for AI Research, will chair the discussion on sustainable and ethical AI.
This conference strand will also include a roundtable entitled "In AI, we Trust". Moderated by journalist Muriel Valin of the Epsiloon Review, the panel will also feature Olena Kushalovska, Tony Pinville, Heuritech, Khawla Mallat, SAP Othmane Marfoq, Accenture and Leanne Kemp, Everledger.
AI and Management (24 November 2022)
Discussions around AI and management will be chaired by Jonas Hoffman and Ludovic Dibaggio, respectively professor of marketing and professor of innovation management at SKEMA Business School.
Themes will include 'How humans judge machines' by César HiIdalgo, from Toulouse University and a roundtable on algorithmic governance, led by Ludovic Dibaggio.
AI Fundamentals (25 November 2022) 
The final day of the Summit will focus on the fundamentals of AI, and will be chaired by Serena Villata, scientific director at 3IA Côte d'Azur.
Irina Gurevych of Darmstadt University, Germany, will focus on how to tackle disinformation while Vincent Vandewaale, Université Côte d'Azur will discuss current research into multiple group structures in heterogeneous data.
Soph.I.A Summit closing session (25 November 2022) 
Stéphane Descombes, professor at Université Côte d'Azur and Director of the Centre for Modeling, Simulation and Interactions, will lead the award ceremonies on the final day of the Summit – following the call for contributions this summer. Researchers and executives in international R&D were invited to present their work live at the conference, as either a poster or demonstration, with a financial prize to be awarded to the most promising work.
Carlos Torrecila Salinas, head of unit at the European Commission will close the Summit with a presentation on the EU's artificial intelligence strategy. 
Attend Soph.I.A Summit
Those wanting to participate in person or online can register for the event via the following link: https://univ-cotedazur.eu/events/sophia-summit/registrations
Tariffs and full programme are available online.