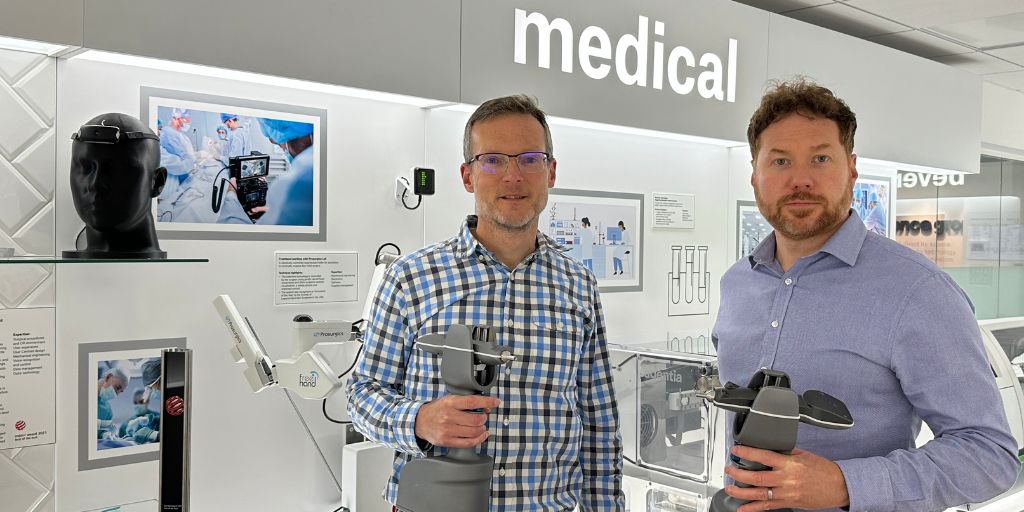 THINK Surgical, Inc. recently announced that its TMINI™ Miniature Robotic System has received 510(k) clearance from the U.S. Food and Drug Administration (FDA).
THINK Surgical chose R&D consultancy Sagentia Innovation, a market-leading advanced surgical robotics developer, to support key aspects of the TMINI system's development.
The TMINI system includes a wireless robotic handpiece that assists surgeons in performing total knee replacement. Following a CT based three-dimensional surgical plan, the TMINI robotic handpiece automatically compensates for surgeon hand movement to locate bone pins along precisely defined planes.  Cutting guides are then connected to the bone pins for accurate bone resection. TMINI is easy to use and replaces many of the instruments currently used for knee replacement surgery.
THINK Surgical is committed to an open implant library and will continue to add new implant options to the platform over time. This open implant approach combined with the ease of use of the TMINI system should appeal to a broad customer base who may have been resistant to robotics until now.
Joel Zuhars, VP of Research and Development at THINK Surgical, says: "Sagentia Innovation brought a highly capable and well-integrated team to the table, along with a very sensible iterative development process. This technical expertise complemented that which we hold in-house, and they worked closely with us to develop a differentiated system that would gain FDA clearance and enable us to bring the TMINI system to market."
Tim Frearson, Sagentia Innovation TMINI Project Manager, says: "This technology is impressive and game-changing, so it was a joy to be involved in the design and development process. We supported THINK Surgical in very specific aspects of the TMINI system's technical development to achieve target outcomes. Many of these related to critical factors such as ease of use, meeting sterilisation needs, and enhancing battery and power management."
Stuart Simpson, THINK Surgical CEO says "We are delighted that the TMINI system has received 510(k) clearance from the FDA. We are now in a position to bring this exciting product to market. The TMINI system really changes THINK Surgical's position in the marketplace. It allows us to focus on the adoption of robotic technology into the majority segment of the market. By offering an easy to use, miniature robot, we can open up a whole new segment of the market, improving accessibility to more patients."
Rob Morgan, Sagentia Innovation, VP Medical adds: "We thrive on projects like this with a clear market need, a well-defined commercial proposition, and difficult science and engineering challenges to overcome. We wish THINK Surgical success in the exciting next phase of market entry."
For more information on the TMINI system development you can watch this case study video here: TMINI Case study video.