0
15th September 2022 10:00 am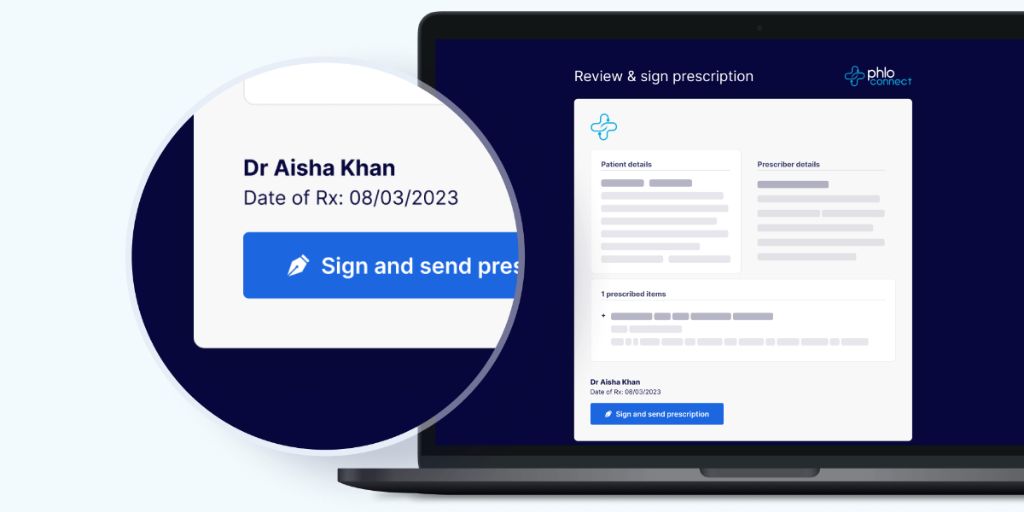 UK startup Phlo Connect has launched a new paperless prescription solution that no longer requires a 'wet signature' to provide patients with medicines.
The Advanced Digital Signing technology is the latest integration for market-leading digital pharmacy platform Phlo Connect, which supports healthtech companies and private healthcare providers to offer a complete end-to-end digital pharmacy service.
Founded by Nadeem Sarwar, Phlo was created on the belief that healthcare should be easy to access and manage for all and is now successfully providing a convenient, user-centred and simple experience for both patients and prescribers.
The new advanced digital signing capability is powered by the Phlo Connect product suite. The market-leading API-driven infrastructure connects with healthcare providers to bridge the gap in innovation between pharmacies and health services. Powered by phlo Digital Pharmacy, Phlo Connect's Advanced Digital Signing technology now offers healthcare partners – including Babylon Health, HealthHero, and The Leva Clinic – a trackable, digital prescribing journey from the point of prescription to delivery.
Unlike healthcare at large, processes and procedures in pharmacies – like issuing and collecting prescriptions – have changed very little over the last 300 years, and have been left mainly untouched by digital innovation and technology. Often highly manual, with a significant administrative burden, which still requires a wet signature on all paper prescriptions – has meant that a true end-to-end digital health experience has remained elusive. Phlo's new advanced digital signing integration means that clinicians will be able to easily prescribe digital prescriptions to patients and pharmacies, without the need for the hard copy, paper documentation or a wet signature.
Digital prescribing was first rolled out in the NHS in 2018 and has proven to be time and cost effective, reducing the amount of paper processing required by GPs and pharmacists. It has:
Saved the NHS an estimated £300 million between 2018-2021
Saved GPs an average of 2 hour 33 minutes a day signing and producing electronic prescriptions versus paper ones
Reduced time spent collecting and dispensing prescriptions by 1 hour 37 minute for pharmacists
Despite success in the NHS, no universal digital prescribing system currently exists for private healthcare providers and telemedicine companies due, in part, to the complex existing legal framework for prescribing, which has presented challenges for digital solutions. Phlo Connect's advanced digital signing integrates easily with existing clinical systems and prescribing workflows, helping private healthcare providers digitise and streamline their pharmacy offering, ultimately giving consumers better choice and greater choice for their healthcare needs.
Nadeem Sarwar, Founder & CEO at Phlo, says: "Currently, patients can have a great digital healthcare experience, but this grinds to a halt when a prescription is generated. Patients have to travel sometimes quite long distances in order to collect their prescription and medication, and clinicians are bogged down in paperwork, having to manually sign hundreds of prescriptions. With Phlo Connect, clinicians can generate and 'sign' a digital prescription, and then send this to the Phlo digital pharmacy, who can deliver the medication to the patient's door in a timeframe that suits them. A truly integrated digital health service makes life easier for all its users – pharmacy is a vital part of that digital healthcare journey."
Pritesh Dodhia, Head of Pharmacy Operations at Phlo, says: "This is an exciting step forward for pharmacy in digital healthcare. Complex legal and technical requirements mean that many private healthcare companies need to jump through a lot of hurdles to implement a digital prescribing service. Phlo Connect has taken the hard work out of it and built a system that seamlessly connects into existing clinical systems. Not only does it enhance the patient experience, it unburdens the prescribers as well."