0
30th April 2020 12:11 pm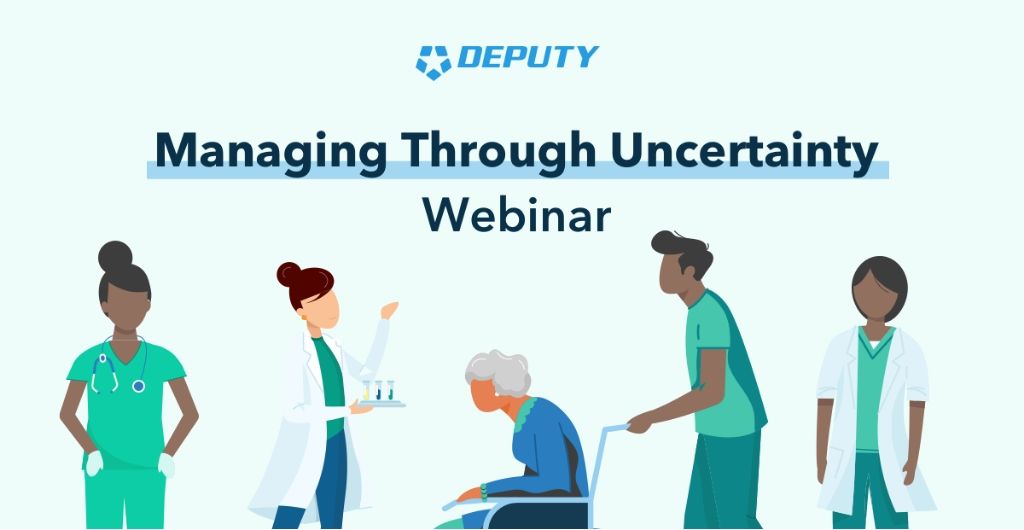 How to manage your healthcare organisation through uncertainty with Deputy
May 7, 2020 10:00 AM in London (Webinar)
CLICK HERE to register
Our product expert Harry Wales is hosting a webinar explaining how Deputy can help you overcome some of the most pressing challenges brought on by the current pandemic.
You will learn how to:
-Manage rota changes in real-time to ensure shift cover can be found immediately for employees that can't work
– Minimise shared surface contact between staff and protect your employees through Deputy's Touchless Clock In and out
– Keep employees aligned and informed about important updates across the business, whilst keeping connected to boost morale through video sharing
– Improve visibility into wage costs across teams and the business, to ensure labour levels can respond to daily fluctuating demand
There will be a live Q&A. To submit questions prior to the webinar, please reach out directly to hwales@deputy.com. We'll be sure to answer these during the session.
At Deputy we work with a range of organisations across the healthcare sector to relieve managers of the scheduling and administration burden of workforce management. Staff scheduling and time tracking software can make a difference to day to day operations freeing up  more time (and budget) to focus on the things that really need attention.