0
24th September 2020 1:57 pm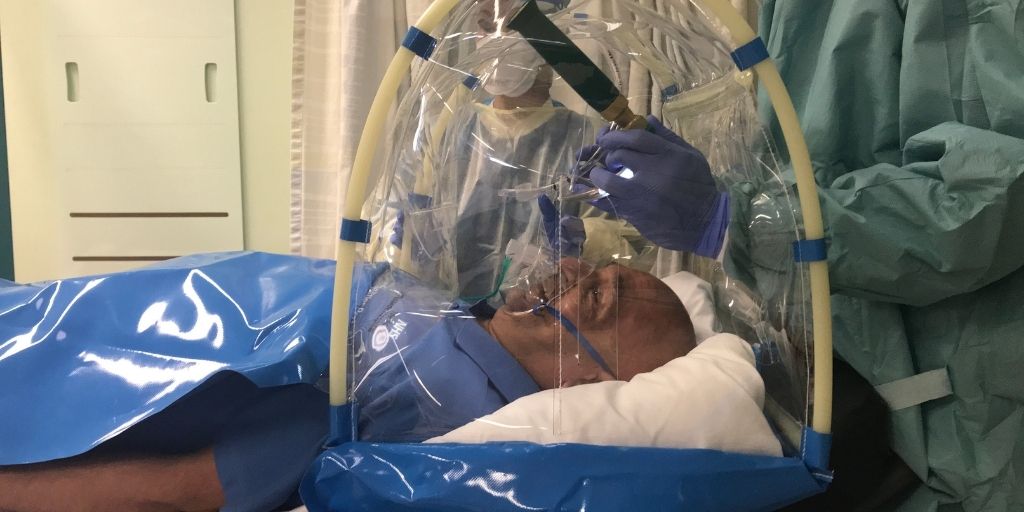 New funding will help shield NHS staff and carers through CoVID-19 pandemic and beyond
Birmingham, UK – 24 September 2020: AerosolShield Ltd. has secured £250,000 investment from the Welsh Government to help it develop and scale production of the AerosolShield pop-up isolation tent. The investment adds to £100,000 funding already secured in July from the West Midlands Academic Health Science Network's (WMAHSN) SME Health Innovation Fund and MidTECH Innovations, as well as a public GoFundMe campaign which has raised £35,000 to date.
The grant awarded to AerosolShield is part of the Welsh Government rapid response Covid-19 RD&I scheme. This scheme supports innovative businesses and research organisations to deliver solutions that meet the challenges facing the NHS and care services as a result of the coronavirus outbreak. The AerosolShield team is working closely with a number of Welsh companies, including for design and production, to develop a homegrown solution with international appeal.
Conceived at the end of March 2020 and accelerated from concept through to commercial availability in just six days, the AerosolShield is a transparent, pop-up tent that can be deployed in a matter of seconds to cover the head and shoulders of a patient, forming a physical barrier between the patient and carer during aerosol-generating procedures (AGPs) such as intubation, nebulisation or CPR. By physically blocking infected droplets from the patient's lungs before they can come into contact with PPE, the AerosolShield empowers healthcare staff to perform life-saving procedures without fear of personal or environmental contamination. AerosolShields have already been deployed to hospitals around the UK, protecting an estimated 5000+ NHS staff from potential exposure to CoVID-19 in recent months.
Mat Campbell-Hill, Lead Designer and co-founder of AerosolShield commented: "We're so grateful to the Welsh Government for its support in developing the AerosolShield further and ensuring that our production can cope with the growing demand through this pandemic and beyond. From the very beginning, our sole focus has been to protect our friends and family who've been on the front lines of CoVID-19. From talking to colleagues in the NHS, it's clear that the constant fear of infection or of bringing the virus home to their loved-ones has been just as big a threat to their mental and physical health as the illness itself. We want to offer these incredible professionals greater support to do the jobs that they are so committed to performing under the most challenging conditions."
Kirsty Williams, the Education Minister for Wales, said: "I'm pleased to support this project as part of our support for innovation to tackle or treat the coronavirus, within the Welsh Government's wider actions to help fight Covid-19.
"This funding is part of £6m we're providing towards research, development & innovation projects and Small Business Research Initiatives related to the coronavirus, to benefit both the public and private sectors."
Minister for Economy, Transport and North Wales, Ken Skates, said: "Since the beginning of the pandemic we have seen businesses across Wales work to find innovative solutions to help protect people, including our NHS workers, from coronavirus.
"AerosolShield Ltd is another prime example of how the business community has risen to the challenge facing all of us and I'd like to thank them for their efforts. I am delighted this funding will help them develop an important piece of equipment which could prove crucial not just here in Wales, but across the world."
Produced by Welsh manufacturer Airquee Ltd., an established supplier of isolation and decontamination tents used by humanitarian organisations, health workers and the armed forces around the world, the AerosolShield is manufactured to the highest quality standards and can be used for many hours, even days, on the same patient, throughout the entire patient journey. This significantly improves staff safety as well as reducing overall costs for single-use products and extra environmental cleaning requirements. Most importantly, staff who have used the AerosolShield say they feel safer and less anxious about going to work.
Campbell-Hill added: "Unfortunately, we know that CoVID-19 will continue to be part of our daily lives and we must therefore adapt to these new conditions. The AerosolShield will be a crucial piece of kit for anyone dealing with a health emergency which could involve the respiratory system. From office first aiders and paramedics administering CPR on an unconscious patient, to hospital ICUs and care homes, the AerosolShield will allow people to take greater precautions whilst delivering the best possible care to the patient."