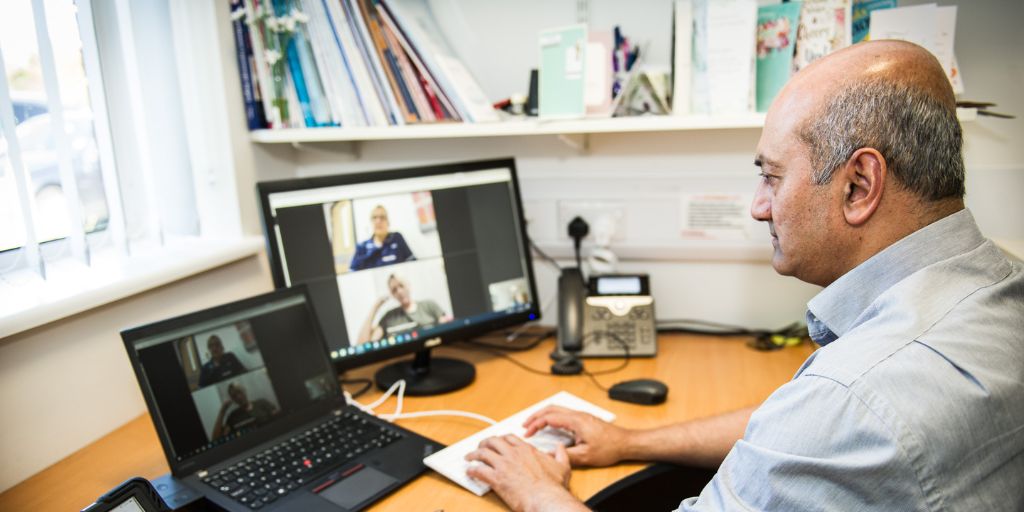 To ensure that as many patients as possible were reviewed during the COVID-19 pandemic, Wirral University Teaching Hospital (WUTH) implemented Video Consultations using the Attend Anywhere technology. Over 700 hours of consultations were done online in 2021, and over 2000 patients were contacted digitally, rather than in person.
The way hospitals treated patients had to adapt quickly due to the COVID-19 pandemic's constraints. Clinicians and care providers at WUTH were no exception; they looked to the Digital Healthcare Team for new and innovative approaches to treat patients.
Attend Anywhere is a platform that allows clinicians to contact patients through video consultation, eliminating the need for in-person visits to hospital. This platform has several advantages, including the ability to reach patients wherever they are in the country and world, a reduction in the transmission of illness, and the ability for up to five others to join a call, allowing a patient to be supported by friends and family if desired in familiar home surroundings and not in waiting rooms.
Mr Shabbir Poonawala; Consultant Oncoplastic Breast Surgeon, Divisional Medical Information Officer and Deputy Surgical Lead Wirral & Chester Breast Screening Service, has advocated for the service since it was introduced in May 2020.
Mr Poonawala said: "The Attend Anywhere video consultation service was something I was interested in exploring for a long time. However, the COVID-19 pandemic provided an excellent opportunity for me and my colleagues to implement this in clinics. I mostly used video consultation for post-operative and follow-up appointments, which eliminated the need for patients to visit the hospital while recovering from surgery and results.
This was a huge success, with a lot of positive feedback from the patients. One of the biggest advantages was that I could chat to my patients without wearing a face mask. Some conversations are stressful, being able to talk through a patient's options while seeing their facial expression makes it much easier for them."
However, video consultation does not exclude patients from seeing their consultant or physician in person. As the Trust returns to greater normality following the pandemic, it gives patients another avenue to get the care they need, rather than replacing other options.
Mr Poonawala continued, "Recently I had an appointment with a patient where I was delivering difficult news. I could see the patient was distressed, so rather than continue with the video consultation, I invited the patient in that day. It is important to know that this service does not replace meeting patients, it just gives them more flexibility to access healthcare".
Attend Anywhere is compatible with the most commonly used internet browsers so patients can use their own digital devices. Key features of the service include screen sharing to discuss test results scans and advice leaflets, the ability to queue patients in an online waiting room and allow multiple people to join a single call. We have seen the advantage of clinicians having consultations with the patient and multiple patient relatives and clinicians present from various disciplines to help progress the patient's treatment plan.
Mr Poonawala mentioned that the service did not have a waiting room at first. This meant he could not limit the number of patients who could video call at the same time. To rectify this, the WUTH Digital Healthcare Team (DHT) implemented a waiting room function, meaning Mr Poonawala was able to view patients who were waiting, before admitting them. This feature also allows clinicians to send real-time communications to waiting patients informing them when an appointment has run over.
The Trust is now looking to the future, and how the DHT can continue to create remote services for patients in order to provide them with as many options as possible.
Mr Poonawala would advise other practitioners to incorporate this service into their practice: "I would advise all of my colleagues to integrate video consultations as part of their practice. Not only does it speed up the process of diagnosis, but I have seen a reduction of Did Not Attends (DNA's) in my own clinics to almost zero."
During the pandemic, the Wirral University Teaching Hospital's Digital Healthcare Team collaborated with clinicians to ensure that patients were treated in the safest possible environment, and this will remain at the top of the team's priorities moving forward.