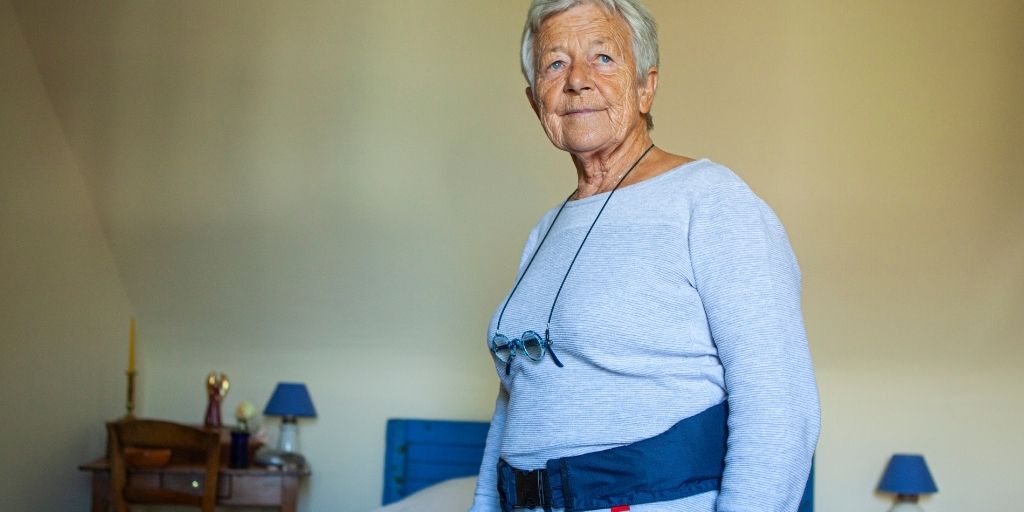 Yorkshire Care Equipment, a nationwide healthcare supplier, has launched the Hip'Guard Hip Protection Belt into the UK market. This industry-first fall protection device uses innovative motion analysis, fall detection, and airbag technology to protect the wearer from hip fractures during a fall.
Hip'Guard clips around the body like any standard belt. With built-in motion sensors, the belt uses a validated algorithm to analyse the wearer's movements over 1,000 times per second.
When a fall occurs, the algorithm automatically detects the falling motion in 0.2 seconds. It then takes under 0.8 seconds for the concealed airbag to inflate. By the time the fallen person hits the floor, their hip is fully cushioned.
The airbags have a specifically designed horseshoe shape. This spreads the force of the impact around the hip bone rather than on it, providing shock absorption and reducing the risk of a fracture.
Yorkshire Care Equipment hope this product will help the NHS face the challenges from falls among older people. 1 in 3 people aged 65+ fall at least once a year. Hip fractures are one of the most serious injuries associated with falls in this age group, with trusts treating over 80,000 fractures each year.
Ahead of the launch, George Hulbert, Sales Director at Yorkshire Care Equipment, said:
"We are thrilled to be bringing Hip'Guard to market as the exclusive UK distributor. Statistics show how significant falls and hip fractures are for our ageing population. 90% of hip fractures are caused by falls. After a hip fracture, 2 in 4 older people will never recover their independence and, sadly, 1 in 4 will die within a year.
Our team are always looking for new solutions that can change care for the better. Hip'Guard ticks that box for us. It has been proven to reduce the force of impact from a fall by over 85% – which significantly reduces the risk of hip fractures. But it's also a product that is comfortable and practical for our customers to use. The belt is discreet, lightweight, and comes in multiple sizes. At our core, we're all about enhancing quality of life. So, any wearable technology we launched had to prioritise maintaining users' confidence and independence."