0
6th October 2020 2:00 pm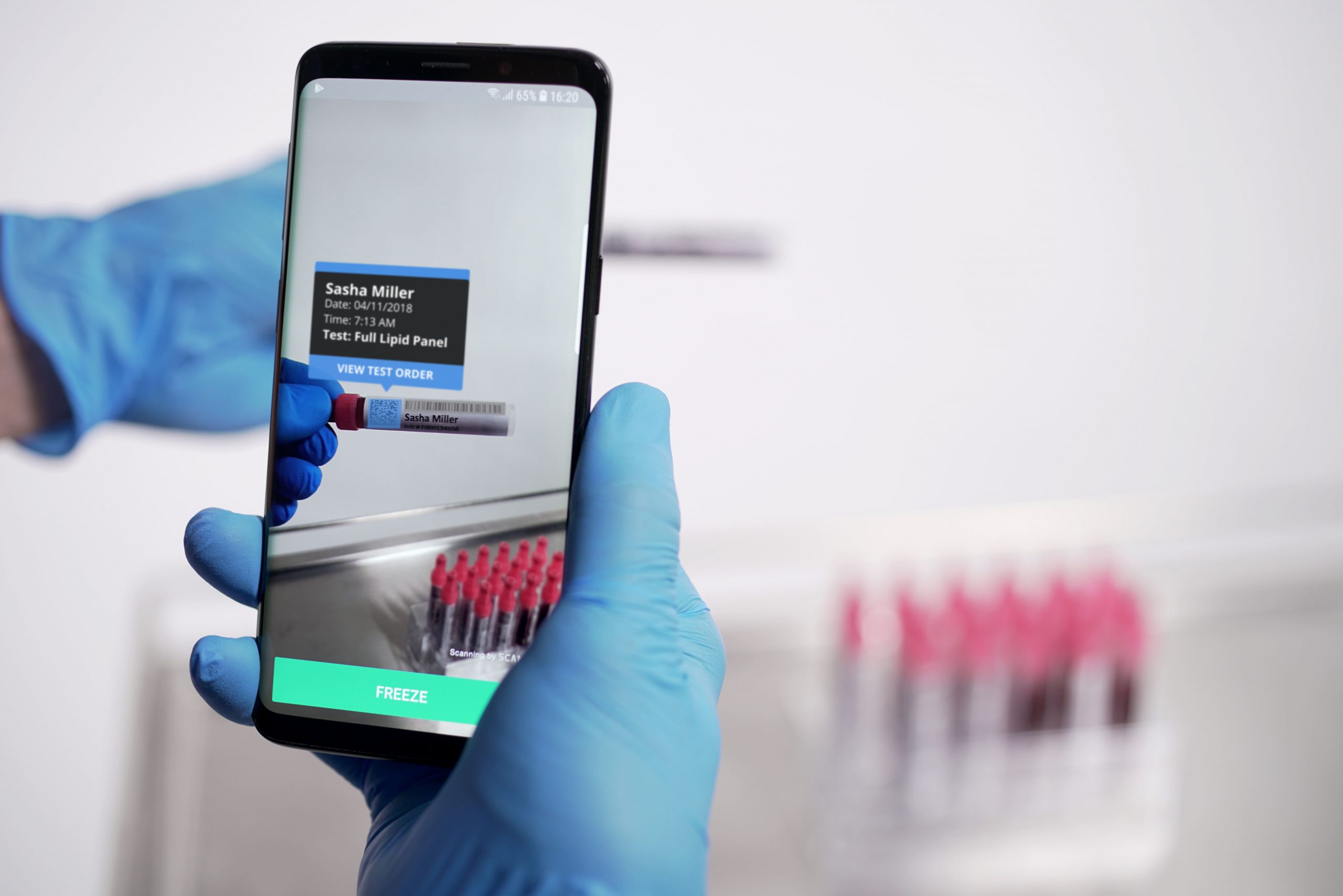 By Jeremy Straker, VP Sales EMEA from Scandit
It's an understatement to say that healthcare is being digitally transformed in response to the current pandemic. In fact, according to a recent COVID-19 Digital Engagement Report, almost three quarters (74%) of healthcare companies have accelerated their plans, behind only the tech and energy industries (78% and 77% respectively). It's unsurprising, therefore, that digital health has been put higher up the agenda within healthcare systems seeking to improve patient care and streamline supply chains.
The healthcare industry is always looking for new ways to improve how it operates and the answer could be right in its pocket – the smartphone. Devices enabled with mobile computer vision and scanning capabilities are already enabling healthcare workers to better manage tasks as they get instant access to patients' identities, treatment and medication histories using the smartphones they already carry. This can deliver immediate cost savings, time savings, and efficiency gains, in addition to improving patient safety through sharing real-time information across healthcare systems.
Here are the ways computer vision and barcode scanning technology has become crucial in helping hospitals and healthcare organisations during this difficult time.
Joining up the patient journey
First, mobile computer vision can be a great way to help join up the patient journey. At a time when the NHS is under greater pressure, capturing situational data to create a joined-up, shared view of a patient's journey through the system is imperative to upholding regulatory compliance and making supply chains safer with real-time data tracked throughout healthcare systems.
In the UK, the Department of Health Scan4Safety programme is designed to make better use of barcodes to improve supply chain and streamline operational efficiencies such as  easily tracking each patient throughout their hospital treatment. The Leeds Teaching Hospitals NHS trust was one of six sites selected where staff are able to scan patient wristbands, their assigned beds, and any clinics or operating theatres they are taken to.  Information is updated in real-time to the electronic whiteboard at the nurses' station for an accurate patient status. Any assets used feedback to an e-procurement workflow removing traditional paper-based processes.
The act of scanning a patient's wristband enables clinicians to access digital workflows, including patient medical records and dosage advice. This allows healthcare workers to confirm when a particular medication was administered, or a blood sample dispatched. This is certainly a step in the right direction for efficient workflows, but also to achieve greater safety and accuracy.
Alleviating the strain on staff
Barcodes are a simple yet effective technology, and just like other industries they are used across healthcare systems. This is no mere coincidence, the ability to track patients, supplies and equipment is crucial.
Healthcare professionals increasingly use barcode scanning on mobile devices to eliminate human error in critical processes and streamline workflows. Hospitals adhere to the Barcoded Medication Administration (BCMA) system, by using the camera of the mobile device to ensure positive identification of patient, medication, and clinician. This helps to address the challenges created by too much paperwork, the risk of errors, and staff working in silos – alleviating the strain on staff striving to provide the highest quality care for patients.
The current crisis has led to a high-volume of patient admissions which has only made it even more critical to prevent errors. A paperless, contactless identity management system like mobile computer vision can be a low-cost, accessible way to automate procedures and free up clinicians to deliver efficient patient care at scale. The technology also minimises human error, helps to identify potential errors and allows clinicians to perform product recalls quickly.
Product accountability and product recalls
Historically, it has proved difficult to know what product or medication has been used for each patient. Indeed, a key finding of The Cumberlege Review is that the existing processes for tracking defective devices were inefficient and put patients at risk. With mobile computer vision technology, product recalls can be managed quickly and efficiently, at the touch of the button and with the reassurance of greater accuracy.
Leeds Teaching Hospital ran a series of tests that showed that in the Ophthalmology department, the nursing time involved in product recalls using the new system was reduced from over 8 hours in some instances to a mere 35 minutes. The associated costs reduced from a minimum of £173 previously to a maximum of £9 using the new system. In terms of operational efficiency and cost savings, the results from this technology speak for themselves!
Mobile computer vision also allows clinicians to update stock or inventory on-the-go, obtain detailed medication information, locate expired pharmaceutical bottles and manage disposable replenishments. Wherever the item is in the healthcare supply chain, mobile scanning apps can track and manage it. The technology is a support tool for professionals and helps to provide transparency and accuracy in preventing the circulation of counterfeit drugs and medication.
Putting digital at the heart of healthcare
With a further wave of COVID-19 in our midst, hospitals wards will be pushed to their limits. Healthcare trusts need to start accelerating digital transformation projects and can do so by quickly deploying smartphones to scan patient IDs, samples, medication and supplies, bringing significant efficiency benefits and cost savings throughout healthcare systems.
The timeframe for building the hospital of the future has accelerated and there is no time to delay bringing digital healthcare to the forefront. Adopting mobile computer vision technology is an integral step and can enable clinicians to manage their patients more closely, safely and with greater assurance at a time when the NHS needs it the most.