0
1st September 2021 8:00 am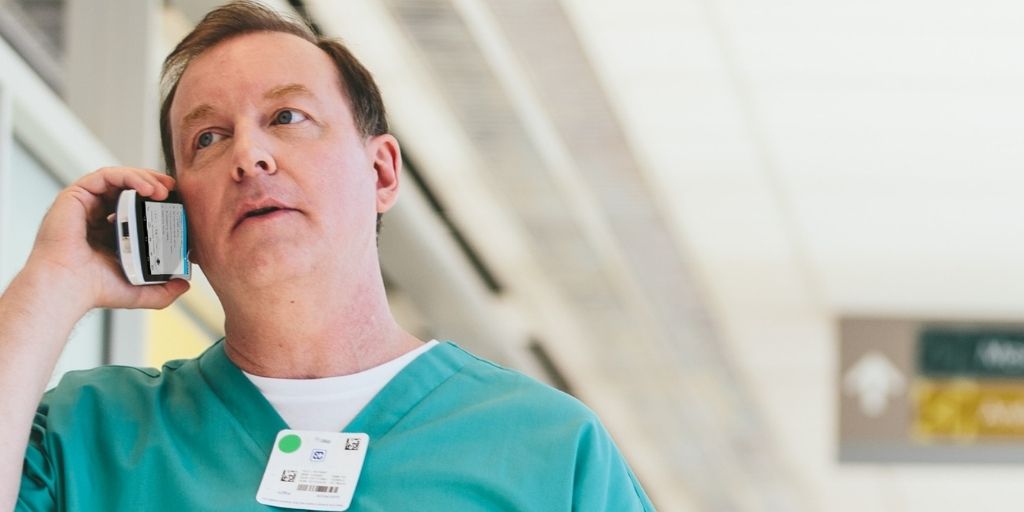 Dakota Integrated Solutions Ltd, a real-time data capture, printing, mobility and support solution specialist, is delighted to have learnt that its client, Calderdale & Huddersfield NHS Foundation Trust, has been shortlisted in the HRH The Prince of Wales Award for Integrated Approaches to Care category at the finals of the 2021 Nursing Times Awards for its Virtual in Hospital Visiting Service initiative.
Employing more than 6,000 staff tasked with delivering compassionate care over two hospital sites, Calderdale Royal Hospital and Huddersfield Royal Infirmary, as well as within community sites, health centres and patient homes, the Calderdale & Huddersfield NHS Foundation Trust provides a range of services including urgent and emergency care, critical and end of life care and young people's services.
Treating around 1 million patients annually, the Trust has always sought to modernise and invest in its health services to ensure that patients' needs, requirements and wellbeing are at the forefront of their actions.
When a technology investment at the beginning of 2020 took a different course to its original deployment plan due to the Covid-19 outbreak, the Trust took a pioneering approach with its newly purchased Zebra TC51-HC Handheld Touch Computers and utilised them to improve patients' well-being and make hospital stays as comfortable and as stress free as possible.
Graham Walsh, Orthopaedic Surgeon, Associate Medical Director and Chief Clinical Information Officer at Calderdale & Huddersfield NHS Foundation Trust, explains "We originally purchased the devices from Dakota to assist us with clinical bedside observations, however when the pandemic hit, we decided to repurpose the devices to enable patients to communicate with their loved ones whilst they were in hospital undergoing treatment for Covid."
Walsh continues, "During the pandemic, these products proved invaluable to the overall well-being of our patients and their families, as the mental health of those suffering with Covid was a key attribute in the recovery process. CHFT is very proud of its reputation for providing compassionate care; the usage of the TC51-HC devices during the pandemic had such a positive impact within the hospital that their use as a method of communication between patients and their loved ones to allow 'virtual visiting' has continued even though the crisis appears to be abating. The reduction of the number of positive Covid cases within our hospitals has now enabled us to utilise the devices within the facility in line with the original intention which was to assist with clinical bedside observations."
Walsh continues, "We are delighted that we have such a good technology partner in the form of Dakota, who were invaluable in helping us to deploy the devices in the first instance. The use of this kind of technology has really opened our eyes in terms of what it can do to assist the flow of communication, making life that much better for our staff and patients alike. Whilst we like to think of ourselves as a digitally advanced organisation, this scenario has really highlighted how devices such as the TC51-HC can provide multi-usage within facilities such as ours and has enabled us to consider what else we can do in terms of technology to help us further build upon our accomplished reputation of delivering first class care for our patients. We very much look forward to seeing what the future holds here at the Calderdale & Huddersfield NHS Foundation Trust and we hope that Dakota will continue to be part of our exciting journey."
Keith Hardy, Managing Director at Dakota, comments "We are delighted to have learnt that CHFT has been nominated for this award. The way in which the devices were redeployed from their original intention of being utilised for bedside observations, to helping patients keep in touch with their families during treatment, shows the depth of care and compassion that the Trust clearly has for its patients. We are extremely pleased to have been involved in this project and we wish the Trust all the very best and hope that they achieve a much-deserved victory at the awards ceremony in October."
Chief Nurse Information Office, Carol Gregson, concludes, "It's great to see our Virtual in Hospital Visiting initiative being recognised alongside the Relatives' Line and Letters to a Loved One initiative. This virtual support is a success because everyone works together to make it work, including frontline staff, our technical teams, HR teams and senior nurse team. The service helps to make it easier for patients to have virtual visits which has improved the experience for both patients and relatives alike."