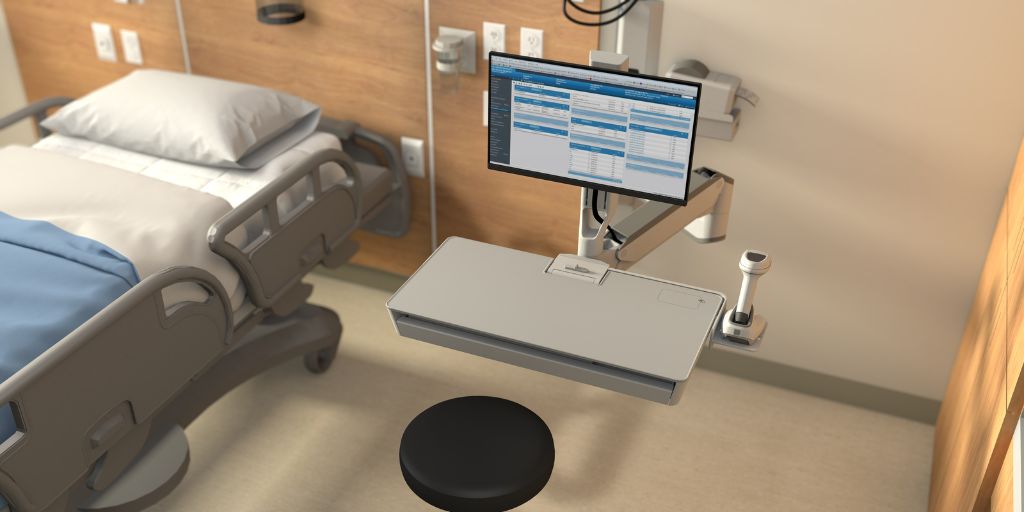 Ergotron, a global leader in designing ergonomic solutions that connect people and technology to enhance human performance, health and happiness, today announced the launch of its CareFit™ Combo System. This wall mount solution was designed to enable efficient and comfortable documentation experiences at the point of care. The CareFit Combo System expands Ergotron's CareFit product family and provides additional options to fit varying workflows throughout the healthcare organisation, supporting patient connections and helping reduce the risk of error.
Nurses continue to navigate increased workloads, managing numerous tasks and priorities throughout their shifts. The CareFit Combo System gives caregivers renewed control over their workflow to help facilitate efficient and accurate documentation while keeping patient needs at the forefront. The modular design of the CareFit Combo System is customisable with various accessories and enhances healing spaces with concealed cable management that promotes infection control, serviceability and uptime for IT teams. Easy screen sharing, one-hand stowing and intuitive access to tools allow nurses to focus on patient needs first.
"We're thrilled to introduce nurses and IT teams alike to the modular and customizable CareFit Combo System," said Mark Brandenhoff, general manager, healthcare at Ergotron. "Nurses juggle countless priorities that require their attention. With a comfortable and intuitive wall workstation, caregivers can interact with and remain connected to their patients as they complete their documentation work. This enhanced experience allows nurses to stay focused on what matters most—their patients."
The CareFit Combo System meets the needs of both nurses and IT managers. The space-saving wall mount design fits the ergonomic needs of caregivers and is accessible at all times, maximising efficient workflows at the point of care and supporting patient satisfaction goals. Additional key product benefits include:
Flexible workflows: Easy screen sharing and one-hand stowing enhances patient interactions
Comfortable documentation: Offers ergonomic height-adjustment and intuitive access to tools
Neat workspaces: Concealed cable management minimises clutter and supports infection control
Supports uptime: Convenient cord access simplifies maintenance with timely support available from Ergotron's expert support team
Warm aesthetic: Modular wall mount enhances new and existing healing spaces
Quality construction: Sturdy design supports multiple configurations and installation options
The CareFit Combo System is available to order from resellers globally.
For more information, visit  Ergotron.com