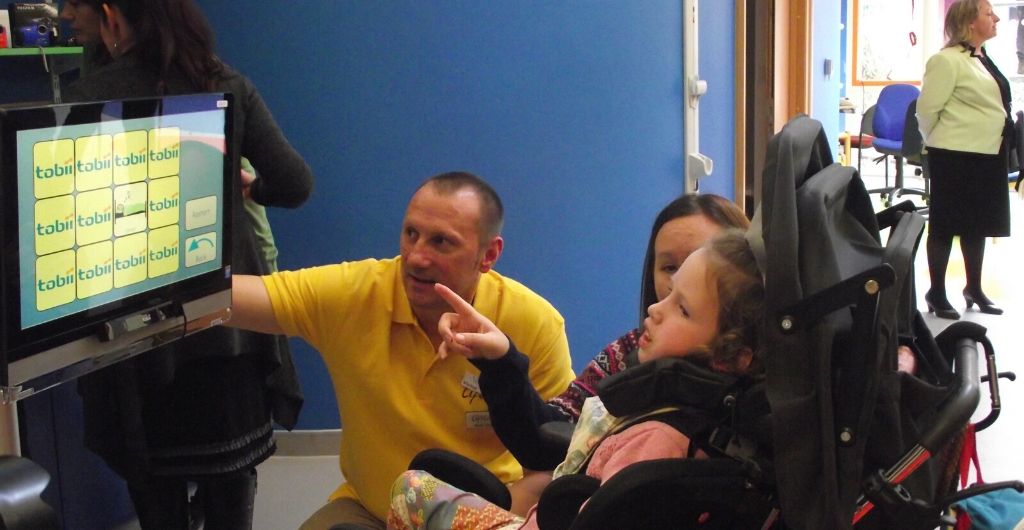 Eyegaze gives life-limited and disabled children in hospices a chance to paint, play, and communicate with their eyes.
The small charity Lifelites is donating packages of Eyegaze technology with the support of over £19,000 from Postcode Community Trust, a grant giving charity funded by players of People's Postcode Lottery, to give life-limited children a chance to play, be creative, and communicate even if the only part of their body they can move is their eyes.
Eyegaze makes it possible for life-limited and disabled children to paint pictures, play games, write and communicate by tracking the child's eye movements with a camera, enabling them to move the cursor around a computer screen. By using this technology, children who struggle to communicate with their family and their carers are able to do so – often for the first time.
Lifelites is particularly aware that the COVID-19 pandemic has left many people feeling overwhelmed by the sudden change of routine and isolation. Everyone is now getting a living insight into what it is like to be a life-limited and disabled child; unable to leave the house independently, or speak to people and socialise naturally, or even carry out all sorts of everyday activities that we usually take for granted. Of course, these are all the challenges that Lifelites is seeking to help these children overcome through the provision of our special technologies.
Children who have limited movement in their hands or are unable to speak receive the unique opportunity to express their needs, thoughts and emotions. They can tell their carers what they would like to eat or drink and can, for the first time, tell their families that they love them. Through the Eyegaze, children can enter and stay involved in the world around them for as long as it is possible.
Simone Enefer-Doy, Chief Executive of Lifelites said: "We are incredibly grateful to players of People's Postcode Lottery for this generous award. An Eyegaze is especially valuable for children who are paralysed. They receive the otherwise impossible opportunity to communicate with their loved ones and express their needs. There are thousands of life-limited and disabled children across the British Isles who will benefit from this donation.
"I am grateful to Postcode Community Trust for recognising the importance of our work to give life-limited and disabled children a chance to play, be creative, control something for themselves and communicate, for as long as possible."
One of the children who has benefited from an Eyegaze is Lois at Keech Hospice Care in Luton. Her mum Karen said:
"Lois is a very clever and funny little girl locked in a body that doesn't do as it is told. You can have a laugh and a joke with Lois and she really listens to everything people say to her. She knows exactly what she wants but she is unable to tell us, which as parents is just heart-breaking. So to have the technology available for Lois to use…to communicate is a dream come true for us and for her. It takes her a step towards having the voice she deserves."
Lifelites has been donating life-changing packages of technology for 20 years and are currently supporting every children's hospice service across the British Isles. Their aim is to continue to provide new technology and ongoing support to ensure that disabled and life-limited children have a chance to escape the confines of their conditions.
Postcode Community Trust manages its own society lottery entirely for raising funds for good causes and to improve the health and wellbeing of communities across Great Britain. The Trust was established in 2014 and receives its funding exclusively from players of the People's Postcode Lottery. Their donation of over £19,000 has allowed Lifelites donate Eyegaze packages to 12 children's hospice services, supporting a total of about 2,400 life-limited and disabled children.