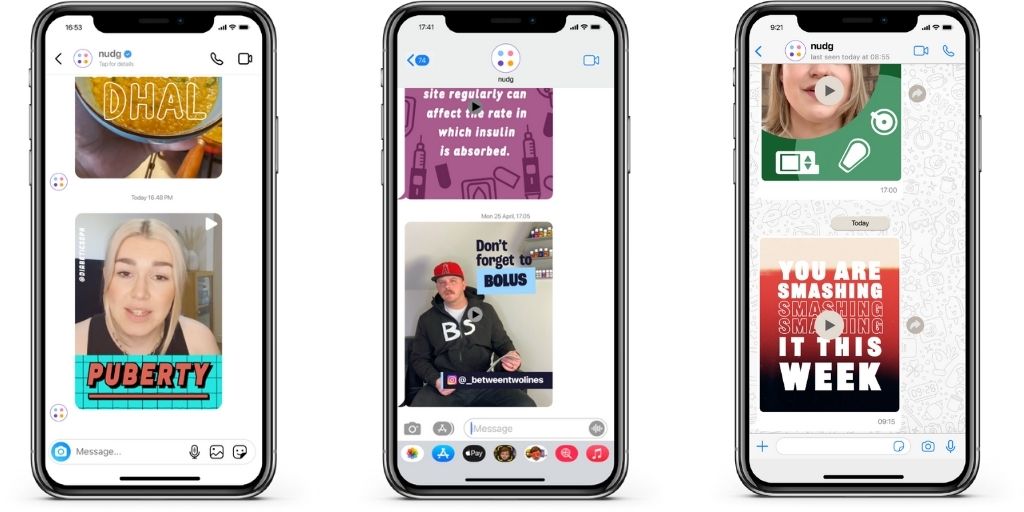 LovedBy, the health technology and consultancy business, today announces the launch of 'Nudg with Dexcom' directly to Gen Z in the UK living with Type 1 Diabetes, and their parents.
The launch follows fresh research from LovedBy that highlights a concern for UK healthcare providers – their inability to successfully communicate with Gen Z patients with chronic conditions, including Type 1 Diabetes as well as other conditions like Asthma. In the UK, NHS data* shows that the ongoing outpatient care alone for type 1 Diabetic patients in Gen Z accounts for over 115,000 appointments per year, with a cost of over £23.6m. However, such treatment isn't hitting the mark.
LovedBy's study of over 1,000 Gen Z people in the UK found that outdated ways of communicating with young patients contributes to a glaring disconnect between patient and provider. Just 3% of Gen Z had been communicated to through social media when interacting with a healthcare provider (NHS or private), whilst 46% had received telephone calls and 33% had received written letters – which no longer marries up to the needs of the modern young person. When ranking ways of being communicated to about something that is important to see and properly understand, social media (WhatsApp, Facebook, Twitter, Snapchat, TikTok etc) emerged as a clear favourite for 47%.
Effective engagement is essential in supporting the health of young people, especially those living with life-long chronic conditions like Type 1 Diabetes or Asthma – and the adolescent years are vital in learning how to live with one. LovedBy's research found that nearly half (47%) of Gen Z feel that young people with a chronic condition are not set up well to manage their condition by healthcare services. When further exploring the feelings of participants that were frustrated with healthcare in general, 58% felt they simply aren't listened to, which rises to a staggering 72% in patients identifying as female, highlighting the role of effective communication in the problem.
As part of a solution to the problem, LovedBy today announces the public launch of 'Nudg with Dexcom'. The product has previously only been available through healthcare practitioners. Now, it's being launched directly for consumers to buy in the UK, as a pilot for potential roll-out elsewhere. With an average cost of £1,631 per Type 1 Diabetes patient in the NHS, the product could represent a saving of over 97% to the NHS if used to its full potential.
Dexcom manufactures world-leading, wearable, continuous glucose monitoring devices as a small patch on the arm. LovedBy's software, 'Nudg', reads that data and translates it into meaningful, relatable content (about 8-30 seconds long) that are sent as nudges directly to the users social media feeds and WhatsApp messages. The nudges are easy for the young patient to understand, and help to guide them towards better outcomes for their condition. LovedBy's Gen Z board was pivotal in the design and development of the product.
Matt Farrar, CEO of LovedBy, comments:
"Today, we are beyond excited to bring the Nudg with Dexcom platform to a wider audience. From our years of working closely with young people with chronic conditions, we're fully aware of the magnitude of the problem. Existing healthcare systems, like the NHS, simply are not prepared for the rapid change to how young patients deal with information and education in 2022. As one-size-fits-all models fail to cope with the most diverse generation ever, the world of healthcare is a long way off cracking how to communicate with Gen Z adolescents. As our business grows, we plan to tackle other areas of health, like Asthma, Obesity, and mental health conditions – and how young people living with them are engaged with."
Partha Kar, Diabetes co-lead, NHS England, comments:
"Working closely, every day, with Type 1 Diabetes communities including young diabetics, I'm all too aware of the challenges they face – and engagement and education is clearly one of them. The work LovedBy are doing in this space is an exciting insight into the future of how the world tackles the psychological impact of chronic conditions like Diabetes, and safeguard the health and happiness of our youngest generations."
Alice Spilman, a student living with Type 1 Diabetes and member of LovedBy's Gen Z Board, offers insight on the issue:
"If you want to have an impact on young people today, you need to talk to them in their language. And this isn't just about vocabulary, it's the way in which you talk to them and the platforms you use. No young person wants to sit in front of a healthcare professional and be talked at like they're just a number, or listen to all the things they're doing wrong. This causes young patients to switch off, and rarely ends in positive change. Yet these teenage years are so important for young people to learn how to live with these life-long conditions. Nudg with Dexcom is an example why I am such a supporter of LovedBy's approach. These regular nudges motivate me to look after my Diabetes far more than hospital appointments ever have, because they're relatable, they're completely judgment-free, and they make me feel like I'm being seen as a whole person – with a life outside of Diabetes – rather than just a number."
LovedBy works with their specially-created Gen Z Board to gain insights and feedback as part of their product design process. The board includes a mix of TikTok and Instagram content creators, all with chronic conditions themselves.