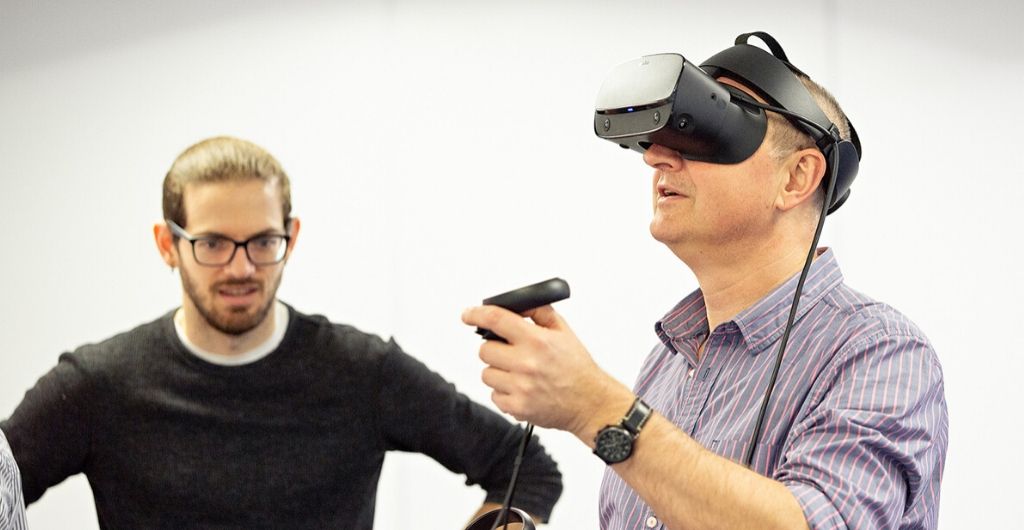 The publication of the latest NHSX GDE Blueprint aims to accelerate the adoption of VR therapy and best practice across NHS trusts in the UK.
Oxford VR's exemplary VR innovation in mental healthcare has been highlighted by the latest NHSX Global Digital Exemplar (GDE) Blueprint which has been published on the Future NHSX Collaboration Platform and details how Oxford VR's automated VR therapy has been integrated into NHS IAPT Talking Therapy services.
As a spinout from Oxford University's Department of Psychiatry, Oxford VR's ground-breaking mental health treatment is at the frontiers of the exciting transformation of mental healthcare using powerful immersive technology and evidence-based science to improve patient outcomes and increase capacity.
Oxford VR played an instrumental role in creating the NHSX GDE blueprint Virtual reality as a psychological tool' which will help other NHS Trusts to integrate and deliver VR therapy as part of building out their digital capabilities, to improve mental healthcare services for patients. The NHSX GDE Blueprint details the process of the rollout and includes key artefacts such as a standard operating procedure, a digital strategy and a data sharing template.
Speaking about this development, Barnaby Perks, Founding CEO of Oxford VR said: "We are immensely proud that Oxford VR's automated therapy is exemplified in the latest NHSX DGE Blueprint publication. In these unprecedented times for mental healthcare, digital transformation will be central to building capacity.  This is an important Blueprint that NHS Trusts can turn to, for an evidence-based and highly scalable intervention, that is making a real-world impact and is based on years of rigorous research. "
Oxford VR automated therapy builds on two decades of research by Daniel Freeman, Professor of Clinical Psychology and NIHR Research Professor at Oxford University, investigating VR's potential to create a powerful new psychological treatment that is revolutionising the way people experience therapy.
The COVID-19 pandemic has amplified the urgency of building capacity in mental healthcare to ensure Trusts and providers can adequately meet acute demands for treatment and the longer-term mental health issues arising from this crisis.