0
22nd September 2022 10:00 am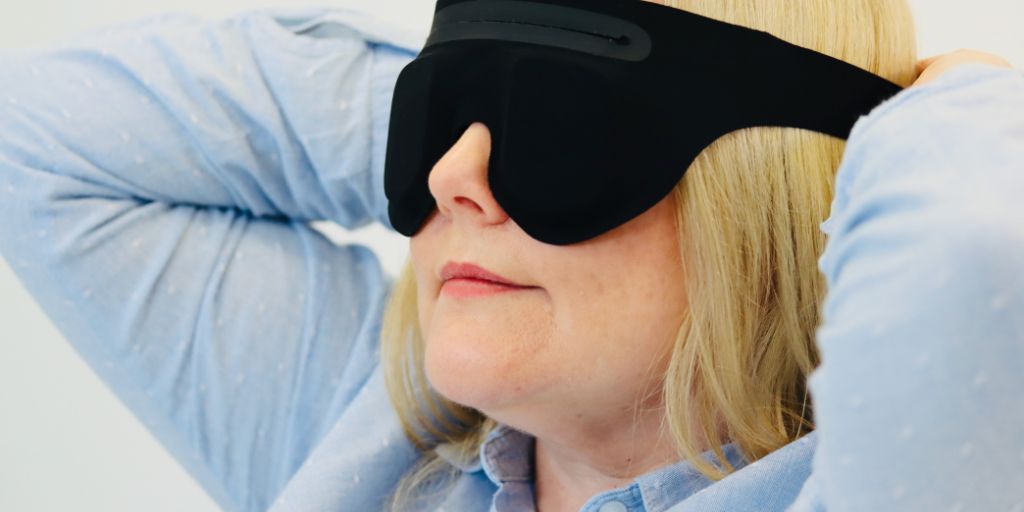 Sedgefield, County Durham –Ashford and St Peter's Hospitals NHS Foundation Trust near London has become the first NHS hospital trust to treat patients with the early signs of DMO with the Noctura 400 sleep mask.
Diabetic Retinopathy represents a significant burden of disease for both patients and healthcare systems globally. It will develop in more than half of the diabetic population and is a major cause of blindness in working age adults. It is caused by changes to the tiny blood vessels of the retina (the light sensitive layer at the back of the eye.)
The current NHS pathway is to simply monitor patients who have early signs of the disease until their eyes deteriorate and they qualify for treatment. By offering the Noctura 400 sleep mask at this earlier stage, patients' vision is preserved, referrals into hospital clinics are reduced and the later stage expensive and invasive injections are avoided. Ashford and St Peter's Hospitals NHS Foundation Trust, estimates that it could save them around £3K per patient per year.
The Noctura 400 sleep mask is an innovative, non-invasive and monitored home care treatment developed by PolyPhotonix, a leading bio-photonic research company which develops light therapy treatments for macular eye disease
The mask works by administering a certain level of light of a particular wavelength each night to maintain or improve diabetic eye changes and a patient's vision. The mask represents a significant improvement to existing treatments for the condition. Current treatments for diabetic retinopathy are laser treatment and/or injections administered directly into the eyeball, which cannot be given at an early stage, are expensive, require substantial clinician time and be painful for patients.
Dr Ulrich Meyer-Bothling, Consultant Ophthalmic Surgeon at Ashford and St Peter's Hospitals NHS Foundation Trust, said: "The Trust's decision to offer the sleep mask as part of its diabetic retinopathy pathway is great news for patients and the NHS alike.
"For patients, it represents a pain free treatment option for their condition. It is non-invasive and they are, in effect, treated whilst they sleep. It also doesn't require patients to attend hospital as frequently, giving them more of their time back.
It represents a gentler approach to treating or even preventing DR and DMO. I'm proud that most of the patients I have treated with a mask have shown stabilisation and improvement, in their diabetic eye disease."
Paul Baggs, 57, from Woking, is one patient whose life has been transformed by using the sleep mask.
He said, "I've been diabetic for 47 years and ever since my initial diagnosis, in my 20s, my biggest fear was that my eyesight would deteriorate and I would go blind. This fear played on my mind every day.
"I was under the care of Ashford and St. Peter's Hospitals NHS Foundation Trust for diabetic retinopathy and was initially offered either laser treatment or injections into the eye as a way to control my symptoms. It's fair to say neither of these options appealed to me – I mean who wants to have injections into their eyes!
"After an initial course of treatment, my consultant at the hospital mentioned that there was a new trial taking place for the Noctura 400 sleep mask and asked whether I would be interested in taking part. I jumped at the chance as it was non-invasive – so no more painful procedures!
"I'm a gardener by profession, so the mask has meant that I can continue working in the job I love. My eyesight has improved over the three years I've been using the mask and there's no need to have injections or lasers in the eyes now. I would say the sleep mask has given me my old life back.
"My advice to other diabetic retinopathy patients is to ask your GP about the Noctura 400 sleep mask and see for themselves the difference it can make to their quality of life."
Michelangelo Biasiucci, 64, was given a Noctura 400 Sleep Mask in 2019, whilst a patient at Ashford and St Peter's Hospitals NHS Foundation Trust. He noticed an improvement in his eyesight straight away.
"After being referred to the hospital by my GP, I was diagnosed with diabetic retinopathy. Part of my treatment for this was to have injections in my eyes, and looking back I don't know how I tolerated them! I was relieved that not so long after, my consultant prescribed the mask.
"I would say that the mask has given me my life back – not only can I see so much clearer, but it has enabled me to carry out my job safely again. As a driver, I can now work safely again, especially at night, thanks to the mask."
Richard Kirk, Chief Executive of PolyPhotonix, said: "For the NHS, treating diabetic retinopathy patients with the Noctura 400 sleep mask represents a cost-effective alternative to existing treatments. At a time when our health care budgets are already stretched, adding the sleep mask to existing care pathways makes sound financial sense in helping health care services recover from the pandemic and freeing up hospital appointments for those in greater need of emergency care."
Ashford and St Peter's Hospitals NHS Foundation Trust's decision to offer the sleep mask to its patients follows an Innovate UK funded study conducted at the trust during 2019 and the Covid-19 lockdowns. The year-long study showed that 96% of all patients who correctly used the mask showed significant stabilisation and in many cases improvement of the central diabetic maculopathy and vision with some patients seeing a reverse of their condition.