0
19th August 2022 10:00 am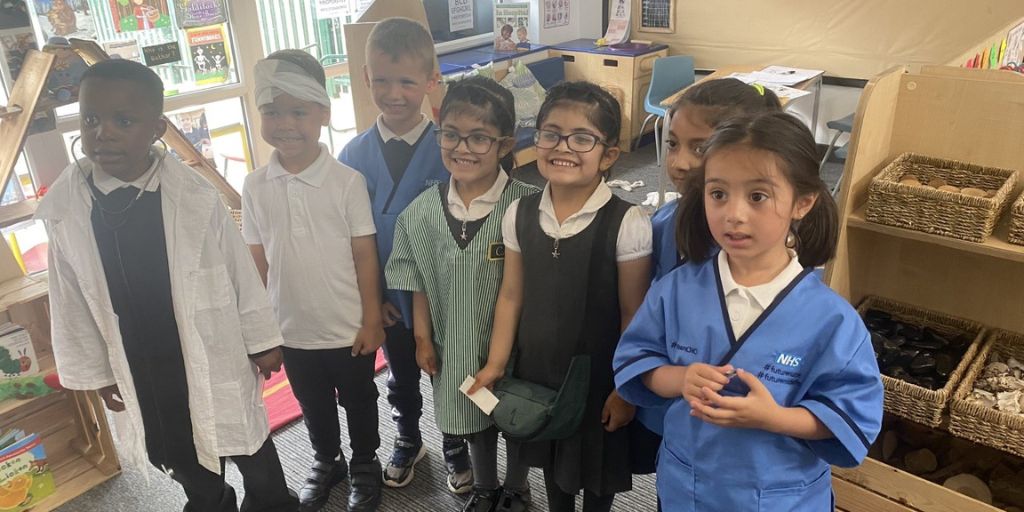 A new programme has launched in South Yorkshire, educating primary school children about careers in health and social care, introducing around 2700 pupils to roles that are different to doctors and nurses while dispelling gender stereotypes.
The Jobs for Everyone Primary Schools programme, launched by the Schools Engagement Team at NHS South Yorkshire, introduces Reception and Year 1 pupils to more than 20 different jobs in health and social care, promotes equality and diversity and dispels stereotypes around the roles.
Funded by Health Education England, the programme was spearheaded by Caroline Boot, Primary School Project Lead at South Yorkshire Integrated Care System in January 2020. It was delivered to two schools before COVID-19 brought it to a halt. It has now been re-launched and over 40 schools have signed up for the programme.
Caroline said: "While we've seen this kind of educational support for older children, this is the first we know where it is tailored towards Reception and Year 1 pupils.
"We often find that by Years 5 and 6, preconceptions around job roles have already been formed and we believe it is important to challenge these stereotypes and ensure children keep open minds. It's also about raising awareness around the multitude of roles in health and social care – moving beyond just doctors and nurses to learn about radiographers, dietitians, and phlebotomists, for example, as well as non-clinical roles."
The programme includes resources for pupils, teaching staff and parents, virtual job holder visits and role-play kits. Modules cover a range of areas aligned to the curriculum, including equality and diversity, understanding the world and questioning skills.
Caroline said: "The role-play kits include authentic items such as mini uniforms, stethoscopes and other medical equipment plus printable eye charts, X-rays, job badges and health checklists. All the resources are tailored to the age group and use age-appropriate language. There's also homework that the parents can get involved with, such as junk modelling, where we've seen children build ambulances and medical kits.
"Within the Jobs for Everyone equality and diversity module, we also use fun, age-appropriate activities to help the children explore their differences and show that people should not be judged by their appearance. The programme focuses on removing stereotypes around skin colour and gender to explain that any person can do any job role, should aspire to anything, and that differences are to be celebrated. The module dispels long-standing stereotypes such as boys cannot be nurses or girls cannot be doctors.
"Feedback has been brilliant, with teachers noting that children's preconceptions before the programme had changed by the end. One of the modules focuses on what the children would want to be if they worked in healthcare when they grow up and the range of answers we get is fantastic.
"Teachers have confirmed that they find the package helpful, intuitive and easy to teach. One teacher said that this is the best resource she has found in six years of delivering the 'People Who Help Us' topic and the children are so much more engaged than ever before."
Christine Joy, chief people officer at NHS South Yorkshire, said: "NHS South Yorkshire is committed to building our future NHS & Social Care Workforce by attracting our future workforce from our local communities. Engaging with young children through the 'Jobs for Everyone' programme is part of a long-term strategy to attract new talent. We want young people to know who we are, what we do and to be enthused by the fabulous, varied and rewarding careers we can offer them.
"Recruiting from our own populations will help us to provide the best possible care to our patients, reduce health inequalities and improve the socioeconomic status of our communities in South Yorkshire."
Jan van Wyk, acting principal at Atlas Primary Academy, part of Astrea Academy Trust, said: "It has been fantastic over the last month to watch our pupils learn about what a doctor, nurse, scientist, or radiographer does. Seeing how much they have enjoyed the lessons has been wonderful to see.
"All of us at Atlas believe there should be no barriers to what our pupils can achieve and I'm sure taking part in this project will open our pupils' eyes to all careers and that nothing is off limits if they put their minds to it.
"At Astrea, we strive to give all our pupils the best possible education that inspires beyond measure. We do this by focusing on inclusion and a promise of opportunity. Embracing projects like this is a large part of that. I think we may have some junior doctors and nurses in our midst!"
Catherine Carruthers, director of careers, guidance & student leadership at Astrea Academy Trust, said: "It's an exciting time for careers education within our primary schools across Astrea – we're thrilled that NHS South Yorkshire is delivering the Jobs for Everyone Project at Astrea primaries.
"This important work feeds into our Personal Development Strategy from the start of a child's educational journey. At an early age, we are proud to challenge stereotypes and widen every child's awareness of all the opportunities available to them."
Caroline Boot said: "We hope to be able to cover many more schools across the region in the future."