0
21st October 2021 8:00 am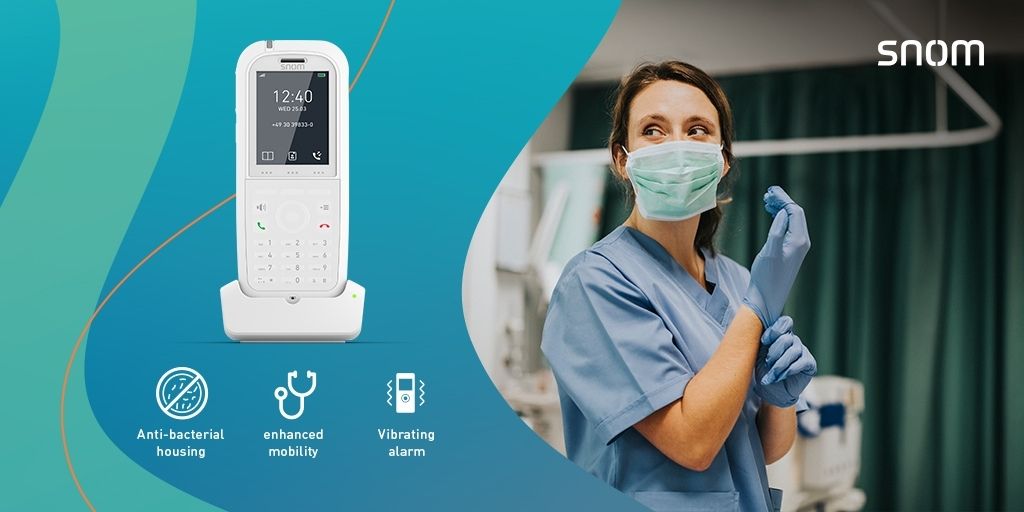 For healthcare organisations, the ability to communicate quickly and seamlessly is vital in treating patients efficiently. Here, Snom shares some of the advantages of optimising hospital communication.
Optimal patient treatment can only be guaranteed under optimal conditions. This principle not only applies to the working conditions of healthcare professionals, but also to the work equipment they rely on to do their job.
Launched in 2019, the NHS Long Term Plan (LTP), established 'a digital NHS' as a national policy priority, with relevant healthcare providers expected to have advanced to a core level of digitalisation by 2024. While increasing the range of digital health tools and services is key in improving services, hospitals and other healthcare environments also have to consider how any new technology will work on the ground – from adhering to things like hygiene standards to helping nursing staff save much needed time.
Modern communication saves time
Hospital pagers were traditionally the go-to technology when contacting staff in case of an emergency. Yet it's long been recognised that these devices are no longer fit-for purpose – only showing basic information on small, hard-to-read displays, 2021 marks the year that the NHS was told to stop using these devices. So, what's the alternative?
IP DECT phones allow staff to make an emergency call that informs the recipient of their location with the push of a button. Additionally, the integration of beacons and tags in chip size means this function can also be used to locate mobile equipment with great precision. This avoids the time-consuming search for a rescue kit, blood pressure monitor or wheelchair.
This is not the only way to save time: The sheer size of hospital buildings means staff spend a large part of their day on their feet going to and fro – with the average nurse walking as far as five miles per 12-hour shift. DECT is the ideal solution here. The responsible doctor can be contacted via their IP DECT phone and immediately directed to the right ward – without a member of staff having to physically track them down and collect them.
Additionally, an alarm feature means that, in an emergency, an alert can be triggered at the touch of a button. Convenience services such as customised options in the do-not-disturb mode are also useful: staff no longer have to log off when they go for a break or have finished their shift. If calls are received, they are automatically put though to colleagues who are on duty. Even everyday processes such as the administering of medicines and medication can be optimised with the use of a cordless IP phone: pressing a function button allows staff to instantly change the status of a patient. These devices also offer an exceptionally good signal range throughout hospital buildings which can often have challenging architectural conditions.
Hygiene: the be-all and end-all in the hospital
Hygiene is the measure of everything at a hospital. Snom's M90 IP DECT phone was specially designed for hygiene-critical environments and is the world's first cordless phone to feature an antibacterial finish that has been tested according to JIS Z 2801 standards. This means the device is not only easily cleaned with disinfectants containing ethanol, but also avoids being a breeding ground for bacteria and viruses. In addition, the phone is also certified according to IP65 code. This means phones can be dropped from heights of up to 2 metres without issue. This makes the small and handy device, weighing approximately 130 g, the perfect companion for day-to-day hospital life.
Of course, the cleanliness of rooms is also an important consideration. Healthcare professionals can use the device to signal that a room or operating theatre needs cleaning at the touch of a button. Cleaning staff are automatically notified via their DECT phone and can also update the status of the room via a function key after cleaning.
You don't have to make huge investments or implement complex technology to improve everyday life at a hospital. Smooth communication is essential, particularly at healthcare facilities, and should not be neglected in any way. Snom terminals guarantee this through reliable and state-of-the-art technologies that simplify the day-to-day life of staff.