0
9th November 2022 11:16 am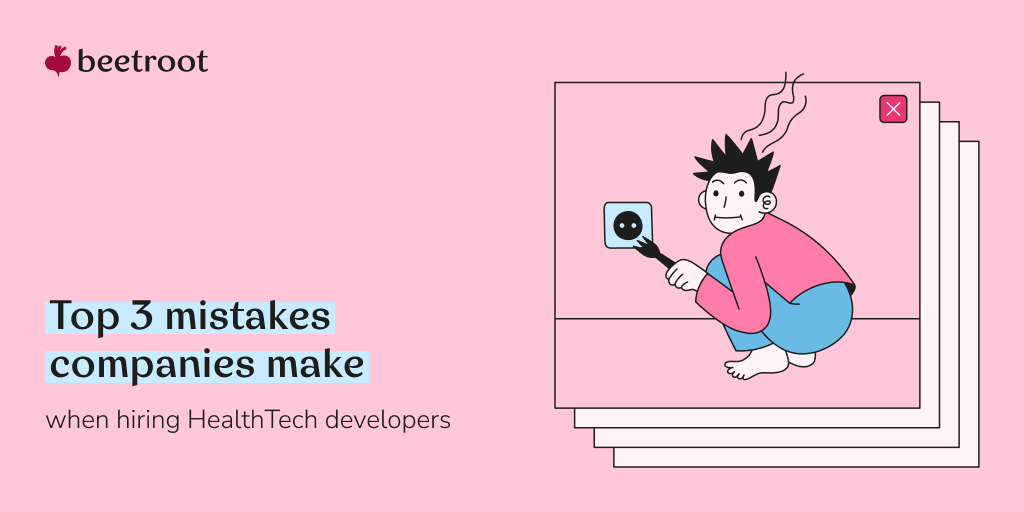 HealthTech is subject to countless laws, standards, certification policies, and regulations throughout every development step. Therefore, hiring for healthcare is quite particular – especially when targeting strategic success. Unfortunately, it's easy for health technology companies to goof up while navigating the industry's hurdles and balancing quality with compliance in the ever-changing regulatory paradigm.
This article covers some widespread traps that healthcare startups tend to overlook on their way to creating a positive global impact. Let's find out more about these pitfalls and how you can avoid them.
Mistake #1. Hiring only in-house
Given the complex, highly-regulated landscape of the healthcare industry, many HealthTech companies see in-house recruitment as the only worthwhile option for their product development. Indeed, the model gives leaders full control over the processes, communications, and cultural alignment.
However, it comes with a long and expensive recruitment and onboarding process. High fixed costs, local tech talent shortage, and a consequent fierce competition for HealthTech developers add up to the problem.
"With a client network from early-stage startups to established brands, we often hear that in-house recruitment is a serious bottleneck. Startups without major funding find it hard to get visible in the talent market and build an employer brand. At the same time, hiring senior tech professionals doesn't get easier as a company scales, as now its employee packages compete with market sharks."Oksana Makhnyk, Business Development Executive, Beetroot HealthTech Unit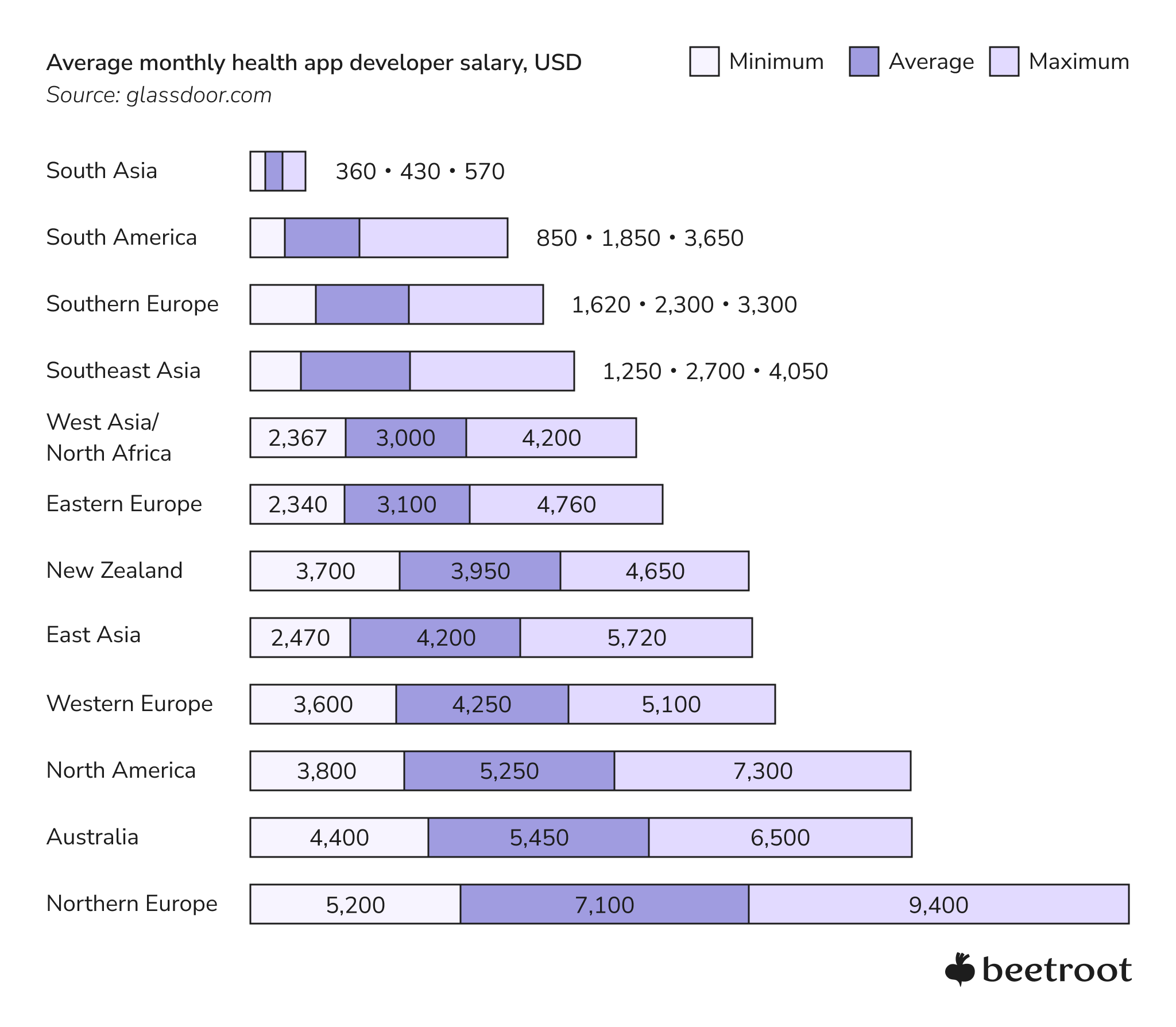 How to avoid it
Outsourcing your HealthTech development to a tech partner company is well worth consideration. The proper selection can help you ensure the stability and control of in-house development and leverage flexibility and access to broader domain expertise. However, "proper selection" is the key here. Below are some of the essential points to evaluate.
Outsourcing destination
There's a number of popular outsourcing destinations. Some of them may offer very competitive pricing, but rank lower communication-wise. Communication barriers and cultural misalignment are often cited as the top problems with outsourcing. Consequently, it's a less favorable option for HealthTech projects that are more complex and demanding than other tech areas.
That's where nearshoring steps in bringing on the table geo and cultural proximity. Central and Eastern European countries have their tech talent pool powered by a profound STEM platform. In addition, lively competition and a vibrant discussion in the tech community there ensures continuous innovation and tech excellence.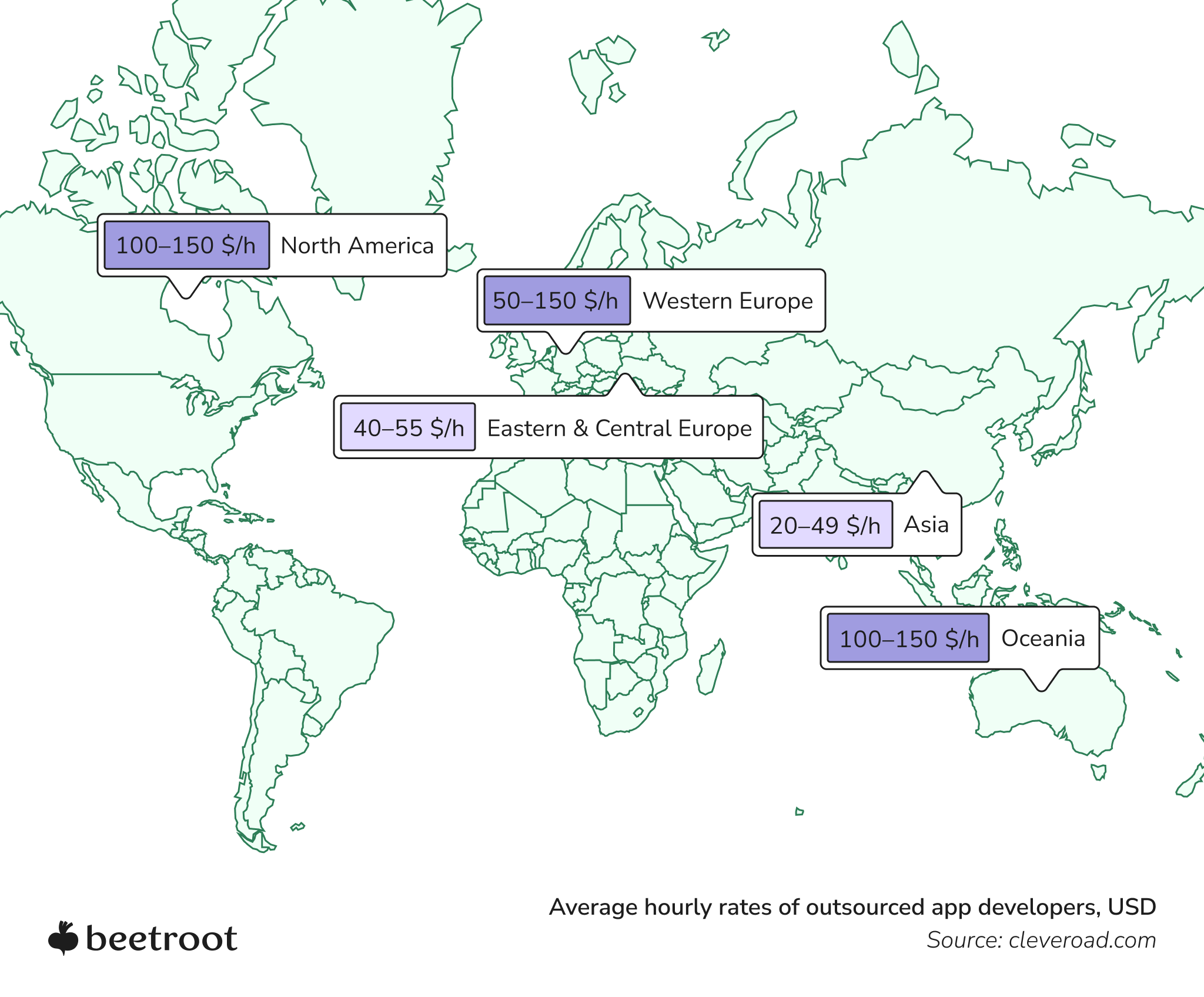 Security
International quality certificates are a rocksolid indicator of business credibility. Be sure to ask a potential vendor about their ISO certification. The ISO 27001 standard referring to Information Security Management Systems is particularly important for HealthTech projects. It also makes sense to assess their risk management plans and ask for references.
Domain expertise
While a proven track record in HealthTech is obviously a heavy plus in your development vendor's assessment, it won't hurt to run a separate evaluation of the company's approach to security and compliance in healthcare. In addition, make sure to find out about the company's learning and development (L&D) practices and how they improve their tech staff's professional qualifications. Finally, ask a potential tech partner about their course of action in case they observe a lack of expertise. The correct answer would be transparent communication about the issue and leveraging external resources through vetted channels.
Mistake #2. Not prioritizing local regulatory compliance
HealthTech software developers are obliged to meet specific standards set by local legislation. Depending on the geography of your healthcare product, your development team of choice should demonstrate comprehension of these standards and ensure compliance with them. Some of the most common of them are as follows:
The Health Insurance Portability and Accountability Act (HIPAA)
HIPAA compliance is mandatory if you build software that creates, stores, or transmits the health data of U.S. residents. It is a federal law protecting patient health information from being disclosed without the patient's consent or knowledge. The act ensures information security through three rules: the privacy rule, the security rule, and the breach notification rule.
The Personal Information Protection and Electronic Documents Act (PIPEDA)
PIPEDA is Canada's private sector data privacy law. Software that collects and uses sensitive data from Canadian residents should be PIPEDA-compliant.
The General Data Protection Regulation (GDPR)
GDPR is in use in the European Union. Commonly referred to as the most rigid privacy protection law in the world, it imposes liability on any software targeting or collecting data related to EU citizens.
How to avoid it:
When discussing compliance with your potential tech partner, ensure that they understand the level of its importance and are aware of the consequences of violating healthcare regulations for your business. Inquire about the company's previous compliance cases, especially when something went wrong. How did they fix the problem?
Mistake #3. Neglecting interoperability
Interoperability is the capability of tech systems to integrate with one another and facilitate a seamless data exchange. It allows healthcare organizations to optimize their internal operations and customer service and provide value-based, people-centric care.
Data increasingly drives today's healthcare domain, and any solution incapable of ensuring data security, availability, and compliance is likely to fail.
How to avoid it
Make sure to develop a thought-through data strategy early on, considering the following aspects:
Integration standards and frameworks. When building your tech unit, whether in-house or with a vendor, ensure that developers have a proper understanding of mandatory data standards governing interoperability. The list includes HL7 V.2, Consolidated CDA, and DICOM. One of the popular frameworks HealthTech startups use to integrate these standards into their products is the Healthcare Information Technology Standards Panel (HITSP).
Performance and scalability. The difference between supporting 100 concurrent users and ensuring flawless work of your software when it's used by 1 million concurrent users is enormous. So a proper performance roadmap is a must. Interviewing a potential Tech Lead or a dedicated team vendor, ask them what types of performance testing they will do and how they plan to manage maintenance costs.
Vision and semantic proficiency. To facilitate the efficiency of your integration measures, ensure correct interpretation of the medical information and standards in healthcare systems. SNOMED-CT and ICD-10 are some of the semantic interoperability vocabularies to use. In addition, make sure your lead architects or tech partners have a vision toward future integrations and scalability.
"At some point, you might need to create a mobile app in addition to a web app or integrate specific software with your MedTech product. A capacity to do that without massive code rewriting is essential to secure as early as possible. And if your solution requires particular integrations for which you don't have an implementation vision, this can be a good platform for a pilot R&D project." Dmytro Barbahsov, CTO at Beetroot
Regardless of how elaborate your business plan is, the lack of experience with healthcare specifics, culture, and standards may cost you a hefty sum. Hence, when creating your product development team, set regulatory compliance, access to expertise, and interoperability factors at the forefront of your strategy. Even with limited experience or budget, it is possible to accomplish this task by engaging a trusted HealthTech development partner.
Beetroot is a strategic partner for HealthTech companies to extend their tech teams and build engineering capacity. With access to world-class tech talent across Europe, ISO:27001 certification, and a focus on sustainable development, Beetroot has a proven track record in guiding impactful software products toward lasting success.